First of all, this bike is incredible, and I had to get it off my chest immediately. Yes, I know what you are thinking—the 2022 Benelli 502C Cruiser seems to be a derivative of the more well-known Italian power cruiser, am I right? However, it can only be seen in Benelli's shadow. When you examine it more closely, you can see more unique features and differences, which are pretty impressive. But the 502C isn't exactly cheap, with an MSRP of Rs 4.98 lakh (ex-showroom, Mumbai). The first mid-size power cruiser made for India by Benelli will have the following features.
2022 Benelli 502C Cruiser – Features and Specs
Design
The new 2022 Benelli 502C Cruiser has a very stylish appearance. You get a massive 135mm upside-down fork up front, along with a set of LED headlamps that seem inspired by an anime cartoon but work quite well. Because the handlebars on the 502C are so vast, you must take extra care to avoid hitting any vehicles or their mirrors as you move through gridlock traffic. The switchgear feels adequate, but I'm not a massive lover of the layout and display screen. Although it changes to a completely different display design at night, I wish Benelli had stuck with the all-dark setting.
The overall layout and colors seem a little juvenile to me. There's no state-of-the-art Bluetooth connectivity or anything like that. Simply put, the TFT display reads you the information you need to know, such as revs, speed, gear position, fuel level, engine temperature, trip, and time, which isn't a bad thing. Additionally, there are no riding modes, and the dual-channel ABS has no setting and cannot be turned off. The bike's center of gravity is where the massive 21-liter tank rests atop the exposed trellis frame and liquid-cooled engine. Fit and finishing are fantastic, and everything looks neat and organized, with fluid reservoirs, and wires neatly tucked away behind their little panels.
Seat
The scooped-out seat is comfortable and gives the impression that you are sitting inside the motorcycle rather than on it, just like the motorcycle from which this Benelli takes much of its inspiration. The riding position, with your arms and legs outstretched, is very cruiser-like, feels quite comfortable, and you won't mind riding this bike for long periods.
Ergonomics
The 2022 Benelli 502C Cruiser has an excellent beefy stance and 170mm of ground clearance, which I found to be great considering Mumbai's deteriorating roads. The Palin's smaller rear seat is the only standout feature, although according to Benelli, the back rest is now a standard fitment and not an add-on. Most people will be relieved to hear this, as the seat would be too small without it. The rear end is also well designed, with taillights hidden under the bike's floating seats. The tire hugger-built indicators and nameplate are very nice additions, but there's also no shiny one-sided Italian swingarm. Instead, the mono-shock unit is solid and has preload adjustment on the back.
Power Delivery
The bike is more than just a beautiful machine. Also, the driving manners of the 2022 Benelli 502C Cruiser were impressive. Both Benelli Leoncino 500 and Benelli TRK 502 use the same 500cc engine. Thus, it is not entirely new. 47.5PS at 8,500 rpm and 45Nm at 5,000 rpm might not sound like much on paper, but they complement this cruiser motorbike's 216 kg. Low in the rpm range, there's a respectable amount of power available, and the bike's exhaust noise is at its throatiest. But once you pass 4,000 rm, the fun begins. The sporty aspect of Benelli's Sport Cruiser features is heavily weighted. The sound of the bike gives you the impression that you're riding a sporty three-cylinder, and it's loud and powerful. Passing traffic on Benelli's teardrop-shaped rearview mirrors is just as much fun.
The 2022 Benelli 502C Cruiser has a great ride feel, and the engine is also competent. Gears five and six are too long. You can easily take it to 150 kmph while cruising at 38 kmph in sixth gear. In top cog, 80 km/h and 100 km/h are reached at 4,000 and 4,700 rpm respectively. Although the bike can handle high speeds very well, it feels best around 85 to 90 kmph; when the engine doesn't work and you can pass cars with a quick wrist flick. There is plenty of space. Even when we were stopped in traffic, the engine didn't fry my legs, which was appreciated. The level of heat dissipation is good. As I've already noted, the 502C is a ton of fun as long as you keep the engine down to 4,000 or so. However, as you move up the rev range, the bike loses steam and becomes less enjoyable. North of 6,000 rpm, the excitement starts to wane.
Suspension and Wheels
The rear mono-shock is almost as substantial but leans more towards the relaxed end of things, while the front fork leans more towards sport and is stiffer on the Benelli 502C. With more speed, the bike will handle much better, and the slower you ride over all those uneven terrains, the more joggers you'll experience in your spine. On this bike, there's a lot of fun to be had in the long, sweeping turns, so you'll undoubtedly keep looking for them. However, you almost always get decent input from the front end, so you always know what's going on upfront. The front wheel tends to give up a little on hard bumps.
Additionally, the Pirelli Angel GT in 127/70(f) and 160/60(r) sizes warrants a special note. The traction is impressive, and the treads encourage you to ride the bike in dry and wet conditions. While the dual front discs could provide a more consistent biting feel, the clutch and front brake come with adjustable levers and feel great to use.
2022 Benelli 502C Cruiser – Price in India
When it comes to powerful cruisers in India, you usually wind up with a motorcycle with a lot of power, but sometimes you are left without proper roads to put all that power down. The Benelli 502C, though, seems to have everything right from its fuel and power delivery to its ride and handling dynamics. It's a good cruiser, no doubt about it, and if you want to go fast, you'll have to work for it. The joy of this motorcycle lies in the effort involved in doing so. It won't drastically improve the game, but it's not a drawback. It looks fantastic, looks great in that matte black paint job, and is incredibly comfortable over long distances. It also feels fast and exciting to ride. In our opinion, this is undoubtedly a success. The price of this motorcycle, which is Rs 4.98 lakh, is its only drawback. I am aware of my nitpicking. Still, I wish the price wasn't so high. There aren't many bikes we can compare the Benelli 502C to at the moment, but we'll do a full road test before we go that route.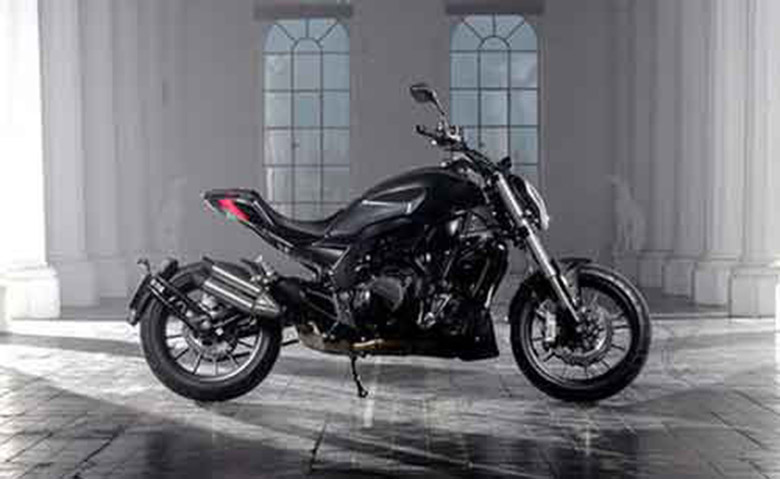 2022 Benelli 502C Cruiser – Technical Specifications
Engine and transmission
| | |
| --- | --- |
| Displacement | 500 ccm (30.51 cubic inches) |
| Engine type | Twin, 4-stroke |
| Power | 47.6 HP (34.7 kW) at 8500 RPM |
| Torque | 45 Nm (4.6 kgf-m or 33.2 ft.lbs) at 5000 RPM |
| Compression | 11.5:1 |
| Bore x stroke | 69 mm x 66.8 mm (2.7 inches x 2.6 inches) |
| Valves per cylinder | 4 |
| Fuel system | Injection. Electronic fuel injection with double throttle body ø 37 mm |
| Fuel control | Double Overhead Cams/Twin Cam (DOHC) |
| Ignition | ECU – TLI |
| Lubrication system | Forced lubrication with wet sump |
| Cooling system | Liquid |
| Gearbox | 6-speed |
| Transmission type | Chain (final drive) |
| Clutch | Wet multidisc |
| Fuel consumption | 4.2 liters/100 km (23.8 km/l or 56 mpg) |
| Greenhouse gases | 97.4 CO2 g/km. |
| Emission details | Euro 4. Catalytic converter and oxygen sensors. |
Chassis, suspension, brakes, and wheels
| | |
| --- | --- |
| Frame type | Trestle in steel tubes |
| Front Suspension | Upside-down forks Ø 41mm |
| Front-wheel travel | 125 mm (4.9 inches) |
| Rear Suspension | Rear swing arm featuring central shock absorber spring preload adjustable |
| Rear wheel travel | 50 mm (2 inches) |
| Front tire | 120/70-ZR17 |
| Rear tire | 160/60-ZR17 |
| Front brakes | Double disc. 4-piston, ABS |
| Diameter | 280 mm (11 inches) |
| Rear brakes | Single disc. Single piston caliper, ABS |
| Diameter | 240 mm (9.4 inches) |
| Wheels | Aluminum alloy (optional aluminum rim spoked ) |
Physical measures and capacities
| | |
| --- | --- |
| Dry weight | 217 kg (478.4 pounds) |
| Power/weight ratio | 0.2194 HP/kg |
| Seat height | 750 mm (29.5 inches) |
| Alternate seat height | 825 mm (32.5 inches) |
| Overall height | 1235 mm (48.6 inches) |
| Overall length | 2280 mm (89.8 inches) |
| Overall width | 940 mm (37.0 inches) |
| Ground clearance | 170 mm (6.7 inches) |
| Wheelbase | 1600 mm (63 inches) |
| Fuel capacity | 21 liters (5.55 US gallons) |
| Reserve fuel capacity | 3 liters (0.79 US gallons) |
Other specifications
| | |
| --- | --- |
| Color options | Black, Red, Blue |
| Starter | Electric |
| Instruments | All-digital display |