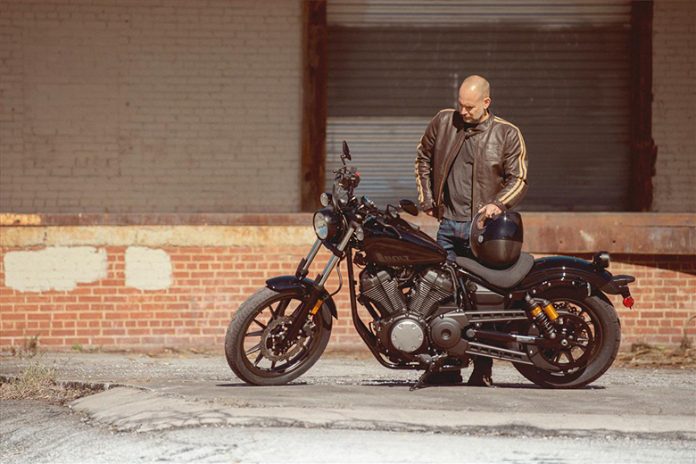 The new 2021 Yamaha Bolt R-Spec Naked Motorcycle is among those motorcycles that people love. This high-performance bobber blends old-school spirit and contemporary design with a torquey V Twin engine.
2021 Yamaha Bolt R-Spec Naked Motorcycle – Features and Price
Top Features
The Bolt® R-Spec is the epitome of the "Urban Performance Bobber" appearance, with little chrome. The 58 cubic inches (942cc), air-cooled, 60° V-twin engine is boldly displayed in the bike's small frame. The Bolt R-Spec uses Yamaha technology to provide a riding experience that is better than that of other bikes of comparable size. This bike's fuel injection and ignition timing maps were designed to deliver class-leading performance with powerful low- and mid-range torque that will put a grin on every rider's face.
The motorcycle's nimble agility and steady handling are aided by its compact body and low seat configuration. The upright riding position helps the rider to feel the wind, hear the noises, and feel the machine's pulse. The owner's creativity only limits the Bolt R-choices specs for riders who appreciate customization. Bolt R-Spec is the most excellent illustration of modification as the ideal canvas for personalization. The Sport Heritage range is distinguished by the 3.4-gallon gasoline tank, belt drive, front and rear wheels, digital meter, and steel fenders.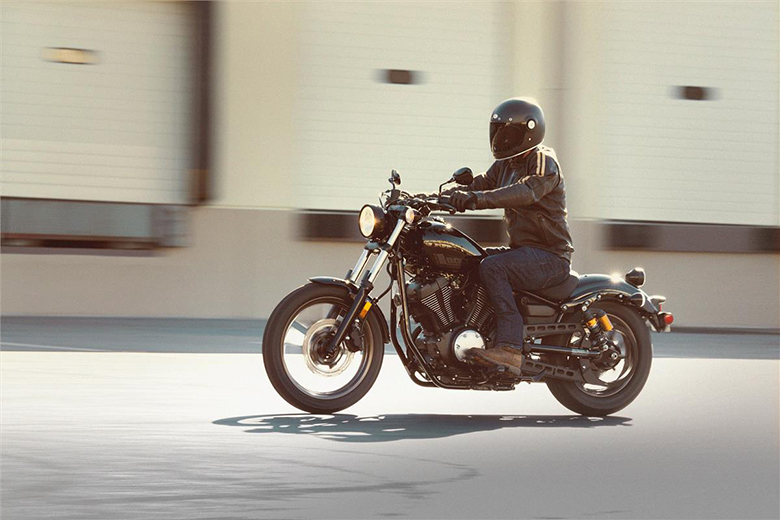 Engine
The air-cooled SOHC 60° V-twin engine with four valves per cylinder, a pent-roof-shaped combustion chamber, and a 9.0:1 compression ratio measures 58 cubic inches (942cc). The engine is built to produce a lot of power and has a lot of low-end torque. To reduce friction loss to a minimum, improve longevity, and assist the engine in attaining optimum performance characteristics, unique roller-type rocker arms with needle bearings are utilized.
For more efficient combustion and optimum power, the combustion chamber's pent-roof design was carefully developed to guide the fuel/air charge to the core of the piston. Ceramic-composite coated cylinders have a high heat dissipation rate and use less oil. The lightweight, high-strength, compact design of high-quality forged aluminum pistons leads to decreased vibration and improved longevity. On the Bolt R-Spec, a sophisticated twin-bore fuel injection system is utilized to provide maximum urban riding pleasure and powerful acceleration. In the mid-and low-speed ranges, 3D maps for ignition timing and fuel injection provide excellent acceleration.
The stainless steel air cleaner cover has a "raw metal" appearance that complements the Bolt R-unique Spec's design. Furthermore, the air cleaner's design improves intake efficiency and torque characteristics. The machine's dynamic performance and appearance are aided by a 2-into-1 exhaust pipe arrangement on the right side of the engine. The throaty and pleasant exhaust sound comes from the minimalist-style exhaust system.
Chassis/Suspension
Because the engine is connected to the frame using a robust mount system that offers accurate handling, a double-cradle structure improves city riding pleasure. The low-set seat is just 27.2 inches from the ground, allowing most riders to comfortably place both feet on the road at a stop while still enjoying the excellent riding posture provided by the seat.
The short 61.8-inch wheelbase of the Bolt R-Spec adds to the bike's excellent handling, allowing for accurate, tight bends in city riding as well as solid handling on the broad road. The front 41mm fork tubes give outstanding suspension performance. At the same time, the dual rear shocks, which use piggyback type gas chambers, have been adjusted to provide good comfort and handling while also contributing to the machine's compact profile. The drive belt, just 21mm broad, adds to the rear end's tight and clean appearance. The carbon-fiber core of the strap provides strength and durability for long-term use.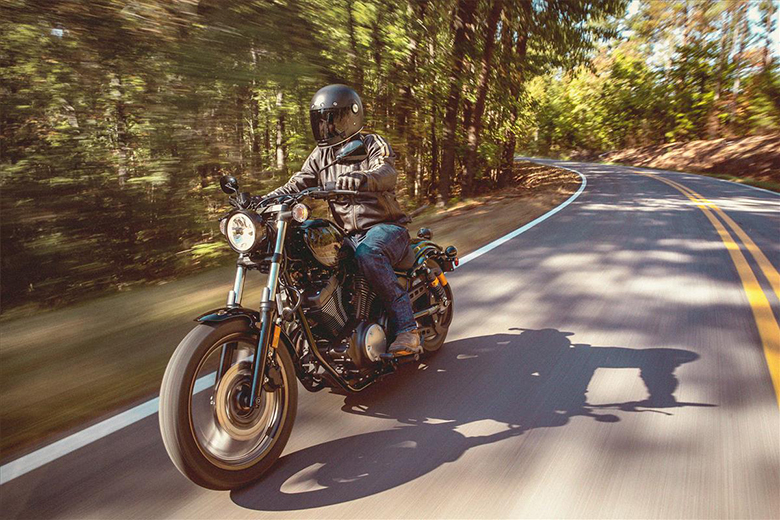 Cast alloy wheels with 12 spokes are utilized to offer strength and hardness. Bridgestone® tubeless front and rear tires in sizes 100/90-19 and 150/80-16 assist in providing outstanding road grip. Wave rotors are used on both the 298mm front disc brake and the 298mm rear disc brake, often seen on sportbikes. A floating mount is used on the front brake, contributing to an excellent braking performance by reducing heat distortion. The 3.4-gallon gasoline tank is designed in a classic teardrop form, with a thin profile that features flattened top and side surfaces, as well as a flangeless construction for even cleaner lines that complement the Bolt R-appearance.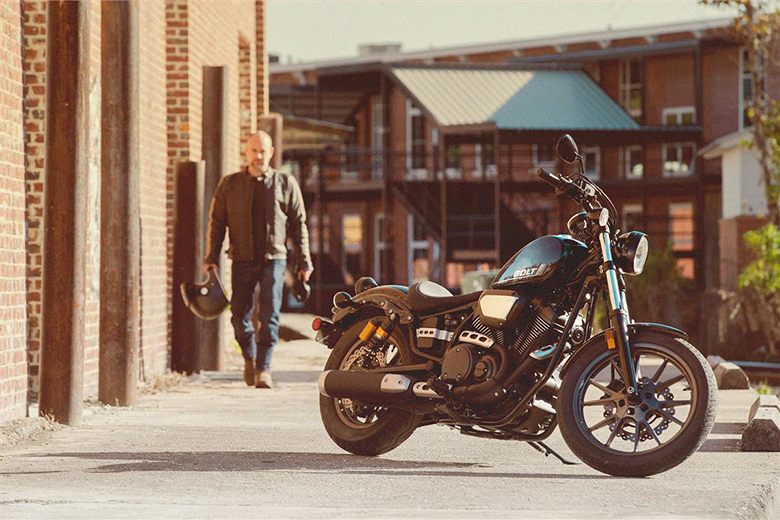 Additional Features
The LED rear taillight is stylish and contributes to the bobber's contemporary charm. This compact digital LCD meter component provides a clean design and great visibility. Steel front and rear fenders are excellent for paint and customization. The solo rider saddle complements the superficial appearance of the bobber while still offering support on extended rides.
2021 Yamaha Bolt R-Spec Naked Motorcycle – Price
The new 2021 Yamaha Bolt R-Spec Naked Motorcycle is available at $8,499 in Raven color option.
2021 Yamaha Bolt R-Spec Naked Motorcycle – Technical Specifications
Engine
| | |
| --- | --- |
| Engine Type | 58-cubic-inch (942cc) air-cooled SOHC V-twin; 4 valves |
| Bore x Stroke | 85mm x 83mm |
| Compression Ratio | 9.0:1 |
| Fuel Delivery | Fuel injection |
| Ignition | TCI: Transistor Controlled Ignition |
| Transmission | 5-speed; multi-plate wet clutch |
| Final Drive | Belt |

Chassis
| | |
| --- | --- |
| Front Suspension | Telescopic fork, 4.7-in travel |
| Rear Suspension | Dual piggyback shocks, 2.8-in travel |
| Front Brakes | Hydraulic single disc, 298mm |
| Rear Brakes | Hydraulic single disc, 298mm |
| Front Tires | 100/90-19 |
| Rear Tires | 150/80-16 |

Dimensions
| | |
| --- | --- |
| L x W x H | 90.2 inches x 37.2 inches x 44.1 inches |
| Seat Height | 27.2 inches |
| Wheelbase | 61.8 inches |
| Rake (Caster Angle) | 29-degree |
| Trail | 5.1 inches |
| Ground Clearance | 5.1 inches |
| Fuel Capacity | 3.4 gallons |
| Fuel Economy | 51 mpg |
| Wet Weight | 542 lb |

Other
| | |
| --- | --- |
| Warranty | 1 Year (Limited Factory Warranty) |

Conclusion
The new 2021 Yamaha Bolt R-Spec Naked Motorcycle is the best and most impressive motorcycle with a mighty engine. The motorcycle has got a high-performing engine that is supported by a lightweight but attractive and robust chassis. The comfortable seat helps the rider to enjoy the long rides.