The KTM 790 DUKE is very precise. It carves corners with precise accuracy, featuring the 799 ccs LC8c parallel-twin engine tucked inside one of the lightest and most compact chassis available, with the agility of a single combined with the meaty wallop of a twin. The KTM 790 DUKE is all about being quick where it matters the most — in the bends—dynamically flipping from one bend to the next, immersing you in action rather than on the sidelines.
2020 KTM 790 Duke Naked Sports Motorcycle – Features and Price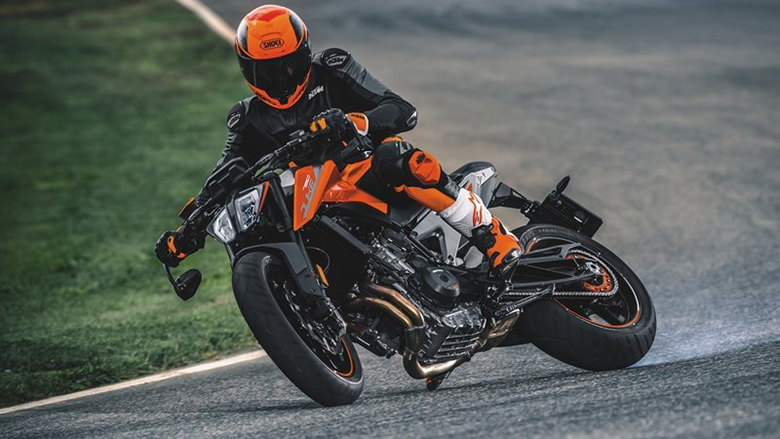 Engine & Exhaust
A small 799 cc parallel-twin engine hides at the heart of the KTM 790 Duke, ready to rip up a mountain pass or a short circuit. This engine is a lightweight force to be reckoned with, with outstanding efficiency and class-leading power and torque.
Engine
This liquid-cooled 8-valve DOHC engine is designed for torque and produces peak torque at 8,000 rpm, followed by a screaming horsepower finale. Meanwhile, a sophisticated ride-by-wire technology ensures high refinement and low fuel consumption and emissions.
Exhaust
It's a stainless-steel work of art. The middle damper distributes mass and enables a small muffler to provide a powerful soundscape. Hundreds of test bench run and sophisticated calculations proved that this exhaust system makes a significant contribution to a tractable torque curve and reasonable emission requirements.
Airfilter
The airbox fits tightly within the sub-frame, with air intakes on both sides, enabling the bike to stay cool while you're riding.
Chassis
The dexterity of the KTM 790 Duke's lightweight chassis accounts for a significant part of the bike's agility. The tubular steel frame, revolutionary cast aluminum sub-frame, and swing arm combine with performance-oriented wheels, brakes, and WP suspension to unleash a ride unlike any DUKE before it. At the same time, the small parallel-twin engine serves as a structural and dynamic pivot point for fast response.
Framework
The dynamic, load-bearing architecture of the tubular chassis underpins the KTM 790 Duke's outstanding handling qualities. Engineers had one objective in mind: to make the chassis as stiff and compact as possible to achieve faster turn-in and higher lean angles, enabling it to slice through the bends with incredible responsiveness.
Suspension and Wheels
The KTM 790 DUKE is equipped with light-alloy wheels that were produced using a low-pressure die casting technique. The lightweight wheels not only make the bike lighter overall, but they also reduce unsprung masses and moments of inertia, which improves handling and riding dynamics.
Suspension
WP Suspension's 43 mm open cartridge upside-down fork offers a unique setup in this category. Split function technology is used in the fork, which means compression and rebound damping are done separately in the fork legs, allowing for finer control of the fork behavior. The fork springs are progressive, guaranteeing smooth functioning throughout the fork stroke; mild at the start, firmer as the stroke progresses to avoid bottoming out.
Brakes
The two radially placed four-piston fixed calipers and two 300 mm discs on the KTM 790 DUKE provide maximum deceleration at the front wheel. The distance between the handbrake lever and the handlebar can be easily adjusted to make the lever simple to reach for all riders. The disc brake on the back wheel, which has a single disc and a single-piston floating caliper, provides excellent assistance to the front brake. KTM's Cornering ABS backs up all of this stopping power.
Comfort and Ergonomics
The KTM 790 DUKE's slim body provides the ease of movement required to easily guide The Scalpel's dynamic motions out on the ride while giving precise adjustment for comfort – whatever your skill level.
Handlebar
You have complete control, thanks to a 760 mm wide tapered aluminum handlebar. It's adjustable, with four settings on the triple clamp and three more places that may be rotated for the ideal riding posture.
Footpegs
The footpegs of the KTM 790 Duke are made of aluminum and provide a comfortable riding posture while providing maximum ground clearance and unique lean angles. Without any extra components, reverse (racing) shifting is feasible. For those riders, who want to go all out, adjustable footpegs are now available as a KTM PowerParts option.
Seats
Shorter and taller riders may both enjoy the bike at full throttle with the 825 mm (32.5 in) seat height without losing sight of the bike's everyday usefulness. The seat cover is gripping, yet it still enables the user to maneuver the bike freely. It was designed to work with both textile and leather to accommodate various riders and riding styles. The same material is used for the pillion seat cover, which blends sleek aesthetics with passenger comfort. With the lower KTM PowerParts seat, you may reach 805 mm (31.7 in).
Graphics and Bodywork
The KTM 790 DUKE's hunkered-down aggressive posture is frightening to all who cross its way. It borrows certain design elements from the KTM 1290 Super Duke R, the most notable of which is the distinctive headlamp "face-mask." Signature KTM graphics set aggressive lines and compact 11/13 proportions, leaving no question about its road-dominating ambitions.
Dashboard with TFT
A colorful mix of essential data is displayed in a clutter-free manner. The display bars change color as you crank the engine, either encouraging you or alerting you that the engine is still cold. When "Track mode" is chosen, the display automatically adjusts its lighting to the ambient light and becomes racy.
Lights with LEDs
The KTM 790 Duke seamlessly combines form and function. Consider the LED headlamp, which is a standout feature of this bike's design. It combines optimum near-field illumination with high light output. Furthermore, the daytime running lights on both sides guarantee that the motorbike is better recognized and distinguished by other road users, providing significant safety advantages. To make it simple to remove for track day usage or modification, the LED taillight is placed on the license plate holder.
Electronics and Software
The KTM 790 Duke is a motorcycle with a lot of strength and grit, but it also has many brains. Advanced electronics and next-generation rider aid effectively regulate the delivery of the smile-inducing power. KTM's mix of the most sophisticated software and electronics in the world of motorcycling allows you to simply choose the amount and degree of help required to optimize your excitement factor out on any ride, even when you're flirting with the limit. All the rider has to do is to concentrate on the road ahead — and hang on.
Rider Aids
It's cheering to know that science is on your side when you reach your limit. The KTM 790 Duke has been designed to provide you with the most refined mechanical feedback as well as technological assistance.
2020 KTM 790 Duke Naked Sports Motorcycle – Price
The new 2020 KTM 790 Duke Naked Sports Motorcycle is available at the price of $10,699 only.
2020 KTM 790 Duke Naked Sports Motorcycle – Technical Specifications
Engine
| | |
| --- | --- |
| Displacement | 799 cm³ |
| Power in KW | 77 kW |
| Design | 2-cylinder, 4-stroke, parallel twin |
| Bore | 88 mm |
| Stroke | 65.7 mm |
| Starter | Electric starter |
| Lubrication | Forced oil lubrication with two oil pumps |
| Transmission | 6-speed |
| Cooling | Liquid-cooled |
| Clutch | PASC™ anti-hopping clutch, mechanically operated |
| EMS | Bosch EMS with RBW |
Chassis
| | |
| --- | --- |
| Frame Design | All-New Chromium-Molybdenum-Steel frame using the engine as stressed element, powder-coated |
| Front Brake Disc Diameter | 300 mm |
| Rear Brake Disc Diameter | 240 mm |
| ABS | Two-channel Bosch 9.1 MP ABS |
| Chain | 520 X-Ring |
| Steering Head Angle | 66 ° |
Conclusion
Those riders looking for the perfect sports bike should prefer the new 2020 KTM 790 Duke Naked Sports Motorcycle because of its high-performing engine and aggressive styling. The motorcycle is available for $10,699 and comes with plenty of unique features.