Monster is unmistakable in its aggressiveness as it races. The Monster 1200 R's sporty, small, and lightweight aesthetics create an initial impression. To complement the athletic lines of the rear section, which are made possible in part by the new, light, compact structure, the tank's classic Monster design is retained. Tailpiece designs that are sleek and sporty draw attention. The seamless delivery of 152 horsepower by the R power unit gives the engine's sound a racing tinge. The overall review of 2019 Ducati Monster 1200 R Naked Bike with its specs is given below.
2019 Ducati Monster 1200 R Naked Bike – Features
Design
This minor, lightweight assembly is instantly associated with excellent performance and power thanks to the tank's classic Monster design and the sport-inspired, graceful rear lines. The 2019 Ducati Monster 1200 R Naked Bike has undergone extensive rework to reduce overall weight and heighten the rider's center of gravity. With its tapered, sharp-edged design in the passenger part, this single-piece rider and passenger seat seem to be shorter and slimmer.
High-placed aluminum plate holders on the back of this motorbike further improve its streamlined appearance, allowing the 200/55 rear tire to be wholly exposed; both the rear and front tires are mounted on 3-spoke, Panigale R-inspired forged wheels.
Race-inspired footpegs for the driver and passenger offer a cleaner side view, complemented by an enormous exhaust that meets Euro 4 regulations and is seamlessly incorporated into the rear end.
On the Monster 1200 R, the finishing touches are found in two places: the nose fairing and a longitudinal graphic pattern modeled by Ducati Corse's trademark stripe. Its exclusivity can be seen in the attention to the smallest of details, such as the sand-blasted graphic "R" pattern on the radiator metal covers and the contrast seams and model nameplate on the bi-material seat.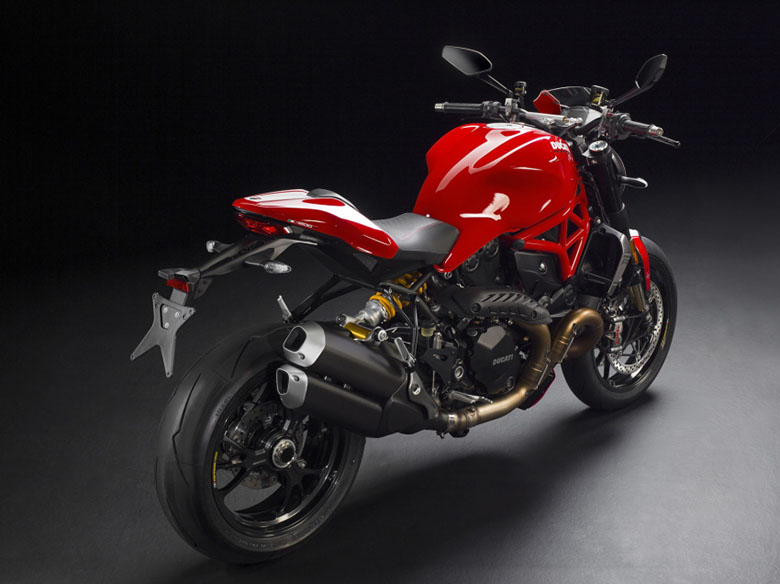 Engine
Liquid-cooled, four-valve per cylinder 1.198,4 cc Testastretta 11° DS engine powers the Monster 1200 R. Revisions have been made to Monster 1200's engine to boost its efficiency, reaching 160 horsepower (117.7 kW) at 9,250 rpm and 13.4 kgm (97 lb-ft) at 7,750 rpm, while keeping smooth delivery at low and medium RPM, characteristic of the newest generation of Testastretta 11° DS power units. The Monster 1200 R's engine meets the Euro 4 criteria.
Testastretta 11° Dual Spark engine of the Monster 1200 R is fitted with a 2-1-2 exhaust system with 58 mm diameter pipes and modified twin silencers for the Monster 1200 R The exhaust pipes have an 8-millimeter increase in cross-sectional diameter even though their routine hasn't altered, helping the engine breathe better owing to a revised throttle body. With a 56 mm equivalent diameter, the Monster 1200's initial circular form has been replaced with a more extensive, oval section design. To improve combustion efficiency, a lower-height cylinder seal has allowed for an increase in compression ratio from 12.5:1 to 13:1.
Compared to the Monster 1200 S, the "thrust" of the "R" variant stays powerful and energetic beyond 7,000 rpm, increasing power and torque over the rev range. At speeds of up to 10,200 rpm, a rider may unleash the full power of this engine in an exhilarating on-track experience. Delivery is constantly smooth and responsive to throttle opening at lower RPM throughout road usage, with 75% of the torque available at 3,500 rpm already.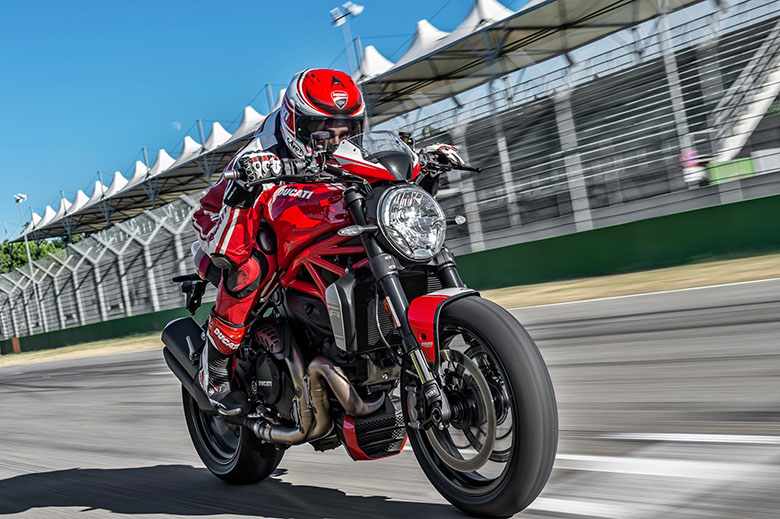 Using a Brembo master cylinder, the Monster sports a wet clutch 'slipper' function. For smooth and gradual operation, it has a self-servo mechanism. Major servicing should be performed every 15,000 kilometers (9,000 miles) or 12 months, with valve clearance adjustment checks every 30,000 kilometers (20,000 miles) (18,000 miles).
Frame
A race-derived solution pioneered by the Panigale in production bikes is still present in the Monster 1200 R's Trellis frame. This design results in a structure that is both light and compact, while the big cross-section pipes provide significant torsional strength, enhancing the 2019 Ducati Monster 1200 R Naked Bike's dynamic profile.
With this design, a compact framework supports the passenger footpeg brackets – now a different format from the rider's, to provide better flexibility of movement for road and track sports riding.
Footrests for the rider and passenger are forged aluminum and have a surface pattern intended to improve boot grip when riding. To match the Monster 1200 R's sporty nature, the rider's footpegs include metal heel protectors.
Because of this, the chassis set-up has been lifted 15 mm at both ends, and the seat height has been modified to 830 mm (32,7 in) so that the vehicle may be driven on a track. It has provided a natural riding posture and greater control for both road and track usage, allowing the rider to complete more laps with less effort.
Additionally, weight loss was a severe concern. Weight reductions of 2 kg (4.4 lb) were achieved via the tailpiece, wheels, carbon fiber components, and footpegs (397 lb). Weight reduction was made possible in part by the Monster R's more agile handling due to the elimination of unsprung and inertia mass.
Suspension
Suspension components include completely adjustable Ohlins forks with titanium nitride-coated bottoms and bodies and a fully adjustable Ohlins rear shock with black anodized bases. The rear suspension connects directly from the rear vertical cylinder to the die-cast aluminum single-sided swingarm at the other end using a progressive linkage. The adjustable steering damper completes the Ohlins suspension kit by controlling handlebar movement under high acceleration and improving the instrument panel view's sports inspiration.
Wheels and Tires
The Monster 1200 R is equipped with Pirelli DIABLOTM Supercorsa SP tires – 120/70 ZR17 at the front end and 200/55 x ZR17 at the rear end – inspired by the Panigale R design. The DIABLOTM Supercorsa SP embodies Pirelli's knowledge and racing expertise as the only provider of the World Superbike Championship since 2004, letting the customer enjoy a top-performance product both on the road and the racetrack without any compromises. To maximize tire performance, DIABLOTM used WSBK-derived structures and compounds to create the DIABLOTM Supercorsa SP.
A bi-compound tread with polymers on the 200/55 ZR17 rear tire ensures a rapid and continuous grip in every riding situation. Front and rear profiles are correctly matched, resulting in better handling and agility. Long longitudinal grooves extend from the central profile region to the shoulder of the bi-compound tread pattern, guaranteeing even in the roughest riding conditions. To maximize adhesion and grip, DIABLOTM tires have a "bare" shoulder region that is perfect for sports riding.
Braking system
For the Monster 1200 R, Brembo has used their top-of-the-line M50 Monobloc calipers and 330 mm discs, both found on the 1299 Panigale supersport. A master cylinder with a remote reservoir controls the braking system. The Monster 1200 R has a single Brembo caliper with sintered friction material pads gripping a 245 mm disc at the rear, which improves efficiency. Braking is regulated by the Bosch 9MP triple stage ABS – which the driver may disengage.
2019 Ducati Monster 1200 R Naked Bike – Price
The new 2019 Ducati Monster 1200 R Naked Motorcycle is available at $19,395 only.
2019 Ducati Monster 1200 R Naked Bike – Technical Specifications
Engine
| | |
| --- | --- |
| Type | Testastretta 11° DS, L-Twin cylinders, four-valve-per-cylinder, Desmodromic, liquid-cooled |
| Displacement | 1198.4cc |
| Bore x Stroke | 106 x 67.9mm |
| Compression ratio | 13.0:1 |
| Power | 112 kW (152 hp) at 9,250 rpm |
| Torque | 125 Nm (92 lb-ft) at 7,750 rpm |
| Fuel injection | Synerject-Continental electronic fuel injection system, elliptical throttle body Ø 56 mm equivalent with full Ride-by-Wire |
| Exhaust | Lightweight 2-1-2 system with catalytic converter and two lambda probes. Twin aluminum mufflers |
Transmission
| | |
| --- | --- |
| Gearbox | Six-speed |
| Primary drive | Straight cut gears, ratio 1.84:1 |
| Ratio | 1=37/15 2=30/17 3=27/20 4=24/22 5=23/24 6=22/25 |
| Final drive | Chain; Front sprocket 15; Rear sprocket 41 |
| Clutch | Wet, multi-plate clutch with hydraulic control. Self-servo action on drive, slipper action on over-run |
Chassis
| | |
| --- | --- |
| Frame | Tubular steel Trellis frame attached to the cylinder head |
| Front suspension | Ohlins fully adjustable 48mm USD forks |
| Front-wheel | Tri-W spoke forged alloy 3.50″ x 17″ |
| Front Tyre | Pirelli Diablo Supercorsa SP 120/70 ZR17 |
| Rear suspension | Progressive linkage with fully adjustable Öhlins monoshock. Aluminum single-sided swingarm |
| Rear-wheel | Tri-W spoke forged alloy 6-inch x 17-inch |
| Rear tire | Pirelli Diablo Supercorsa SP 200/55 ZR17 |
| Front-wheel travel | 130mm (5.1in) |
| Rear-wheel travel | 159mm (6.2in) |
| Front brake | 2 x 330mm semi-floating discs, radially committed Brembo Monobloc Evo M50 4-piston calipers, radial pump including ABS as standard |
| Rear brake | 245mm disc, 2-piston caliper, including ABS as standard |
| Instrumentation | Full-TFT color display |
Dimensions and weight
| | |
| --- | --- |
| Dry weight | 180kg (396,8 lb) |
| Wet weight (KERB) | 207 kg (456.3 lb) |
| Seat height | 830 mm (32.7 in) |
| Wheelbase | 1509 mm (59.4 in) |
| Rake | 24.3° |
| Trail | 89 mm (3.5 in) |
| Fuel tank capacity | 17.5l – (4.6 US gal) |
| Number of seats | Dual seat |
| Standard Equipment | Riding modes, Power modes, RbW, DSP Ducati Safety Pack (ABS + DTC), seat cover |
| Warranty | 24 months unlimited mileage |
| Maintenance service intervals | 9,000m/12 Months |
| Valve clearance check | 30.000km (18,000m) |