The Honda brand is well-known for its quality and high performing motorcycles. This year the Honda brand has launched the new 2019 CRF110F Honda Trail Dirt Bike, which is one of the smallest off-road bikes. It contains the powerful air-cooled single-cylinder engine with the proven four-speed transmission and an automatic clutch that offers a smooth shifting experience. Its new fuel-injection system makes it easy to start in cold weather and high altitude conditions. It has more significant suspension travel, seat padding, and a new steel frame that makes this trail dirt bike as one of the best riding machines. Its review with its price and specifications are given below.
2019 CRF110F Honda Trail Dirt Bike – Features and price
The 2019 Honda CRF110F is available at $2,399 only.
Performance
The new 2019 CRF110F Honda Dirt Motorcycle features the four-stroke and single-cylinder engine that offers outstanding performance. It features the wider powerband, which is considered to be perfect for a wide range of riders, including newbies. This time there is no need to use a clutch lever because 2019CRF110F does not has any clutch lever. It merely means no stalling. Besides, the smooth transmission provides four gear ratios plus rider can also shift with his foot.
Convenience
This Honda CRF110F provides the ultimate comfort of all times. The rider can quickly push the button and can start his journey. The rider can begin after the tip-over are a snap, and the push button means that there is no frustration if junior accidentally stops the engine. The keyed ignition makes sure that the key is in the right hand, and junior riders can only enjoy the ride when they have done their daily homework. The tough bodywork of 2019 Honda CRF110F enables it to withstand all kinds of obstacle came in its way. It uses the tough plastic fenders, tank, and other body parts. These body parts have been specially designed to look like a bigger Honda CRF motocross.
Engineering
The Honda CRF110F allows the rider to set the top speed just by turning the screw. It helps in preventing the rider from getting too fast, plus it is very helpful in matching the powerful output according to the rider's skill level. The same thing can also be found in the 2018 Honda CRF110F Trail Dirt Bike. This 2019 Honda Trail Motorcycle features the new kick starter, which is very easy to use play; it helps in ensuring that the rider enjoys his day full of fun.
The new fuel injection system meets the strict California's stringent CARB emission standards for off-road biking. The use of the latest fuel injection means that this Honda Dirt Bike can start in cold weather as well. Besides, it helps in reducing the overall emission, plus it enhanced performance and fuel efficiency. The use of a new twin-spar type steel frame ensures ultimate strength and superb handling.
Comfort
An all-new 2019 CRF110F Honda Trail Dirt Bike comes with an upgraded and half-waffle grips that give ultimate pleasure. The low seat height helps in building ultimate confidence right from the start. Its seat height fits nicely between the Honda CRF50F and CRF125F. Its frame uses the new rear suspension that helps in gaining additional travel for a smoother ride.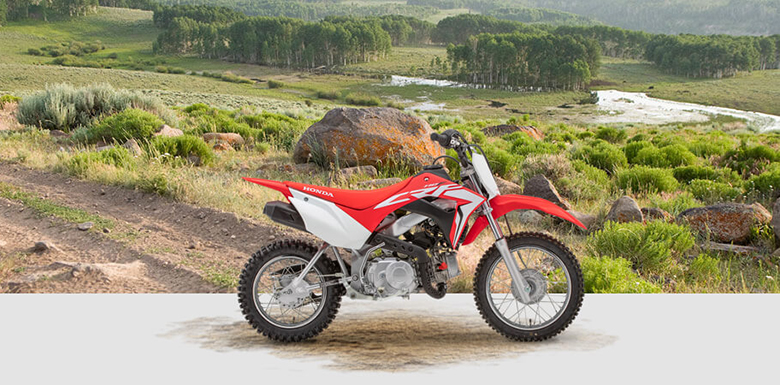 2019 CRF110F Honda Trail Dirt Bike – Technical Specifications
Engine
| | |
| --- | --- |
| Engine Type | 109 cc, air-cooled, single-cylinder, four-stroke |
| Bore and Stroke | 50 mm x 55.6 mm |
| Compression Ratio | 9.0:1 |
| Valve Train | SOHC; two-valve |
| Induction | Fuel-injection, 19 mm throttle bore |
| Ignition | Full Transistorized |
Check out the latest Engine Accessories of 2019 CRF110F Honda Trail Dirt Motorcycle.
| | |
| --- | --- |
| Shop Now | Shop Now |
| Shop Now | Shop Now |
Drive Train
| | |
| --- | --- |
| Transmission | Four-speed with automatic clutch |
| Final Drive | #420 Chain |
Chassis Suspension Brakes
| | |
| --- | --- |
| Front Suspension | 31 mm telescopic fork; 3.9 inches of travel |
| Rear Suspension | Single-shock; 3.8 inches of travel |
| Front Brake | Drum |
| Rear Brake | Drum |
| Front Tire | 70/100-14 |
| Rear Tire | 80/100-12 |
Check out the latest Chassis Accessories of 2019 CRF110F Honda.
| | |
| --- | --- |
| Shop Now | Shop Now |
| Shop Now | Shop Now |
Dimension
| | |
| --- | --- |
| Rake | 25°10′ (Caster Angle) |
| Trail | 53 mm (2.0 inches) |
| Wheelbase | 41.9 inches |
| Seat Height | 25.9 inches |
| Curb Weight | 170 pounds |
| Fuel Capacity | 1.0 gallon |
| Ground Clearance | 6.7 Inches |
Other
| | |
| --- | --- |
| Emissions | This 2019 Honda CRF110F meets the strict California Air Resources Board (CARB) and EPA off-road emissions standards. |
| Available Colors | Red |
| Model ID | CRF110F |
Factory Warranty Information
| | |
| --- | --- |
| Duration | Six Months transferable limited warranty; extended warranty available with a Honda Protection Plan. |
The Honda Experts strictly recommends the use of safety gears during ride.
| | |
| --- | --- |
| Shop Now | Shop Now |
| Shop Now | Shop Now |
Conclusion
This article provides the maximum details and information of 2019 CRF110F Honda Trail Dirt Bike, and it is covered under Bikes Catalog. It contains a powerful and high performing engine that provides an outstanding and fantastic acceleration. The best thing is that its output can be set according to the rider's skill level that enhances the riding pleasure. The seat height has been carefully arranged, which increases rider comfort. The rear suspension ensures to provide superb handling experience during bumps and rough surface conditions. In short, the new 2019 CRF110F Honda Dirt Bike is an ideal bike for those who want to enjoy off-road riding.