BMW Company has launched its new 2016 BMW R nineT Scrambler bikes which are known as one of the best bikes BMW has ever launched. Reviews are written below which shows that 2016 BMW R nineT Scrambler is indeed the best bike on its performance, speed, design, frame and stylish look. This bike came with a simplified design which its ancestors has from the '50s all the way through the '70s. The designers work hard to maintain the design of scrambler family, yet it gives a bit modern look. The bike has the ergonomic design which makes the ride more comfortable because biker receives minimum air drag.
2016 BMW R nineT Scrambler – Specs
Engine
2016 BMW R nineT Scrambler comes with amazing features especially when it comes the power of the bike, the bike has a powerful engine of 1,170 ccs, its flat twin engine is air and oil cooled which makes its driver work for the long ride. The engine of the bike runs with a 101 mm bore and 73 mm stroke. The overall performance of the bike is fantastic, and it has 110 horsepower engine which works at 7,800 RPM and 88 pound-feet of torque at six grand.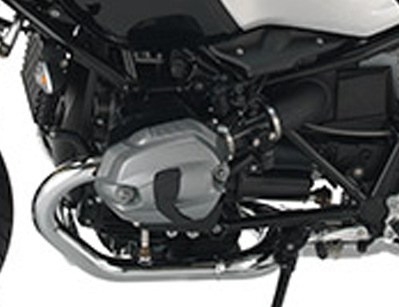 The bike has a quad-valve head with DOHC actuation control aspiration with the support of the electronic fuel injection which manages the mix. The bike has a gear box of six speed with the worth of helical-cut gears for smooth, quick and efficient engagement that gives 52 MPG at 55 MPH and a bike has a top speed of more than 125 MPH.
Chassis
2016 BMW R nineT Scrambler comes with a tubular steel modules which are the bolt together to form the structure with the engine as a keystone. One of the best features of the bike is that it comes with a removable pillion strut which offers a chance from solo to two-up within no time. The radical customization is possible with the modular nature of the frame. The bike has 28.5-degree steering head which makes 4.3 inches of trail, this position of handlebars make ride more joyful and less fatigue. The front brake discs are in the form of the pair of four-pot made up of Brembo caliper pinch about 320 mm while the rear discs are BMW's famous twin-pot of about 265 mm in length. The bike has a good performing ABS, which makes this bike smooth to ride. The key to the success of most of the dual-sports bike is the support of the ABS, and 2016 BMW R nineT Scrambler has fantastic ABS, which completely fits with a motorcycle. The suspension of the bike is according to the requirements of the vehicle. The inner fork tube is about 43 mm usd forks which bare minimum of the inner fork tube exposed. All of this fitness increases the stiffness, handling, and stability of the bike up to the limit. There is a Direct connection between rider and a motorcycle. 2016 BMW R nineT Scrambler has a paralever on the single-side with swingram made up of aluminum with coil-over monoshock to bour the rear. The bike comes with adjustable spring preload and rebounds damping which increases its flexibility to some extent, suspensions are loaded 4.7 inches of the front wheel travel and 5.5 inches of the rear wheel. The unique feature of the bike is that is a deep groovy type tire which provides good grip on almost every surface.
Design
2016 BMW R nineT Scrambler comes with a classical design with a front wheel of 19 inch and fork gaiters up front supported with a little fuel tank and minimal saddle. The engine dominates the overall look of the bike maintaining its classical design. The bike comes with the impressive classic look which is the signature look for every Scrambler.  Designers of the BMW R nine T Scrambler has calculated every millimeter of the motorcycle to maintain its classical look. The bike has a short rise handlebars which are connected with seat and footrest position to put a rider in a comfortable position; this position is best for turning at high speed. One of the best features of this bike is the ability of switch between comfortably stand up on the pegs and to maintain control of the motorcycle.
Dimension
2016 BMW R nineT Scrambler bike has incredible size and is indeed the best bike of all time. The bike came with the maximum length of 85.6 inches and the maximum width of 34.6 inches. The seat height is 32.2 inches with the wheelbase of 60.1 inches. The curb weight of the bike is 485 pounds and has a fuel tank capacity of 4.5 gallons.
2016 BMW R nineT Scrambler Price
2016 BMW R nineT Scrambler with all its features and a stylish classical design comes with a price of $ 14,990. The bike comes only in one available color which is "Monolith metallic matte". The bike has amazing handling, stability, smooth riding, fantastic grip, and epic performance.
2016 BMW R nineT Scrambler – specs
Engine
| | |
| --- | --- |
| Type | Air-Oil-Cooled, Two – Cylinder DOHC Boxer, Four Valves/Cylinder |
| Displacement | 1,170 cc |
| Bore | 101 mm |
| Stroke | 73 mm |
| Maximum Horsepower | 110 Horsepower @ 7,800 RPM |
| Maximum Torque | 88 Pound-Feet @ 6,000 RPM |
| Compression | 12.0:1 |
| Clutch | Hydraulically Activated Dry Clutch |
| Transmission | Constant – Mesh Six – Speed |
| Primary Ratio | 1.737 |
| Final Drive | Universal-Shaft |

Performance
| | |
| --- | --- |
| Fuel Economy | 44 MPG |
| 0-60 MPH | 3.5 seconds |
| Top speed | 124 MPH |
Chassis
| | |
| --- | --- |
| Frame | Tubular Steel Space Frame, Engine Self-Supporting |
| Front suspension | 43 mm Inverted Telescopic Fork with 4.7-inch travel |
| Rear Suspension | BMW Paralever with 5.5-inch travel |
| Rake | 28.5 degrees |
| Trail | 4.3 inches |
| Front Brakes | Brembo, Hydraulic Dual 320 mm Disc |
| Rear Brakes | Hydraulic Single 265 mm Disc |
| ABS | BMW Motorrad ABS |
| Front Wheel | Cast Aluminum, 3.0 x 19 inches |
| Rear Wheel | Cast Aluminum, 4.5 x 17 inches |
| Front Tire | 120/70 ZR19 |
| Rear Tire | 170/60 ZR17 |

Dimension
| | |
| --- | --- |
| Length | 85.6 inches |
| Width (with Mirrors) | 34.6 inches |
| Seat Height | 32.2 inches |
| Wheelbase | 60.1 inches |
Details
| | |
| --- | --- |
| GVWR | 947 Pounds |
| Curb Weight | 485 Pounds |
| Fuel Tank Capacity | 4.5 Gallons |
| Recommended Fuel | Premium Unleaded |
Warranty
| | |
| --- | --- |
| Warranty | One-Year Limited Warranty |

Conclusion
The new launched 2016 BMW R nineT Scrambler is an excellent bike, and its review is covered under www.bikescatalog.com today. This article provides complete information about it. 2016 BMW R nineT Scrambler is a fantastic bike which can be used to ride on both on-road and 0ff-road tracks all this is only possible due to the knob like tires of the motorcycle. The bike has an incredibly powerful engine and excellent torque. It is a good bike with great features, so be the first to purchase it and enjoy its ride with your friends and be here to have more details in the shape of review.