With an ultra-contemporary robust design, fuel-efficient power, and massive features in a small size, it's the clear choice in its class. The overall review of the Zuma 125 2021 Yamaha Scooter is available with its price and features.
Zuma 125 2021 Yamaha Scooter – Features and Price
Top Features
The Zuma 125 2021 Yamaha Scooter is designed around a sturdy steel frame with wide, aggressive tires on cast-aluminum wheels, durable suspension, protective off-road-style brush deflectors, and fork tube boots behind the elegant appearance. This scooter can handle all types of roads and has enough attitude for your everyday commute.
A small 125cc 4-stroke engine including four valves, a 10:1 compression ratio, ceramic-composite cylinder liner, and electronic fuel injection powers the Zuma 125, offering contemporary dependability and economy. You have plenty of range, too, with a 103 mpg* fuel economy and a 1.7-gallon fuel tank.
The Zuma 125 2021 Yamaha Scooter is straightforward to drive thanks to its fully automated V-belt gearbox and push-button electric starter. Parking is safe and precise thanks to standard center and side supports and a locking cover on the ignition switch.
The Zuma 125 2021 Yamaha Scooter's seat has space for two people and plenty of lockable storage underneath it. It is now straightforward to get on and off, thanks to the step-through flooring.
Engine
The Zuma 125's fuel-injected, 125cc single-cylinder, 4-stroke engine uses a SOHC 4-valve head with a 10:1 compression ratio and ceramic-composite cylinder plating to provide a lot of power its size. Fuel injection ensures the best fuel combination for every given situation, making cold starts a breeze. The Zuma 125 2021 Yamaha Scooter is straightforward to carry because of its push-button electric starter. Simple wet-sump lubrication is utilized for dependability and ease of maintenance. For optimum efficiency and longer engine life, the forced air cooling system helps keep engine temperatures under control, even when idling at stoplights.
The fully automated V-belt gearbox with centrifugal clutch allows for simple twist-and-go operation and quick acceleration off the line. Even while traveling on muddy roads, and oil-paper-type air filter helps capture dirt before it reaches your engine. For durability, the V-belt housing includes its own off-road-style wet-foam air filter. Exhaust catalyst technology is used in the upswept muffler to decrease air pollution and satisfy emission standards.
Chassis/Suspension
The sturdy steel-tube frame is light yet sturdy, with a step-through design for simple installation. A corrosion-resistant finish is achieved via a two-stage electrostatic painting technique. The robust outer tubes of the telescopic fork provide strength, while the fork boots protect the oversized 33mm inner tubes from dirt. The swingarm has dual rear shocks with a total journey of 3.1 inches for comfort on both paved and muddy terrain.
The 1.7-gallon fuel tank provides plenty of cruising range. A charcoal canister is used in the fuel tank emissions system to regulate gasoline evaporation and minimize air pollution. The aggressive block pattern on the fat 120/70-12 front and 130/70-12 rear tires provide excellent handling on rough routes and the street. Lightweight five-spoke die-cast aluminum wheels support the tires.
The wave-type front rotor design adds cutting-edge flair to the 245mm hydraulic front disc and 200mm rear disc brakes, which offer plenty of stopping power. With a narrow seat design for simpler flat-footing at stops and lots of legroom in front of the rider's seat, a comfortable and spacious riding posture is ready for two. Meanwhile, the passenger is provided with safe handholds that mix in seamlessly with the Zuma 125's body design.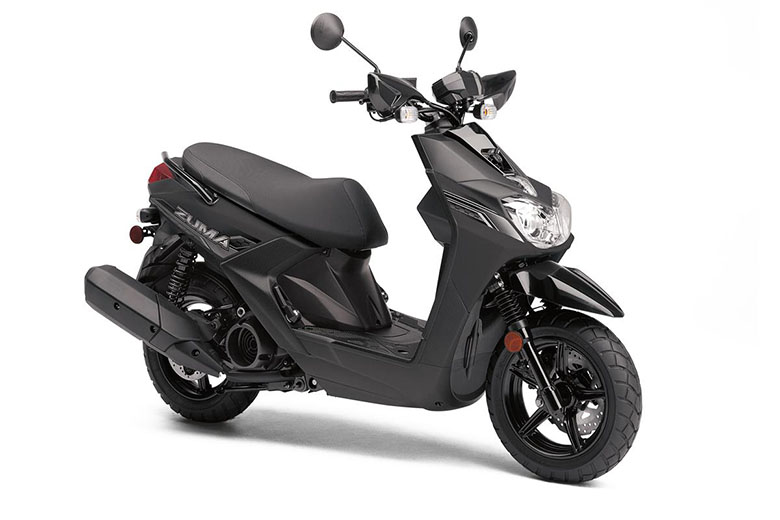 Additional Features
The contoured bodywork seamlessly wraps around the aggressive lighting design, lit by two brilliant halogen headlights. The 7.7-gallon capacity of the under-seat storage box is large enough to fit a full-face helmet, and a cup holder and fold-out luggage hook on the dash make it simple to transport everything.
The sleek LCD meter on the Zuma 125 2021 Yamaha Scooter has a fuel gauge and a complete set of indication lights. For parking convenience, the Zuma 125 has both a center stand and a side stand. The primary switch is fitted with a keyhole lock cover for further protection while parked. For the convenient filling, the gasoline filler is located immediately to the left of the ignition switch.
Zuma 125 2021 Yamaha Scooter – Price
The new Zuma 125 2021 Yamaha Scooter is available for $3,599 only in two color options, i.e., Ultramarine Blue and Matte Black.
Zuma 125 2021 Yamaha Scooter – Technical Specifications

Engine
| | |
| --- | --- |
| Engine Type | 125cc forced air-cooled, 4-stroke SOHC single; 4 valves |
| Bore x Stroke | 52.4mm x 57.9mm |
| Compression Ratio | 10.0:1 |
| Fuel Delivery | Fuel injection |
| Ignition | Digital TCI: Transistor Controlled Ignition |
| Transmission | V-Belt automatic |

Chassis
| | |
| --- | --- |
| Front Suspension | Telescopic forks |
| Rear Suspension | Dual shocks |
| Front Brakes | Hydraulic disc, 245mm |
| Rear Brakes | Hydraulic disc, 200mm |
| Front Tires | 120/70-12 |
| Rear Tires | 130/70-12 |

Dimensions
| | |
| --- | --- |
| L x W x H | 75.2 inches x 30.1 inches x 44.3 inches |
| Seat Height | 30.7 inches |
| Wheelbase | 51.4 inches |
| Rake (Caster Angle) | 27-degree |
| Trail | 3.7 inches |
| Maximum Ground Clearance | 4.9 inches |
| Fuel Capacity | 1.7 gal |
| Fuel Economy | 103 mpg |
| Wet Weight | 262 lb |
Other
| | |
| --- | --- |
| Warranty | 1 Year (Limited Factory Warranty) |

Conclusion
In the end, team Bikes Catalog to love to say that the new Zuma 125 2021 Yamaha Scooter is an impressive scooter that features fuel efficient engine highly. The scooter has got stylish, lightweight but strong chassis. The suspension and braking system performs well, like never before.