The new YZF-R1S 2018 Yamaha Heavy Bike is one of the best and high performing Yamaha Heavy bike that comes with a lot of amazing features. This Heavy bike was designed to rule the racing track with its powerful engine and attractive chassis. This sports bike is one of the best and profoundly beautiful sports bike that fulfills the demands of every rider. The review of YZF-R1S 2018 Yamaha Heavy Bike with its price and specifications are given below.
YZF-R1S 2018 Yamaha Heavy Bike – Price and Specifications
Engine
The new YZF-R1S 2018 Yamaha Heavy Bike features the robust and high performing 998 ccs in-line, 4-cylinder, cross-plan crankshaft engine. This engine features steel fracture-split that connects with the rods and lightweight forged pistons. This is one of the best race-derived drivers that can deliver the high horsepower and stronger pulse of linear torque. The new YZF-R1S 2018 Yamaha Heavy Bike features the transmission containing 6-speed gearbox that offers an excellent engine response. The transfer stacks the input and output shafts to centralize mass plus it keeps the overall engine size much shorter from front to back.
An all-new YZF-R1S 2018 Yamaha Heavy Bike comes with an advanced rocker-arm valve actuation that uses arm's lever ratio for more massive valve lift. It uses lower cam lobes plus reduces spring pressure for further boosting power. This sports bike is equipped with the latest exhaust system that has been crafted from titanium and stainless steel. Plus, the compact mid-ship muffler contributes to mass centralization like in 2018 Yamaha YZF-R6 Sports Bike. The Yamaha's Assist and slipper clutch is being used to give a rider more confident downshift when entering corners aggressively. It allows the rider to handle the torque of the high-output inline-four motor smoothly.
Chassis and Suspension
The new YZF-R1S 2018 Yamaha Heavy Bike features an attractive full-color, thin-film transistor LCD meter that includes front brake pressure and the new fore/aft G-force readouts. This sports bike features both street mode and a track mode for outstanding performance. Its YRC settings, a zoomed-in view of the tachometer in the upper rpm range, last lap features, a lap timer with the best lap, speed and gear position indicator. An aluminum Deltabox frame and magnesium sub-frame contribute to it is lightweight and compact chassis design. An all-new aluminum frame is not only reliable and flexible that uses the engine as a stressed member of its frame for optimal rigidity balance and fantastic cornering performance.
This Yamaha Sports Bike features the latest inverted KYB front fork with 43 mm inner tubes, and it features 4.7 inches of stroke with full adjustability for an outstanding balance of feedback and traction. The fully adjustable KYB shock features the rear bottom link pivot position, which is optimally placed to give exceptional handling and excellent transmission of engine torque. The new wheelbase is 10 mm is much shorter than the older 2017 Yamaha YZF-R1 Sports Bike. This R1S retains 40.5 % ratio of swingarm length to wheelbase for superb handling. An aluminum 4.5-gallon fuel tank weighs about 3.5 pounds less than the comparable steel tank, which further reduces overall weight. The new ABS and unified Braking system give maximum braking performance of all times.
Unique Key Features
MotoGP® Styling
Compact LED Headlights
LED Lighting
Factory Level Telemetry
Electronics
The new YZF-R1S 2018 Yamaha Heavy Bike comes with an IMU (Inertial Measurement Unit), which uses six axes of measurement. It consists up of gyro sensor that measures pitch, yaw, and roll. This IMU communicates with ECU, which activates the technologies in YRC (Yamaha Ride Control). This control consists up of Traction Control System, Slide Control System, Power Mode, Lift Control System, and Launch Control System. All of these systems are adjustable, and it can be saved within four presets in the YRC system. The new PWR (Power Delivery Mode) is very similar to the D-Mode system, which allows the rider to choose from four settings of throttle-valve opening rate.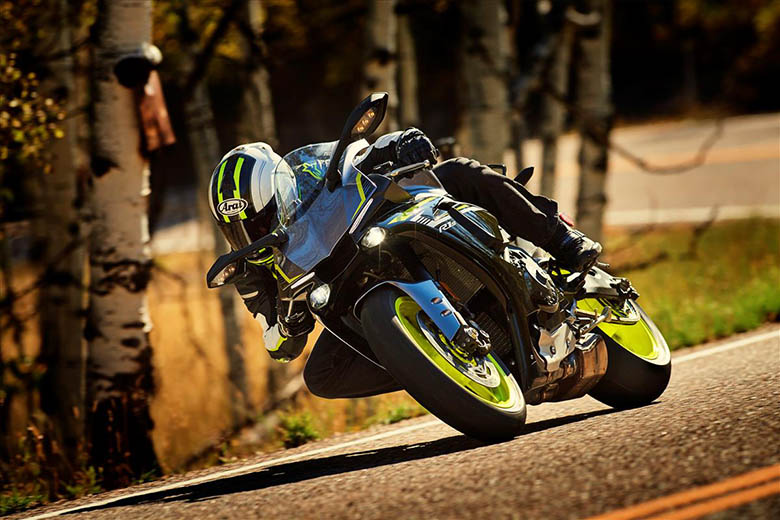 The Variable Traction Control System reduces the overall rear wheel spin when exiting corners. As the lean angle increases, so do the amount of intervention with ten separate settings. The new SCS (Slide Control System) is the first of its kind of the production bikes that comes directly from the Yamaha YZR-M1. It works in parallel with the IMU when a slide is detected while accelerating during hard leaning conditions.
The Lift Control System detects the front to rear pitch rate, and the ECU controls engine power to reduce its front wheel lift during acceleration. It comes in four different settings, plus it can be turned off. The LCS (Launch Control System) also limits the engine rpm to 10,000 full open throttles. It maintains the optimum engine output in conjunction with input from TCS and LIF system to maximize its acceleration from the zero. This Yamaha Heavy Bike features (Yamaha Chip Controlled Throttle) YCC-T with latest fly-by-wire technology offering optimum power delivery.
YZF-R1S 2018 Yamaha Heavy Bike – Price
The new YZF-R1S 2018 Yamaha Heavy Bike is available with a price of $14,999. It comes in Cerulean Silver/ Raven color combination and is available from March 2018.
YZF-R1S 2018 Yamaha Heavy Bike – Technical Specifications
Engine
| | |
| --- | --- |
| Engine Type | 998 cc, liquid-cooled, in-line, four cylinders, DOHC; 16 valves |
| Bore x Stroke | 79 mm x 50.9 mm |
| Compression Ratio | 13.0:1 |
| Fuel Delivery | Fuel injection including YCC-T and YCC-I |
| Ignition | TCI: Transistor Controlled Ignition |
| Transmission | Final Drive |
| Final Drive | Chain |
Chassis
| | |
| --- | --- |
| Suspension / Front | 43mm KYB® inverted fork; fully adjustable; 4.7 inches travel |
| Suspension / Rear | KYB® piggyback shock, 4-way adjustable; 4.7 inches travel |
| Brakes / Front | Dual 320 mm hydraulic disc; Unified Brake System and ABS |
| Brakes / Rear | 220 mm disc; Unified Brake System and ABS |
| Tires / Front | 120/70ZR17 |
| Tires / Front | 190/55ZR17 |

Dimensions
| | |
| --- | --- |
| L x W x H | 80.9 inches x 27.2 inches x 45.3 inches |
| Seat Height | 33.7 inches |
| Wheelbase | 55.3 inches |
| Rake (Caster Angle) | 24.0-degree |
| Trail | 4.0 inches |
| Maximum Ground Clearance | 5.1 inches |
| Fuel Capacity | 4.5 gallons |
| Fuel Economy | 34 mpg |
| Wet Weight | 448 lb |

Other
| | |
| --- | --- |
| Warranty | 1 Year (Limited Factory Warranty) |

Conclusion
This article provides the maximum detail of YZF-R1S 2018 Yamaha Heavy Bike, and it is covered under bikescatalog.com. This heavy bike features the powerful and high performing engine that can deliver massive torque and high acceleration under all conditions. The frame is light in weight that offers outstanding handling experience, especially on corners. The chassis is beautiful that always demand for a second look. The seat design and height has been carefully providing superb riding pleasure.