The American subsidiary of Yamaha added two new models in its custom range (called "Star" in the USA): the Bolt and its "sporting" variation more, the R-Spec Bolt. Sober and elegant, these two models of 942 DC are posed in alternative tempting to circumvent Harley-Davidson Iron 883… But perhaps only in the United States!
The (beautiful) node with (too) old!
Discovered at the time of Daytona Bike Week in Florida, this new range Yamaha Bolt puts a blow of young person at the range custom of Yamaha thanks to an elegant line and an upper works without ornament.
Forget chromium's with sucker and the "spangles" in force on certain Japanese models: in spite of some desires to look elegant impressed of modernism (discs with petals, chromium meter ringed and back lighted in blue, rear light with led), the Yamaha Bolt plays the card of sobriety.
Very inspired by that of a Harley-Davidson Iron 883, his silhouette appears more collected than that of the XVS950 Midnight Star with which it takes again the engine and the framework doubles steel cradle.
Worked again on the level of the injection to improve the mid–modes, the v-twin with liquid cooling of 942 DC is charged to move 245 kg all full facts of this innovation 2014 via a final transmission by belt.
Compressed to 9.0: 1, this twin-cylinder open to 60° develops 54 ch to 6000 rpm and 76.8 Nm of couple to 3000 rpm on Midnight Star (values not communicated on the Bolt). The distribution of large kicks to the base thus is not part of its principal qualities, but its flexibility and its availability make it possible "to wrinkle" the bandana with the wind, without having with frequently resorting to its box with five reports.
Less heavy than Midnight Star (278 kg all full facts) and then Iron 883 (260 kg in functioning order), Yamaha Bolt thus seems to assert a more "sporting" approach. A philosophy more pushed even on its variation equipped with compounds shock absorbers to bottles separated nicely anodic; the Bolt "R-Spec" (see the photo gallery below).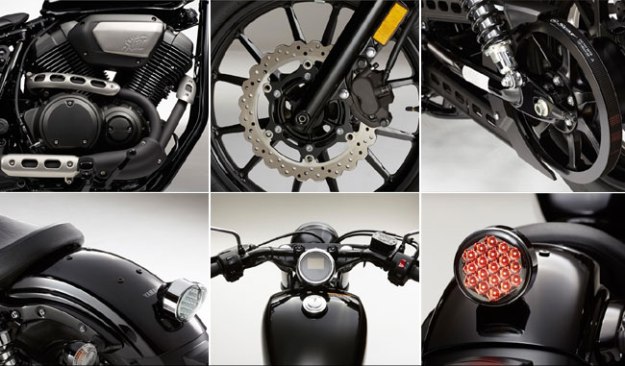 The Bolt uses for the first time new rims with twelve rays on which of Bridgestone in 100/90/19 and 150/80/16 are assembled (even sizes that on the H-D Iron 883). Thanks to this goes up pneumatic to "reasonable" dimensions, with the low height of saddle (69 cm) and with its footing shorter than on Midnight Star (1567 mm against 1685 mm), this small custom should be shown relatively easy to take over.
On the other hand, the choice for the capacity of tank is equivalent to that of Iron 883 (12.1 liters compared with 12.5 liters for the H-D and 17 liters on Midnight Star 950!) will be able to grain some of them…
And French bikers, then?
Contacted by bikescatalog.Com, Yamaha Motor France does not have any information for the moment to transmit in connection with the importation of these models in the Hexagon. As an indication, on the official site of Yamaha the USA, the Bolt is announced for April to 7990 dollars (approximately 6145 €) and 8290 dollars (approximately 6375 €) for R-Spec.
Yamaha Bolt and Bolt R-Spec 2014: Pictures gallery