The arrival of BMW's R 18 Cruisers equipped with the world's largest air-cooled boxer engine made us think of other well-known motorcycle flops, such as the 1993 Yamaha GTS 1000, a radical, hub-center steered sports tour that was billed as the future of motorcycling but sold it. It was so devastating that it was quietly shut down after a while. But it was not the only one. Manufacturers may not appreciate it, but recent history is full of 'great white motorcycling aspirations,' which introduced new fashions or technologies (or both) but ultimately led to the destruction of the motorcycle. So, here is the list of the Top Ten Flop Motorcycles You Didn't Want.
Top Ten Flop Motorcycles That You Didn't Want – Top Rated
1993 – Yamaha GTS 1000
We'll start with GTS because that was our first thought. After valuable investment and R&D, Yamaha's most ambitious sports traveler arrived in 1993 with high expectations. The GTS had, among other things, fuel injection, ABS, a catalytic converter, and a six-piston front brake.
It also has excellent performance, excellent stability, and braking, as well as smooth performance and luxury comfort. The problem was that it was easy to criticize: the engine, while powered by a 140bhp FZR1000, was converted to only 100bhp. The 'Omega Chassis concept,' as well as being innovative, was heavy and ineffective at low speeds. Fuel consumption was low and tank capacity was limited. And, worst of all, it was expensive to make and buy.
1997-2004 – BMW R1200C
Since we mentioned R18, we had to include R1200C and its branches. C was a 1997 attempt by BMW to enter the US cruiser market under Harley Davidson.
Unfortunately, he chose to do so with a modest type of R1150 boxer and half-baked styling of the time that only his mother could admire – all this to illustrate the massive technical and styling efforts. I help those who have moved to the new R18.
As a result, the lump produced only 61bhp, despite increasing to 1170cc, and regained it for torque. BMW had the then-signed TeleLever frontend, as well as other advanced German features such as catalytic converters and ABS brakes.
1997-2002 – Suzuki TL1000S/R
It's probably a little hard to flop Suzuki's TL. However, this 'Japanese Ducati' initially surpassed the 916; its pinch engine was always considered one of the best V-Twins, out of the TL to form the basis of the bike up to today's VStrom 1050. Yes, and S and R are both types. Cheap is now considered a classic.
But none of this considers that the original S'revolutionary 'Rotary Damper Rear Suspension' combined with Ultra Sharp Geometry made it a 'widow maker,' for which Suzuki redesigned the steering damper.
2001-2003 – Aprilia Futura RST1000
Another one-shot V Twin. Aprilia's expansion in the late 1980s and 1990s was so rapid that it seemed inevitable that it would eventually challenge the Ducati with its own big V-twin.
Although the RSV1000 Mille, Aprilia's pinch 60-degree motor, developed by Rotax, the first, the RSV1000 Mille in 1998, was good enough to indicate that the Aprilia was not only from Ducati but possibly even from Honda. Ready to compete. However, things did not go as planned.
Despite its excellent performance, RSV had never achieved the World SBK success that Aprilia wanted, especially when Honda debuted its 'Ducati-alike SP-1 in 2000.
Worse, Aprilia quickly followed RSV with a series of V-Twins that were expensive, overly ambitious, and flawed. The most notable of these was RST Futura in 2001.
The Futura was designed to compete with Honda's unprecedented VFR800 V4 sports tour. It had a D-Twin, 100bhp Rotax V-twin engine, one-way swing arm and under-seat exhaust, equally full display, comfortable ergonomics, and beautiful, angular bodywork. On paper, this seemed reasonable.
2005-2010 – Ducati SportClassic
Speaking of the 'classics,' we could not have had a list of motorcycle flops without including one of them, no matter how cute the bikes are today. We are talking about the famous SportClassic family of Ducati.
The Sport 1000 and the Paul Smart LE (limited edition) was introduced in 2005, followed by the GT1000 in 2007. They were all beautifully styled and retro-inspired (1970s Sport 750, Imola Winner 750 SuperSport, and GT750 respectively). The 1000DS is powered by a 90bhp air-cooled V-twin and is equipped with standard specs and bicycle parts (especially the LE with Ohlins suspension and more).
2007-2012 – Suzuki B-King
If there's ever proof that manufacturers shouldn't be too enthusiastic about fantasy bikes at trade shows, this is it.
The original B-King was a ridiculous fantasy bike that debuted at the 2001 Tokyo Show. It was initially a roadster version of the Hayabusa hyperbike with a supercharger, a large rear tire, and a Judge Dread-style design.
Everyone said to make it. "We will buy it," he swore. Suzuki followed suit. Unfortunately, the practical implications were that there was no supercharger until it was ready, the style was reduced, and the price was almost double that of a standard super nude.
2008-2012 – Harley-Davidson XR1200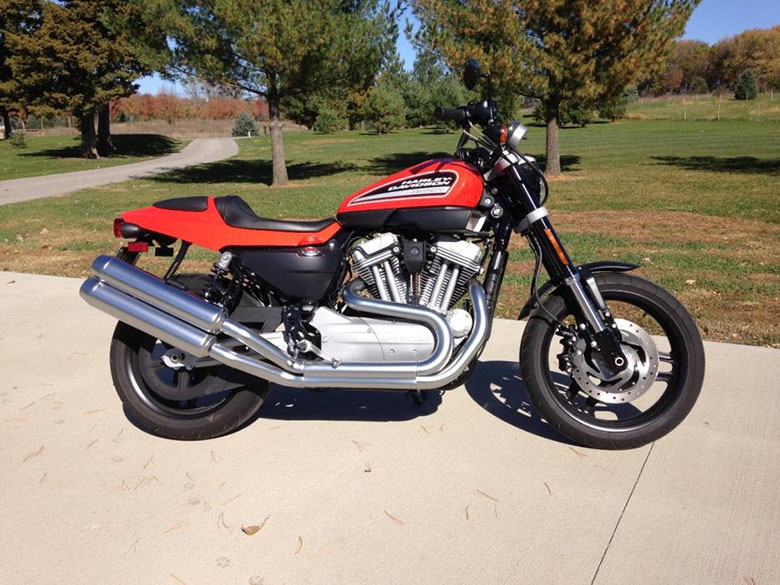 Another bold idea led to production but, in the past, certainly shouldn't have happened. The XR1200 Harley was a bold European concept aimed at boosting H-D sales on this side of the pond, primarily by becoming a Ducati monster-style performance with aesthetics inspired by Harley's legacy in US flat trekking – precisely. It's the most successful XR750 racer.
It was a worthy endeavor. The rebuilt Sportster V-twin produced a respectable 90bhp, the chassis was surprisingly agile (at least for Harley), and it looked great. It was also quite heavy, and it did not give any benefit of performance on completion.
2008-2010 – Honda DN-01
Honda is a great brand. While the 'big red' has a reputation for being conservative and non-cooler, indeed, it occasionally pushes the envelope forward with technology and style, as if to prove to the world that 'nobody works like Honda. Does not '- and how can you explain? Bikes like the CBX1000, CX500Turbo, and NR750.
DN-01 has been one of the most recent – and insane – examples since 2008. The DN-01 was a high-tech bespoke cruiser that had a bit of everything in it and turned it into dog food.
2013-2018 – Triumph Trophy 1200
Well, we realize it sounds harsh, and reasonably, Triumph doesn't make many mistakes, but the Trophy 1200 (possibly with the Thunderbird 1600/1700 cruiser) hasn't been the British firm's best time.
The trophy, like many of the cars listed here, was by no means a bad bike. It was introduced in 2013, shortly after the 1200 Tiger Explorer, and featured the brand new 1215cc shaft drive triple, aiming to compete with the BMW.
The RT Rival Trophy, on the other hand, has fallen into the category of best-selling adventure bikes, whereas the GS Rival Tiger retains and develops.
2014 – Honda CTX1300
After all (for the time being), we couldn't miss another weird and beautiful Honda. The CTX1300 deserves to be at the top of this list, not only because it was the most recent flop but also because it was the shortest of them all – just one year.
CTX does not make any sense no matter how you view it. It's a cruiser/bagger based primarily on the old STX1300 Tourer, so it's hard to imagine the Americans buying it (and they didn't).
Second, Practical Pan gave us this low-screen, foot-forward version of the European Honda instead of a direct replacement/update, which is not the case, so don't expect the Continental Types to line up around the block for this. (We didn't).
Top Ten Flop Motorcycles That You Didn't Want – Top List
| Sr. # | Top Ten Flop Motorcycles That You Didn't Want |
| --- | --- |
| 1 | 2014 – Honda CTX1300 |
| 2 | 2013-2018 – Triumph Trophy 1200 |
| 3 | 2008-2010 – Honda DN-01 |
| 4 | 2008-2012 – Harley-Davidson XR1200 |
| 5 | 2007-2012 – Suzuki B-King |
| 6 | 2005-2010 – Ducati SportClassic |
| 7 | 2001-2003 – Aprilia Futura RST1000 |
| 8 | 1997-2002 – Suzuki TL1000S/R |
| 9 | 1997-2004 – BMW R1200C |
| 10 | 1993 – Yamaha GTS 1000 |