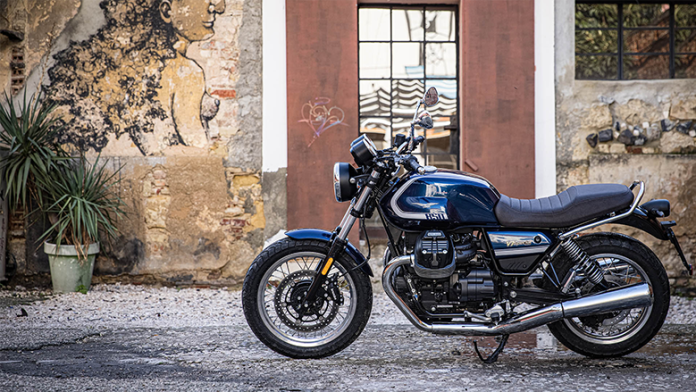 The 2022 Moto Guzzi V7 Special 850 Classic Motorcycle is traditional and beautiful, but it also has a unique quality known as pure individuality. The SPECIAL has all the strength and elegance you would expect from a genuine Moto Guzzi motorcycle while staying true to its heritage thanks to the new 850cc engine. This enduring classic embraces modernity with open arms and is equipped with all the conveniences needed to provide the best performance, safety, and riding experience. The name contains the hint. Riders seeking something unique will find it when they board this genuine legend since this bike is made for them.
In addition to several clever color details that perfectly combine tradition and innovation, such as spoked wheels with polished aluminum channels and black hubs, an instrument panel with two analog circular dials, and the bulb-shaped headlight, the fuel tank features new iconic graphics that speak to the increased engine capacity.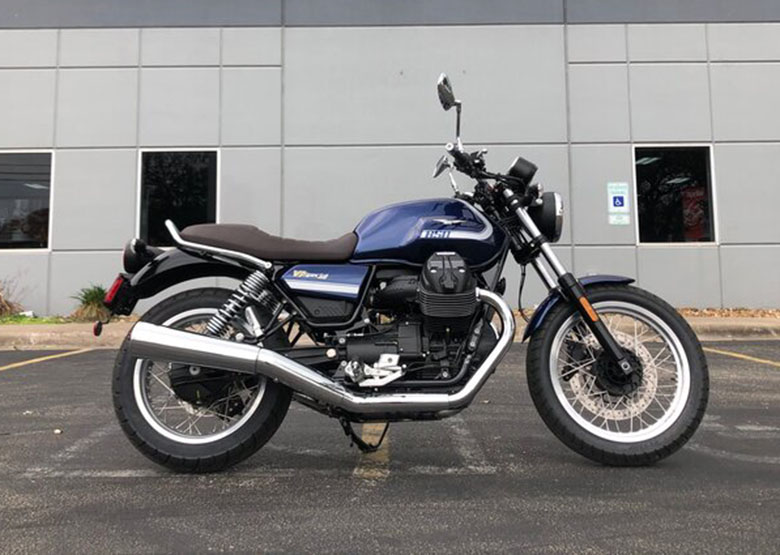 2022 Moto Guzzi V7 Special 850 Classic Motorcycle – Features and Specs
More Colors, Always V7
Around 50 years after the launch of the first model, Moto Guzzi is happy to introduce the V7, a significant new development in the history of the motorcycle. The V7 offers better performance and extra comfort than ever for the ideal fusion of outdated elegance and contemporary technology.
However, two things can be easily relied upon to remain unchanged: the calm character and authenticity ingrained in every Moto Guzzi motorcycle.
Design
A sleek profile is shaped with revised side panels, a shorter rear mudguard, and an all-new exhaust system. While numerous further enhancements have been added to the performance side of things to increase stability and comfort, the best-selling model from Moto Guzzi V7 Special still has the precise renowned handling.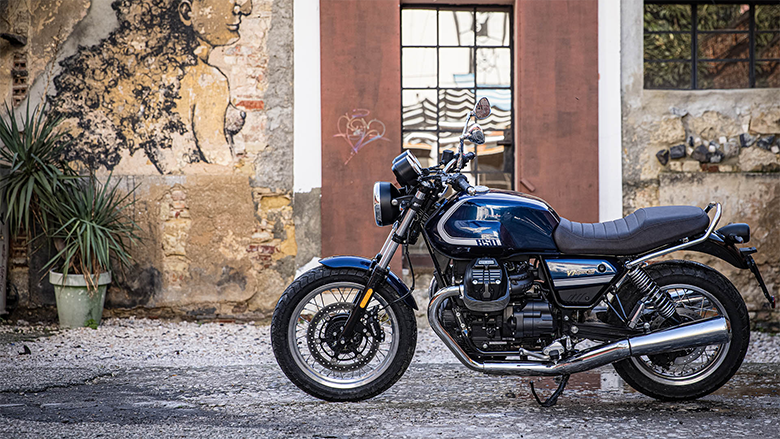 Full LED
The 2022 Moto Guzzi V7 Special 850 Classic Motorcycle has new full LED optics, containing a front headlamp with a new DRL in the shape of the Guzzi eagle. Furthermore, the instrument panel has a new LCD single-face circular, fully-digital display that is entirely in keeping with the bike's svelte, modern design.
Engine
52 horsepower at 6200 rpm up to 65 horsepower at 6800 rpm, a 25% increase in maximum power. More than 80% of the torque is available at 3000 rpm, and it jumps from 44.25 ft-lb at 4250 rpm to an astonishing 53.8 ft-lb at 5000 rpm.
Wheels
The Stone wears brand-new sports-style aluminum wheels, and the back has a more extensive 150/70 tire section.
New Color Variants
Intense metallic yellow and sleek aluminum grey, two stunning new hues for the V7 Stone, are intended to highlight the bike's lines for a clean, modern, and cutting-edge appearance.
New Moto Guzzi engine
This V7's transverse 90-degree V engine is typical of Moto Guzzi and has been for a while; nevertheless, the good news is that it evolved from the "All Terrain" V85 TT. We're talking about the newest and most sophisticated vehicles Mandello has ever produced, developed to give increased performance and general efficiency while raising the bar on dependability and riding fun.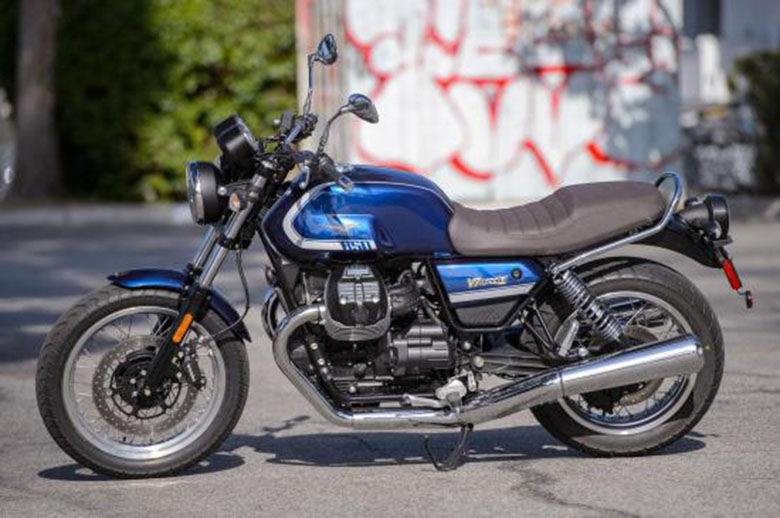 Passion for perfection
On the V7 SPECIAL, the design team at Mandello Del Lario has relentlessly pursued perfection, attaining new levels of comfort, safety, and riding enjoyment. The high-performance DUNLOP ARROWMAX STREETSMART tires, which are excellent even in tricky situations, the reduced rear mudguard, the new LED front light, and the redesigned front and rear indicators are characteristics that riders will love.
Always on the road
In addition to enhancing the bike's exquisite appearance, the V7 SPECIAL has a new, comfortable "old-school" seat with traditional brown leather and a chrome steel passenger grab rail.
Special right down to the smallest detail
In addition to several clever color details that perfectly combine tradition and innovation, such as spoked wheels with polished aluminum channels and black hubs, an instrument panel with two analog circular dials, and the bulb-shaped headlight, the fuel tank features new iconic graphics that speak to the increased engine capacity.
2022 Moto Guzzi V7 Special 850 Classic Motorcycle – Facts
1. The V85 TT adventure motorcycle's powertrain was a model for the new 853cc V7 engine.
The new V7 motor's power significantly exceeds that of the V7 III engine from last year, although it is tuned differently from the V85 engine. Compared to the V85, Moto Guzzi engineers reduced the rev ceiling. The new V7 also has greater maximum horsepower and torque revs than the older, smaller V7 III engine. The circumstances of the engine and the V85 motor are different, making a comparison impossible. We can confirm that the newer, bigger displacement V7 has far more oomph than the V7 III.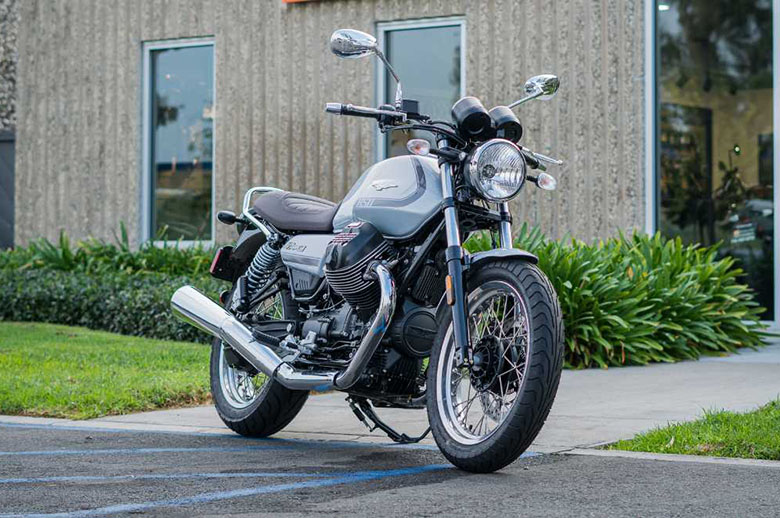 2. The engine of the 2021 Moto Guzzi V7 Special E5 defies predictions that it will have a linear power band.
Given the different sizes and performance levels of rockets, it turns out that it is kind of a three-stage rocket.
3. When the motor runs below 3000 rpm, it is time to have fun.
The motor doesn't have trouble pulling away from a stoplight, but when operating below 3000 rpm, roll-ons are problematic. Above that, it performs with vigor. It's understandable why the PR team latched on Moto Guzzi's boast that 80% of the peak torque is accessible from 3000 rpm and upwards.
4. At about 5000 rpm, there is another increase.
The two-valve motor's max torque of 54 ft-lbs is reached at that point. The surge continues until it reaches a high of 65 horsepower at 6800 rpm, just before the rev limiter engages and beyond the old-school analog-style tachometers redline of 6500 rpm.
5. The stair step power band gives the V7 Special more personality, whereas it may be an issue for a more powerful machine.
We have used a linear power delivery that is effective, if not thrilling, on a vintage motorbike like the V7. As you experience those other prods through the restricted rev range, the V7 adds a dash of pleasure. With an effective rev range of 3000 to 7000 rpm, one may anticipate that the V7 would be a challenging ride. The high torque, though, keeps you from having to row the transmission continuously.
6. Compared to earlier models, the new V7 motor seems more refined.
The recognizable V-twin vibes are still there, but even then, they are not obtrusive. Smoother idling and enjoyable vibration to redline.
7. There are three traction control levels—1, 2, and off—but no power mode maps.
I would advise simply turning off the traction control and obtaining the most excellent throttle response unless it's wet or you're a beginner rider. As someone who typically favors some traction control, I say that. Nevertheless, the traction control feature is a built-in feature of the low-revving V-pulse. Twin's Pushing the start button while the engine is running changes the traction control setting; this counterintuitive practice seems to be shared among Piaggi UI developers.
8. The six-speed gearbox is smoother than ever, doing away with an unattractive chunkiness.
A significant benefit is a new transmission carried over from the V85. You must seek for shaft drive from the longitudinal crankshaft misbehavior if you want to locate it.
9. We would be pleased to have assisted or slipper features for the single-disc dry clutch.
We can't claim the clutch pulls strongly, and we can bike long distances in cities without getting cramps in our left hands. Still, on a city motorbike like the V7 Special, a lighter clutch pull is always appreciated. You rapidly learn to depend on the brakes rather than downshifting as you enter the twistiness. Over-downshifting makes it simple to slide the back tire. We want the Moto Guzzi developers to prioritize adding a slipper feature to the upcoming V7.
10. The 2022 Moto Guzzi V7 Special is maneuverable about town, weighing 480 pounds with a perfectly proportioned 5.5-gallon tank full while not exceptionally lightweight.
Nothing exceptionally quick or sluggish occurs at 28 degrees of rake. The steering is usefully made lighter by the 18-inch front tire, making it simple to maneuver the V7 in traffic. Even with its main cylinders, the V7 moves through traffic with ease. The smoothness of the motor and predictable rev-building improve the urban environment. The four-piston Brembo caliper's first bite on the 320mm front disc is delightfully mild, preventing the chassis from jolting. Additionally, the rear brake has an excellent feel and is easy to use in confined spaces. The never-off ABS is discrete.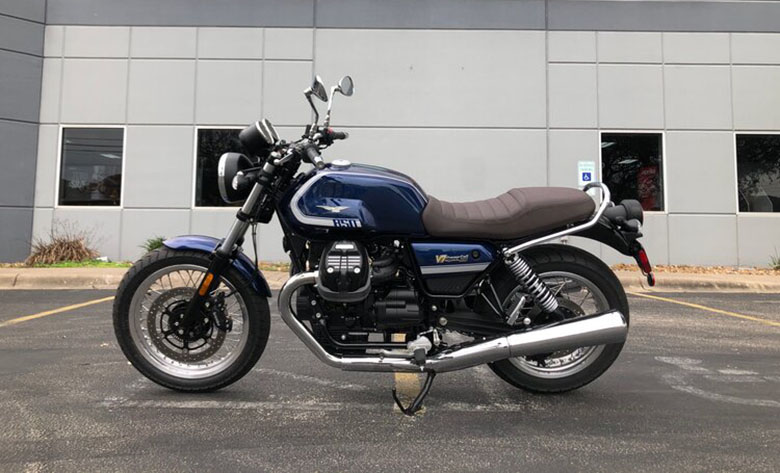 2022 Moto Guzzi V7 Special 850 Classic Motorcycle – Price
The new 2022 Moto Guzzi V7 Special 850 Classic Bike is available for $11,890 only.
2022 Moto Guzzi V7 Special 850 Classic Motorcycle – Technical Specifications
Engine
| | |
| --- | --- |
| Type | Transversal 90° V-twin, two valves per cylinder. |
| Cooling | air |
| Displacement | 853 cc |
| Bore and stroke | 84 x 77 mm |
| Maximum power | 65 CV (47,8 kW) – 6.800 rpm (Also available at 35 kW, A2 driver license) |
| Maximum torque | 73 Nm – 5.000 rpm |
Emission Standards
| | |
| --- | --- |
| Compliance | Meets European Directive Euro 5 |
| Emissions | 119 g/km (CO2) |
| Consumption | 4,9 l/100 km |
Transmission
Dimension and Weight
| | |
| --- | --- |
| Fuel tank | 21 l (4 reserves) |
| Seat height | 780 mm |
| Dry weight | 203 kg |
| Kerb weight | 223 kg |
Suspension and Brakes
Front Suspension
Hydraulic telescopic fork Ø 40 mm
Rear Suspension
Swingarm Twin-sided with two spring preload adjustable shock absorbers
Front-wheel
Spoked, 18″ 100/90
Rear wheel
Spoked, 17″ 150/70.
Front brake
Stainless steel floating disk Ø 320 mm, Brembo caliper with four differentiated and
Opposed pistons.
Rear brake
Stainless steel disk Ø 260 mm, floating 2-piston caliper.
Others
Features
LED turn indicators and stop light, MGCT Moto Guzzi Controllo di Trazione,
Standard double-channel ABS.
Color range
Blu Formale, Grigio Casual.