India is one of the world's top two-wheeler producers, accounting for about 2% of GDP. According to statistics, two-wheeler production accounts for more than 80% of all automotive production in India, making it the country with the majority of the world's top automakers. 2021 saw the introduction of several new motorcycles in India. Along with electric vehicles, the trend of ADVs in India is spreading rapidly. However, the popularity of superbikes has not eased the tension. Affordable mass-market motorcycles are always in high demand. This article will focus on the Top Ten Bikes One Must Buy in India in 2022.
Top Ten Bikes One Must Buy in India in 2022 – Top Rated
1) Royal Enfield SG650
In November 2021, Royal Enfield unveiled the SG650 concept bike at the EICMA motor show in Milan, Italy. A bobber-style cruiser motorcycle, it produces 47bhp at 7150 rpm and a greater torque of 52Nm at 5250 rpm. It will likely share the engine and powertrain with the Interceptor 650 and Continental GT. Shotgun is the name Royal Enfield gave to this brand-new concept bike. It is expected to sell in India by the end of 2022 between Rs. 3 and 3.5 lakhs.
2) Suzuki Katana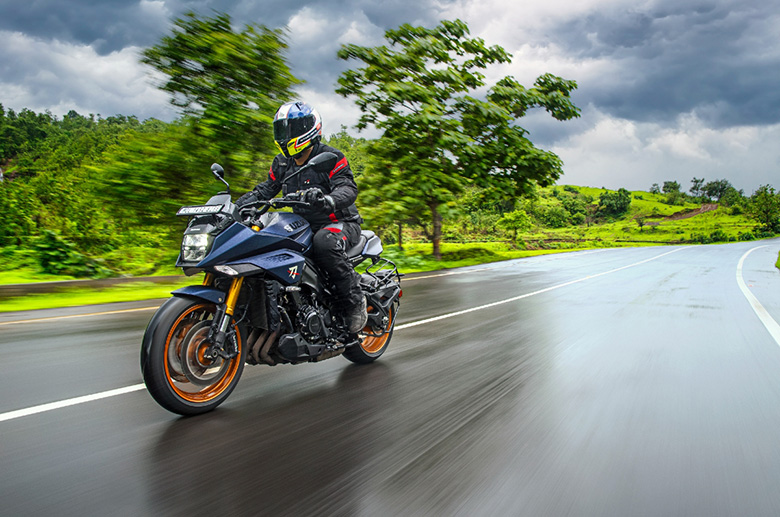 Suzuki's super sports bike, the Hayabusa, has a phenomenal brand presence in India. Suzuki is trying to make a strong foothold in the Indian market with the Katana by providing its performance motorcycle. The Katana is based on the GSX-1000F naked bike. The motorcycle was also showcased in Milan, Italy, during the EICMA Auto Show. The bike is powered by a 1-liter, 4-cylinder, liquid-cooled engine that can accelerate from 0-100 kmph in 2.65 seconds and produces around 150 horsepower at 10000 rpm and 108 Nm at 9500 rpm. The bike is expected to go on sale in India in mid-2022 for around Rs. 12 lakhs
3) Benelli Leoncino 250
The Benelli Leoncino 250 has already been launched globally and is slated to hit US soil in 2022. A 249cc, single-cylinder, liquid-cooled engine with a maximum output of approximately 25.4 horsepower at 9250 rpm and maximum torque. Around 21 Nm at around 8000 rpm will power the bike. This engine will be mated to a 6-speed transmission. When it debuts, it will compete against Suzuki Gixxer 250, KTM Duke 250, and Bajaj Dominar 250. It costs around Rs. 2.5 lakhs
4) KTM 790 Adventure
India combines recreational motorcycles with the Austrian brand KTM. The company is a fan favorite among those who enjoy a powerful performance, and with an adventure-focused setup, it caters to a large segment of India's adventure-seeking riders. The 790 Adventure has a 799cc parallel twin engine that produces 90 Nm of torque at 6600 rpm and around 95 horsepower at 8000 rpm. Once released, it will compete with BMW F750GS, Suzuki V-Strom, and Triumph Tiger 800. It costs around Rs. 12 lakhs
5) Aprilia Tuareg 660
The 660cc Aprilia Tuareg adventure bike shares the same platform as the Tuono and RS. The Tuareg's parallel twin motor produces around 79 horsepower and 80 Nm of torque. It has been tuned for approximately 20 horsepower less and 3Nm less torque than its 660 twins to use the powerband for adventure-related activities better. It will be available as a CBU unit, and an Indian launch is expected by the end of 2022. It costs around Rs. 11 lakhs
6) Yezdi Roadking
Yazdi plans to launch an ADV bike named Roding to make a comeback in the Indian two-wheeler market. You might have caught a glimpse of Yazidi's motorcycle on social media when it was spotted testing it on Indian roads. Don't wait too long, though, as this venerable company will introduce its bike in January 2022. A 334cc, liquid-cooled, single-cylinder engine with around 30 horsepower and 33 Nm of torque is expected for the Yazidi roading adventure motorbike. It is likely to cost around Rs. 1.80 lakhs
7)Hero Xtreme 200 4V
Our recent sighting of the updated 4V arrangement in the Xpulse 200 leads us to believe that Hero's Xtreme200S will also get the four-valve configuration update soon in 2022. With the improved 4V configuration, the power figure will increase from 18hp to around 20hp. With this modification, the bike will be more maneuverable and accessible to rev up than the previous 2V arrangement. Expected to launch in early 2022, the price will likely range from Rs. 1.40-1.50 lakhs.
8) Emflux One
Bengaluru-based Amflox Motors is an indigenous startup. They are actively testing their future motorcycle and have showcased their electric bike at the 2018 Auto Expo. The Emflux One has a 9.7kWh lithium-ion battery pack that can propel it from 0 to 100 kmph in just three seconds while producing around 75Nm of torque and 70 hp of power. The company claims a top speed of 200kmph and a range of 200km. It will likely go on sale in mid-2022 for around Rs. 4-5 lakhs.
9) Revolt RV1
Micromax co-founder Rahul Sharma founded Revolt and introduced the RV300 and RV400 bikes to the Indian market. The business has previously made it known that it will replace the RV 300 with an entry-level motorcycle. The battery capacity and operating range of its upcoming RV1 have not been updated. It is expected to sell in early 2022 for around Rs. 1 lakh
10) Ultraviolette F77
The Ultraviolet F77 from Ultramotive Automotive, another leading domestic electric two-wheeler venture, is eagerly awaited by all car enthusiasts. It will be a powerful electric motorcycle made in India. After its unveiling in 2019, deliveries were planned to begin in 2020. The motorcycle's 4.2 kWh lithium-ion battery pack has a maximum power output of 33.5 hp at 2250 rpm and a top speed of 147 kmph. It can accelerate 0 – 60kmph in just 2.9 seconds. The range of the bike is around 140 km, which is quite enough. It is likely to be sold in India for around Rs. 3 lakhs
Top Ten Bikes One Must Buy in India in 2022– Top List
| Sr. # | Top Ten Bikes One Must Buy in India in 2022 |
| --- | --- |
| 1 | Royal Enfield SG650 |
| 2 | Suzuki Katana |
| 3 | Benelli Leoncino 250 |
| 4 | KTM 790 Adventure |
| 5 | Aprilia Tuareg 660 |
| 6 | Yezdi Roadking |
| 7 | Hero Xtreme 200 4V |
| 8 | Emflux One |
| 9 | Revolt RV1 |
| 10 | Ultraviolette F77 |