Below we are going to tell about the top ten best production bike with attractive paint jobs, if the argument were to start for the paint job than today, all bikes would of some design and color. Still, here we are going to tell the artist who has helped create bikes more attractive and pretty, and you will let us know which you like the best among all these bikes. So, here is the list of Top Ten Best Production Bikes with Attractive Paintwork
Top Ten Best Production Bikes with Attractive Paintwork – Top Rated
10. Yamaha RD400
When listing down the classic paintwork, how can we forget Kenny Robert, who used yellow and not red in the creation of its art, few numbers of bike productions have noticed this unique classy art scheme nicely seen on RD400 circa in 1977 one of Kenny works.
9. Yamaha TDR250
Even though with those golden wheels and yellow clash stickers entirely outdated, this bike can be recognized from anywhere. But it was at the period of time one of the popular color schemes also not to forget the black version was also excellent. There are many modern color scheme, but we cannot mention TDR, we did love the yellow fork gaiter, but we don't want it to come back.
8. Ducati Hailwood replica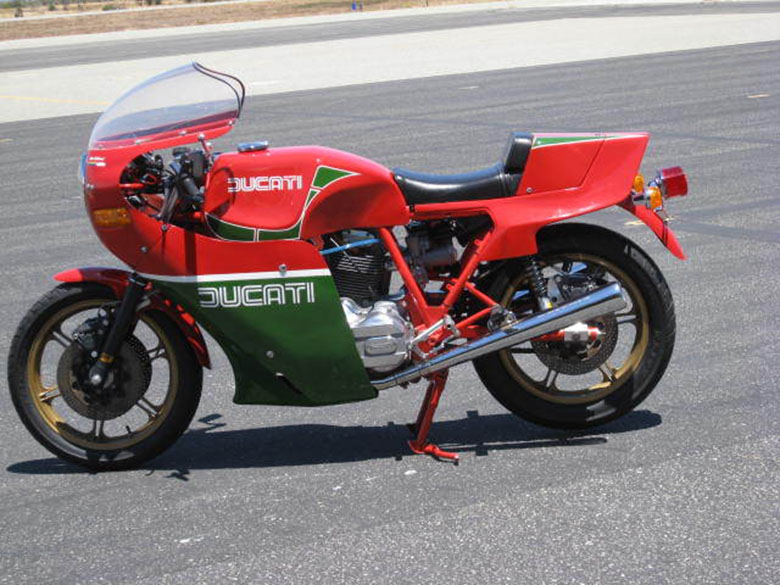 Ducati played the role by playing and showcasing the traditional color of bikes red; also, they went against much advice and went for red and green, but still, we saw in 900 Hail way replica, which looked similar as the sports motorcycles machine in 1978 TT. It's a challenge for anyone to do a replica paint on New Ducati, but still, they managed it.
7. Walter Wolf Suzuki RG500
Suzuki is the only one who has done the red and black combo so amazingly, for example, like on Walter Wolf RG500. From all these, we chose the 500 but 250 and 400 looked well too. Red seats and black versions have a hint of the 1980s model. But as soon dirt and sunlight hit the red color, the look goes down.
6. 2007 Honda VFR800
This bike has one of the robust color scheme, which makes it looks like a reliable sports bike. The paintwork on this bike is a little more aggressive, and in 2007 Honda won the markets by showcasing white blue and red colors that showed our popular Rothmans design. With black frame and wheels with the girl, next door look VFR became something unexpectedly amazing.
5. Suzuki GS1200SS
Suzuki GS1200SS is something unique e and this bike never got imported to, UK. It was one of the body works that reflected the retro racer because the paintwork it received made it stand out. People were attracted to the red and black paint option making it look antique runner of Yoshimura racers. But at last, the final look came to the classic blue and white scheme. It clearly shows the signature of Suzuki even it doesn't say it.
4. Norton F1
This bike in 1990 was the only headlines Norton's F1 everywhere it was this name. The production level was low for this bike but the racing success was incredible. The paint job JPS did black, with subtle hints of gold and silver with an extremely classic look. The shine is so deep it brings pleasure to the eye. This bike is rare, and runner up bike JPS inspired category included the black and gold version of Kawasaki ZX-12R and Triumphed similarly hued take on the Daytona 675.
3. 1998 Yamaha R1
It has been seen in the time that if the finish looks, he is like metallic flake mauve; it will be copied and loved. And here R1 has the ability it seems original with white and red color but the look dd it all even if the people loved the engine. The scheme was the reason that strikes the market continuously.
2. Honda RC30
This bike color scheme came in the list of the top if much production house choice. The two-color of this bike blue and red plus white background made it look smooth and flawless. Never was color scheme seemed so high with standard on RC30. The look is classy and straightforward.
1. Rothmans Honda NS400R
This bike has been seen in the color combination of cigarette colors, and it does not reflect any politically correct. But we still do not know the facts that we have given the best ways paintjobs in the history of motorcycling. Brands like Gaulosises, camel, and Marlboro were used as sponsors because if the color scheme. The starting design of NSR400R amazed. Because of the Rothmans scheme, it tied in the era 80s GP Era of Lawson and Gardner, but it also turned the traditional Porche scheme Le Mans and Paris-Dakar racers.
Top Ten Best Production Bikes with Attractive Paintwork – Top List
| Sr. # | Top Ten Best Production Bikes with Attractive Paintwork |
| --- | --- |
| 1 | Rothmans Honda NS400R |
| 2 | Honda RC30 |
| 3 | 1998 Yamaha R1 |
| 4 | Norton F1 |
| 5 | Suzuki GS1200SS |
| 6 | 2007 Honda VFR800 |
| 7 | Walter Wolf Suzuki RG500 |
| 8 | Ducati Hailwood replica |
| 9 | Yamaha TDR250 |
| 10 | Yamaha RD400 |
Conclusion
In the end, Bikes Catalog would love to say that the above- mentioned list contains the world's best and attractive bikes in terms of their attractive paintwork. The bike always demands for second look due to its beautiful appearance. Those who own a bike from our above list should share their experiences in the form of comments.