It hasn't been so long that we knew that there was only a handful of choices for a two-wheeler machine for examples like BMW GS and some others which can easily count. But with time and technology increasing, the auto industry for the bike has grown so much better and with so many varieties that we will be dividing them into two parts in which one will be those bikes which are 1000cc or more. So many bikes in this list below are to be given a second thought for being in the category of top ten bikes which are 1000cc over, but these bikes are known to be one of the most excellent adventure bikes too. Not forgetting knows that we are talking about Top Ten Best Adventure Bikes Over 1000cc.
Top Ten Best Adventure Bikes Over 1000cc – Top Rated
10. Moto Guzzi Stelvio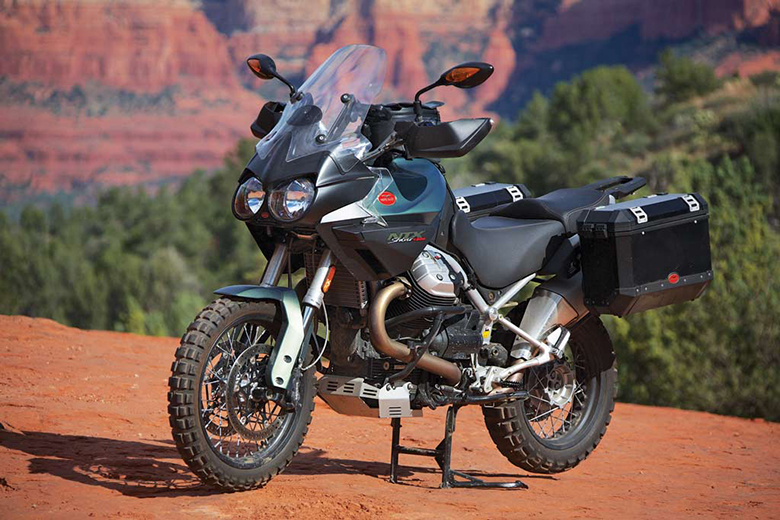 This bike is often ignored to be an adventure bike in history, but the fact that it has the boxes that magically made the BMW GS a class leader. With shaft drive and air-cooled simplicity, ABS brakes and a brand name that inspires many customers and buyers around the globe. Yes the cost is to be accepted from the fact that yes it is expensive costing around 11 653 pounds on a Guzzi. But those who have it have not complaints.
9. Aprilia Caponord 1200
This bike has a 125hp water-cooled V-twin Capon Ord which is found in different forms to suit lots of various purposes. With no lack of performances it has gained some impressive tech for example like the ADD adaptive damping system and ATC traction control. And the Downers include the right amount of cost tagged as 14135 pounds for the 12 rally.
8. Suzuki V-Strom 1000
One of Suzuki latest creation which has jumped into a great adventure bike which was one of the old models also containing the same name. Even with good looks and excellent performance the heritage includes the DR Big, which is known as the daddy of adventure bikes. The V storm hasn't taken the class by storm. But still the low price and its abilities of many techs just for 97999 pounds enough to attract any buyers.
7. Honda Crosstourer
The bike that Honda ever came to creating an adventure bike was the Africa Twin Cross Tourer, with its name we can quickly know that it was a bike made for extended trips or tour and also the ability use for the off the road. This bike included the V4 engine and technology even with DCT transmission the plus one for it. Also with shaft drive it has a hefty beast at 275 kg which makes it the best in the list too.
6. Triumph Tiger Explorer/XC
In the category of triumph bikes this bike is known as the high tech machine. Users have compared their experience BMW GS but the major twist is that the Triumph twist in the form of 1200 three-cylinder engines. It gives a massive grunt with higher weight too on the top side of 267kg which makes it sticks to the ground while on the road.
5. Yamaha Super Ténéré
This bike was specially designed to take over the model of R1200GS but in the UK it couldn't reach the expectation even close to BMW. Which makes it quite awkward and a wrong impression because it is a machine of class that has new standards for adventure bike on the road launched five years back. And if that was nothing then cost became lower compare to its rival around 10999 pounds comparing to 13620 pounds at launch time in 2010. But because of the price t has become one of the biggest reasons for its sale.
4. KTM 1050 Adventure/1190 Adventure
With the same cost the new model super Tenere has reached the bottom of the KTM V –twin adventure bikes. If you don't go so far either we know that they created a monster dual sport bike which 94hp, and today with entry-level a big adventure bike which should be gone now with the price of 3000 pounds comparing to 1190 adventure. But again the power is more considerable reaching up to 148hp. And with the being 217 kg it is a bad reputation for a superbike according to its power weight. Yet KTM is right off the road with no complaints in its abilities.
3. Ducati Multistrada 12000
It already had a very impressive 150hp but still the new Ducati's variable valve timing tech gets 160hp comparing to its predecessor. Even though with time the users have figure out that the old version of this model was much more competitive especially when production ended. For the road this bike is the number one adventure bike on the road and market. Ducati suggested it can drive on the dirt. But you wouldn't want to cross the Sahara desert even if the machine was capable enough to do that.
2. BMW R1200GS/ R1200GS Adventure
How can we not mention the bike of the hour, and yes it is on number two on this list. The all in one with class and of the best options you can find in the market can all mean BMW GS also Europe bestselling motorcycle. With the classification of tour de force when talking about technology it has some of the best parts available in the market and has retained GS touchstone like shaft drive. The version of this bike which consists of adventure is more expensive costing around 17000 pounds also with a bigger tank.
1. KTM 1290 Super Adventure
It has been possible to mix in the 1290 super adventure bike with the other two KTM machine s in this list but since it has almost the same basic chassis and it is a lot similar to its engine. We are grateful to have a bike with a significant gain of more capacity in power with 160hp and a huge fuel tank. It knows to be the best and powerful bikes on the globe and containing less bodyweight of being 249kg only. Off the road it is excellent and has the fastest in a straight line. With many gadgets to be played with, what not does this bike have?
Top Ten Best Adventure Bikes Over 1000cc – Top List
| Sr. # | Top Ten Best Adventure Bikes Over 1000cc |
| --- | --- |
| 1 | KTM 1290 Super Adventure |
| 2 | BMW R1200GS/ R1200GS Adventure |
| 3 | Ducati Multistrada 12000 |
| 4 | KTM 1050 Adventure/1190 Adventure |
| 5 | Yamaha Super Ténéré |
| 6 | Triumph Tiger Explorer/XC |
| 7 | Honda Crosstourer |
| 8 | Suzuki V-Strom 1000 |
| 9 | Aprilia Caponord 1200 |
| 10 | Moto Guzzi Stelvio |
Conclusion
The above-given article is about those bikes which are the best in adventure bikes being over 1000cc. The list has been put down in such a manner that fact and opinion are according to the viewer's and users' opinions. We hope team bike has done a great job in giving you the knowledge of the best adventure bikes over 1000 cc.