Are bikes your passion? Well, there are many different superbikes in the market today. Instead of being limited to 200cc models, the Indian motorcycle business is gradually introducing 600cc models and superbikes with great amenities for riders. Companies are moving fast to develop 600cc superbikes with exceptional performance and a wide range of options to suit the needs of motorcyclists. Compared to other bikes, 600cc bikes start smoothly and easily. These bikes are known as superbikes because their performance exceeds expectations. This article is for you if you want to know about the top 600cc motorcycles in India.
Top Ten Best 600cc Bikes in India in 2023 – Top Rated
1. 2023 Royal Enfield Continental GT 650
The 2023 Royal Enfield Continental GT 650 is a racer motorcycle that was given this moniker by the manufacturer in India in 2010 and continues to be known by this name. The iconic bike is known for its flawless blend of tradition and innovation.
Rocker Red, Ventura Storm, Dux Deluxe, British Racing Green, and Mr. The Clean bike have five colorways and three variants. The bike is priced between Rs. 3.02 and Rs.3.32 lakhs.
Six manual gears make up the gearbox, which is mated to a 648cc displacement engine. The air/oil-cooled, single overhead cam, parallel twin, 4-stroke engine churns out a maximum power of 47.65 horsepower at 7150 rpm and 52 Nm of torque at 5250 rpm.
2. Royal Enfield Interceptor 650
The Interceptor 650 from Royal Enfield is an innovative motorcycle with special features. It is offered in just one variant and comes in seven colors: chrome, red, blue, orange, black, red with white, and black with red.
Royal Enfield Interceptor 650 is priced between 2.82 lakhs to 3.15 lakhs.
320mm front and 240mm rear discs make up the Interceptor 650's dual-channel braking system. It has two parallel-smooth engines with a conventional layout, an analog speedometer, a fuel gauge, and a digital odometer.
Besides providing better performance, the riding position is more pleasant and comfortable. It can be the best choice for shopping in urban areas and long-distance routes.
3. Honda CBR650R
A razor-sharp beast with sporty features, high power and exceptional performance the Honda CBR 650 R. Grand Prix Red and Matte Gunpowder Black Metallic are the only two color options available in the same variant, which look stunning. The price of this sport bike in India is 8,88,221 Lakhs (including RTO and insurance charges).
The CBR 650R still stands out and stands out everywhere. Its 648.72cc four-cylinder engine offers strong road performance. The engine's maximum output is 57.5 Nm of torque at 8500 rpm and 55.8 horsepower at 12000 rpm.
The motorcycle weighs 211 kg and has a 15.4-liter petrol tank. It also includes anti-lock brakes.
Features include full LED lighting, an LCD instrument cluster, and a dual-channel ABS.
4. Kawasaki Versys 650
The Kawasaki Versys 650 comes in one model and two colors — Metallic Phantom Silver and Lime Green — with a starting price of Rs 7,36,034 lakh in India. It underwent significant changes (including a new design and feature additions).
The 649cc engine on the Kawasaki Versys 650 produces a maximum power of 66 horsepower at 8500 rpm and 61 Nm at 7000 rpm.
The Versys 650 weighs 219 kg and has a 21-liter petrol tank. Riders will likely grab this model for its unique feature, which is Bluetooth, which enables smartphone connectivity.
The bike has 300 mm front and 250 mm rear disc brakes with dual-channel ABS.
5. Kawasaki 650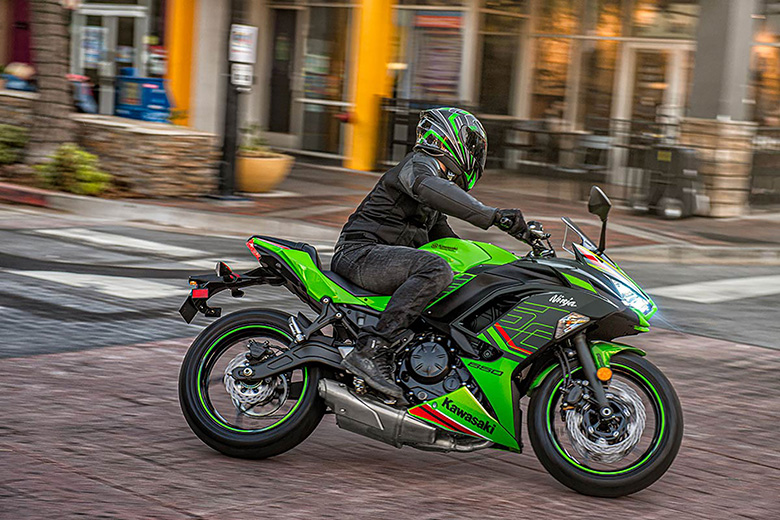 The Kawasaki Ninja series motorcycle produced by the Japanese company Kawasaki in 2006 also goes by ER-6F or EX-6. It has one base model and one color and has a starting price of ₹ 7.12 lakh in India.
The update comes with a price hike of Rs 17,000 over the last model. The Ninja 650 is a powerful sport bike powered by a 649 cc, liquid-cooled, 4-stroke parallel-twin engine that produces 64 Nm of torque at 6700 rpm and 68 horsepower at 8000 rpm.
Twin LED headlights and a TFT color display are the features of the Ninja 650. It has a weight capacity of 196 kg and a seat length of 790 mm. The bike has distinctive features and is quite the best to buy for commuting.
6. Kawasaki Z650
The Kawasaki Z650 is an all-new digital motorcycle with a premium look and the first 650cc motorcycle to feature a high-tech cockpit. The model includes additional features not seen in other models.
Riders can download the "RIDEOLOGY THE APP" program to their cell phone and link their device wirelessly with Bluetooth. This technology makes it special and improves the riding experience.
The new LED headlight feature provides increased brightness in low and high beams, which was absent in the previous model. Kawasaki Z650 is priced between 5.69 lakh to 6.43 lakh.
7. Suzuki V-Strom 650
The Suzuki V-Storm 650 is an ideal adventure bike for new riders as it resembles a full-size bike. This variation has plenty of power and is controllable, even for experienced riders. The price of the latest version has increased significantly by Rs. 1,37,423 and is now worth around 8.9 lakhs.
Suzuki's V-Storm 650 has a 645cc liquid-cooled engine with a maximum output of 71 horsepower at 8800 revs per minute and 62 Nm of torque at 6500. The seat height is 835mm (2.74ft), petrol tank size is 2000m. And the mileage is close to 24 kmph. The V-Strom 650 weighs a competitive 216 kg.
8. Benelli TNT 600i
Benelli TNT 600i manufactures motorcycles in the sports and superbike divisions. However, Benelli offers only two variants of superbikes. In India, the Benelli TNT 600i is slated to debut in June 2023.
The Benelli TNT 600i is expected to be priced between ₹ 6.3 to ₹ 6.5 lacks and has a six-speed manual gearbox. With 320 mm diameter twin semi-floating front discs and four-piston calipers, along with 260 mm diameter rear discs and twin-piston floating calipers, the middleweight Street Warrior relies on the Benelli braking system.
With a 1480mm wheelbase, the bike's overall height is 1180mm. The advantage of this variant is tubeless tires.
9. Aprilia RS 660
The regular sports bike variant of the Aprilia RS 660 in India has a starting price of Rs 13.39 Lakh. Acid Gold, Apex Black, and Lava Red are its three colors, with only one version.
The bike's 659cc parallel-twin liquid-cooled engine is renowned for its performance. It has a maximum power output of 8500 rpm and a peak torque output of 98.6 horsepower.
It is equipped with contemporary technology, including a dual-channel ABS braking system with 320mm front and 220mm rear discs. The bike has a wheelbase of 1370mm, a height of 1150mm, and weighs 183kg.
10. Triumph Trident 660
The Triumph Trident 660 offers class-leading technology and features and is extremely user-friendly for beginners. It is priced between 7.45 to 7.58 lakhs in India. The Trident 660's distinctive 660cc engine produces an ideal combination of punchy linear torque and great audio.
One model and five colors are offered. The new dual-tone paint concept comes in Matte Baja Orange and Matte Storm Grey. The new design will be sold in Sapphire Black, Matte Jet Black, and Silver Ice paint options.
Top Ten Best 600cc Bikes in India in 2023 – Top List
| Sr. # | Top Ten Best 600cc Bikes in India in 2023 |
| --- | --- |
| 1 | Royal Enfield Continental GT 650 |
| 2 | Royal Enfield Interceptor 650 |
| 3 | Honda CBR650R |
| 4 | Kawasaki Versys 650 |
| 5 | Kawasaki 650 |
| 6 | Kawasaki Z650 |
| 7 | Suzuki V-Strom 650 |
| 8 | Benelli TNT 600i |
| 9 | Aprilia RS 660 |
| 10 | Triumph Trident 660 |