It's a sport-utility quad with striking style and more excellent capability and durability than ever before from Suzuki, the company that invented the 4-wheel ATV. The renowned Suzuki King Quad's legacy is alive and well, and it's waiting for you to join it. Each Suzuki KingQuad model is simple to ride and has features that no other brand can match.
Suzuki KingQuad 750AXi Power Steering SE Plus 2020 Utility ATV – Features
Key Features
Cast aluminum wheels and electronic power steering complete the package. Cast aluminum wheels with blacked-out centers and electronic power steering complete the look. Excellent payload, excellent ride quality on any terrain, and plenty of towing capability make this a no-brainer of a vehicle.QuadmaticTM gearbox with engine braking and a powerful EFI-fed engine. LED headlights, fenders, handlebars, and a complete LCD instrument panel. You may customize your KingQuad with various accessories to meet your specific needs.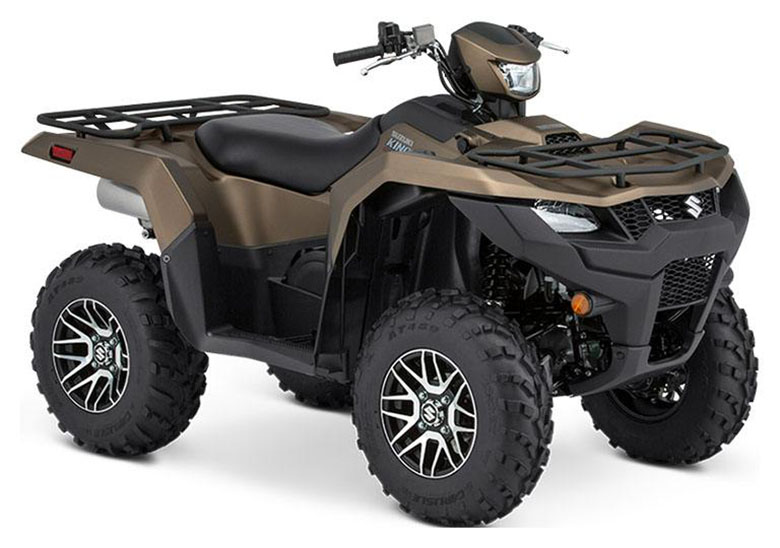 Engine Features
Powerful low-to-mid-range torque and excellent peak power are delivered by the 722cc DOHC, single-cylinder, liquid-cooled, four-stroke engine's tuning. As a result of the engine's large oil pump, the piston oil jet system receives a steady supply of cooling oil. To achieve an authentic low center of gravity and hence a lower center of gravity for the driver and passengers, the engine and head are canted forward. Water, debris, and dirt are kept out of the air intake by a high-mount design. The massive 36mm intake valves and straight ports on the four-valve cylinder head provide excellent cylinder charging efficiency. A small cylinder head is made possible by a chain-and-gear camshaft drive arrangement used in sports ATVs.
The SCEM coating on a lightweight aluminum cylinder provides outstanding heat transmission and ring sealing, resulting in a very efficient combustion chamber. To provide a smooth ride, the engine is equipped with two balancer shafts. In addition to offering excellent throttle response and fuel economy, Suzuki's Advanced Fuel Injection provides consistent power across the whole rpm range. It enhances the starting of the engine in any weather. Suzuki KingQuad models that meet California's strict emissions standards, for example, have no problem meeting US emissions regulations (eligible for green sticker registration). An all-new aluminum radiator having a wide diameter thermostatically-controlled cooling fan maintains a consistent engine operating temperature.
Transmission Features
With a fender-mounted gate-type shifter for high/low range options, the QuadmaticTM CVT-type automatic gearbox offers flexibility and simplicity. When the throttle is off, the ATV's innovative engine braking system helps keep it in control on steep descents. CVT spring and weight tuning delivers smooth and forceful acceleration from a stop and balances the engine's performance with the chassis's high towing capacity. Controlled engine braking offered by the CVT tune increases downhill rider confidence and comfort. Torque-sensing limited-slip front differential gives powerful traction while maintaining a light steering feel. 4WD traction is significantly better with a differential-lock system. It is straightforward to switch between 2WD, 4WD, and differential-lock 4WD thanks to handlebar-mounted pushbutton controls. When removing the bike from mud, an override button on the left handlebar may be used to bypass the standard speed limits.
Chassis Features
To keep the rider safe from flying dirt and debris, the striking, angular bodywork has been given a distinctive matte coating. The body panels were meant to make routine maintenance tasks, such as checking oil levels and replacing air and fuel filters easier. More rider comfort, simplicity of use, and towing capacity are all facilitated by the Suzuki King Quad's frame, which features thick-wall tubes and strengthened brackets in crucial sections. Low effort and tighter turning are gained by tuning the essential steering features to an "under-steer" situation.
It makes it highly possible to employ handlebars that are taller and extremely comfortable. Electric power steering on the Suzuki KingQuad is more potent than ever, reducing steering effort and minimizing vibration and jolts for the rider. Large-diameter gas-charged shock absorbers featuring five-way spring preload adjustment are part of an independent double A-arm front suspension with 6.7 inches of wheel travel. An A/I beam rear suspension with 7.7 inches of wheel travel has a big diameter and gas-charged shock absorbers that can be preloaded in five ways. Shocks to the rider may be reduced by using a big rear stabilizer bar with a compliant bushing.
High-friction braking pads, fluid lines, and an all-new lever ratio all work together to provide the best braking performance. The foot lever ratios of the sealed, multi-plate rear braking system give excellent rider control. High longevity, reduced unsprung weight, and inexpensive maintenance result from the rear brake's clutch-type construction. Comfortable T-shape seats from Suzuki let the rider move freely while traversing challenging terrain.
Polyethylene skid plates protect against rocks and rugged terrain while requiring little effort to traverse them. Sturdy plastic shields guard the front and rear half shafts. Attractiveness Lightweight, cast-aluminum wheels powder-coated black with machined spoke and rim edges hold 25-inch Carlisle tires. New lightweight, cast-aluminum wheels featuring a blacked-out appearance are fitted with high-traction Carlisle tires.
Utility Features
Headlights fitted to the handlebars of Quad Bike illuminate the path in the direction of travel. The King Quad's unique bodywork includes dual 35-watt headlights (with high- and low-beam settings). Thanks to its low-draw and brilliant LED tail light, and the Quad Bike can be easily seen even in the dark. With the King Quad's substantial towing capability, a receiver-style trailer hitch installation makes it simple to pick the sort of equipment you wish to transport (up to 1322 pounds). Winch installation is simplified with mounts and conduits pre-wired for a winch. Service reminders founded on time or mileage may be set up on the multi-function instrument panel that has been redesigned for better aesthetics and visibility.
The speedometer, odometer, trip meter, hour meter, clock, fuel level, range, and drive mode are shown on the instrument panel's LCD screen. High, low, neutral, reverse and 2WD/4WD LED indications and LED warnings for fuel injection and engine temperature are all included. 2WD/4WD and differential-locked 4WD also have LED indicators. An 18-amp maintenance-free battery is fed by a high-output, three-phase charging system for simple starting and accessory usage. There is a typical sealed 12V auxiliary outlet. Low-center-of-gravity positioning of the 4.6-gallon gasoline tank ensures a smooth ride. A vacuum petcock and ratchet-style filler cap are included.
The back of the Quad Bike features a big 4-liter storage compartment that is positioned next to the current 4.0-liter left-side compartment, providing for plenty of storage space. A screw-on lid makes it simple to reach the 2.8-liter water-resistant front storage section. For long-lasting reliability and scratch resistance, the steel-tube cargo racks have wrinkle paint finishes. Protective flooring with built-in elevated footpegs is available. Some Suzuki Genuine Accessories available include a snow plow with a fast release, windshields, front and rear bumpers, metal skid pans and rack extensions.
Special Features
The 12-month warranty is included, and Suzuki Extended Protection gives extended coverage durations and additional advantages (SEP). The rider must be at least 16-year of age to operate.
Suzuki KingQuad 750AXi Power Steering SE Plus 2020 Utility ATV – Price
The new Suzuki 2020 KingQuad 750AXi Power Steering SE Plus is available at $10,349 only.
Suzuki KingQuad 750AXi Power Steering SE Plus 2020 Utility ATV – Technical Specifications
Engine
| | |
| --- | --- |
| Engine | 722cc (44.1 cubic in.), 4-stroke, liquid-cooled, 4-valve, DOHC single cylinder |
| Bore x Stroke | 104.0 mm x 85.0 mm (4.094 in. x 3.346 in.) |
| Compression Ratio | 9.9:1 |
| Fuel System | Suzuki electronic fuel injection |
| Starter | Electric |
| Lubrication | Wet sump |
DriveTrain
| | |
| --- | --- |
| Transmission | Automatic variable ratio (V-belt), having high/low-range and reverse |
| Clutch | Dry shoe, automatic, centrifugal type |
| Driven Wheels | 2WD, 4WD, & 4WD Differential Lock |
| Final Drive | Shaft drive |
Chassis
| | |
| --- | --- |
| Suspension Front | Independent, coil spring, double wishbone, gas-charged and oil damped with 5-way preload adjustable shock absorbers |
| Suspension Rear | Independent, coil spring, double wishbone, gas-charged and oil damped with 5-way preload adjustable shock absorbers |
| Brakes Front | Disc brakes, twin rotors |
| Brakes Rear | Sealed oil-bathed multi-disc |
| Tires Front | AT25 x 8-12, tubeless type x 2 |
| Tires Rear | AT25 x 10-12, tubeless type x 2 |
| Fuel Tank Capacity | 17.5 L (4.6 US gal.) |
| Color | Solid Matte Sword Black, Metallic Matte Colorado Bronze |

Electrical
| | |
| --- | --- |
| Ignition | Electronic ignition (transistorized) |
| Headlight | 12V 35/35W x 2 fender-attached, 12V 35W x 1 handlebar-mounted |
| Tail Light | LED |
Dimension
| | |
| --- | --- |
| Overall Length | 2150mm (84.6 inches) |
| Overall Width | 1215mm (47.8 inches) |
| Overall Height | 1285mm (50.6 inches) |
| Wheelbase | 1285mm (50.6 inches) |
| Ground Clearance | 260mm (10.2 inches) |
| Seat Height | 920mm (36.2 inches) |
| Curb Weight | 327 kg (721 lb.), 328 kg (723 lb.) CA model |
Warranty
| | |
| --- | --- |
| Warranty | 12-month limited warranty |
| Extension | Coverage extension and additional benefits are available |