Yamaha 2015 Star Bolt R-Spec is really a cruiser motorcycle made by Yamaha Star motorcycle Company. It is powerful, strong bike loaded with a 942 cc, four stroke 60 degree v-twin engine. It will give you a super low power torque. The 58 Cu inch engine looks dominant on a small chassis. This significant change gave 2015 Star Bolt R-Spec an upper hand on other related bikes. Its fuel injection technology will ultimately give a sensational ride to a player. The design of this bike enhances its performance and overall look. The basic theme of a cruiser bike lies in the design and performance of this Yamaha product. With its amazing features and many accessories you are able to make this as one of the best cruiser bikes. Yamaha has a great company heritage of manufacturing bikes since long time. The wet-clutch technology used on this bike is truly a standard to be achieved. Due to the last year consumption of Bolt series, and its high demand level Yamaha decided to make 2015 Bolt R-Spec. It has a two into one exhaust for extra power. The devoted 942 cc V-twin engine uses ultra light metal pistons which have low resistance, thus resulting in a fast and smooth engine operation. This thing will increase the life of parts and best performance of v-twin 4-valve engine.

The new graphic designs printed on the tank and side panels are also very beautiful. Digital speedometer has all the timing gauges, which are easily readable in the light of day. The low adjusted seat is also there to give the rider an easy and comfortable ride. The super cruiser lets you to have the power of a cruise rider with limitless rides.
FEATURES:
942 cc air cooled 60 degree V-twin 4-valve engine
5-speed liquid clutch transmission
Transistor controlled ignition technology.
Telescopic front forks with 12cm play.
Double Rear piggyback shocks with 7cm play.
Comes in two beautiful colors, Raven and Matte silver
Bigger size for mass lovers.
3.2 gallons fuel tank.
Estimated 51 mpg fuel economy average
Comfortable ride on country roads.
Cruising speed
Low adjusted seat for this class of heavy bikes.
ACCESSORIES:
Yamaha has produced a lot of bike accessories in order to be on a front line position and also to make their product more durable and versatile. Each and every accessory has its own function which enhances the performance and outlook of the bike.These accessories are easily available in the market. The performance and beauty are easily purchased with less cost in the form of these accessories. Here are some that are offered by Yamaha for Star bikes:
Passenger seat kit
Reduced reached Handlebars
Chrome Led's lamp
Bolt passenger backrest
Brass billet grips
Brass rider footpegs
Brass turning signal bezels
Headlight bezel of Brass
Engine Guards
Luggage Rack
Rear tail light of brass bezel
Clutch spring competition
Speaker trim of chrome
Customize 40-spoke wheels
Bolt fork gaiters
Deluxe side bag kit
Saddlebag support bars
Warranty:
Yamaha 2015 Star Bolt R-Spec has a 1 year limited factory warranty.
2015 Star Bolt R-Spec Price:
Yamaha 2015 Bolt R-Spec is available in the market around $8,390. That is a reasonable price for this class of bike. Along with this affordable price, user also has some choice in its accessories selection. These are also available in the market to improve 2015 Bolt R-Spec capability and strength. The price of the accessories is also not much. A rider that wants to be look prominent amongst all will love to use these accessories.
RELEASE DATE:
The release date of Yamaha 2015 Bolt R-Spec would be around the mid of 2014. Probably this amazing bike will be in the market since July of 2014. So, ready to be a part of bikers that have the honor of having such tremendous bike.
YAMAHA 2015 STAR BOLT R SPEC FIRST RIDE:
When you are ready to drive a cruiser bike and it's going to be Yamaha 2015 Star Bolt R-Spec than be ready to enjoy the lovely and sensational moments. After starting the cruise bike, the endless sound that is coming from its powerful 942cc v-twin engine, your thirst for running this on city streets is limitless. By pulling the wet-clutch technology, when you shift the gear and the RPM increases to a maximum, you are ready for the adventure. It is as easy to ride this bike as its native brands. The Yamaha 2015 Star Bolt R-Spec ride is an awesome experience. It will uplift your passion and love for the cruise bikes.

In my opinion, Yamaha Star Bolt R-Spec is the top cruiser of amongst the others that came with the same specs. In my list of cruiser bikes, Yamaha Company has the number one position of producing such bikes. It uses a 942cc 60 degree 4-valve air cooled engine that gives it the tremendous power and the Bridgestone tires are there to make this thing running and gripping the road while travelling. The main part of my interest is in the accessories that are offered by Yamaha for Star series. I can make this bike according to my style and demand. The seat kit, the chromed and brass bezel lights and side bag kit is a main feature of its accessories.  Yamaha Star Bolt R-Spec is economically best in fuel consumption. It has the ability to make a distance of almost 150 miles with one tank of fuel. The capacity of the fuel tank is 3.2 gallons. This fuel economy and energy efficiency make this a special bike.
This superb motorbike of Yamaha start motorcycle is available in two beautiful, stunning colors, Raven and the Matte silver. The brass bezels add beauty to its versatile look and the rear Led's light hits the back bikers ride on country roads. Every accessory is available to mod this super cruiser. From front to rear, you have the choice to make this bike of your type. Big Bridgestone tires are your companion on the long ride. These are made especially to grip the road harder and maintain the uneven behavior of road in an easy manner.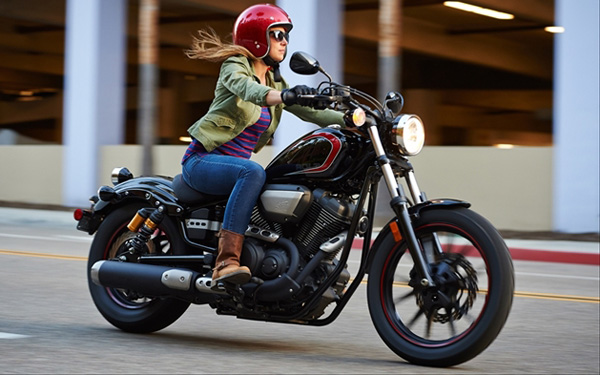 2015 Star Bolt R-Spec Specs:
Engine:
| | |
| --- | --- |
| Type | 942cc air cooled 60 degree V-twin |
| Bore X Stroke | 85 x 83 |
| Compression Ratio | 9.0:1 |
| Fuel Passing | Fuel Injection |
| Ignition | Transistors Controlling the Ignition |
| Transmission | 5-speed with liquid clutch |
| Final Drive | Belt |
Chassis:
| | |
| --- | --- |
| Suspension Front | Telescopic fork with 12cm play |
| Suspension Back | Double piggyback shocks with 7cm play |
| Brakes Front | 298mm Wave type disc |
| Brakes Rear | 298mm Wave type disc |
| Tires Front | 100-90/19MC 57H |
| Tires Rear | 150-80/16MC 71H |
Dimensions:
| | |
| --- | --- |
| Length | 90.2 inches |
| Width | 37.2 inches |
| Height | 44.1 inches |
| Seat Height | 27.2 inches |
| Wheelbase | 61.8 inches |
| Ground Clearance | 5.1 inches |
| Fuel Capacity | 12 Liters |
| Economy | 51 mpg |
| Wet Weight | 245 kg |
CONCLUSION:
The 2015 Star Bolt R-Spec by Yamaha is a special cruiser bike. It has all the features and accessories which should be in a cruiser bike. Its price is also not much higher; $8,390 is a reasonable price for this glorious bike. Its accessories can be purchased separately. These are also available in the market with fewer prices as compare to other brands. You can modify your bike by adding these accessories and also its feature will also increase and stability of the bike has no questions. All the bikes of different brand with same specs have not such reliability and choice. This motorcycle will make it easier for bikers to select it for them with no alternate issues. The colors that offered by Star Bolt R-Spec is also very stunning. Especially the Raven color has an awesome look and will also win the hearts of many cruise lovers. Matte silver is also very prominent which attracts buyers. Many accessories are of chrome bezel and especially brass worked to look dominant. The time will show that how many customers will be attracted towards this amazing motorbike by star motorcycle.