Among motocrossers, the KTM 2022 250 SX Dirt Bike is a legend. Few motorcycles come close to their raw fury, with a high-performance 2-Stroke engine, a proven state-of-the-art chassis, and top-shelf componentry. This tried-and-true racing weapon is ideal for individuals who love the sound of a 2-Stroke engine while bashing out scorching lap after hot lap.
KTM 2022 250 SX Dirt Bike – Features and Price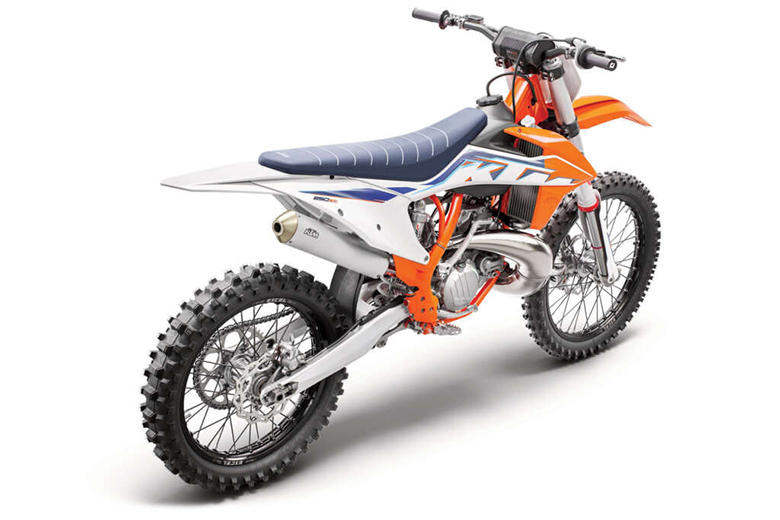 Engine & Exhaust
Exhaust
When it comes to ultimate power delivery and performance, the exhaust plays a crucial part and delivers a powerful punch. Furthermore, its small design allows for thinner ergonomics while functioning safely within racing noise limitations.
Engine
The KTM 250 SX's engine has the latest 2-stroke technology, including a counter-balance shaft for reduced engine vibration and a dependable hydraulically actuated DDS clutch. The KTM 250 SX engine has a twin-valve regulated power valve, which helps to make it the most competitive 2-stroke in its class. It's an exciting sensation to drive via its 5-speed gearbox.
Cylinder
The KTM 250 SX cylinder has a bore of 66.4 mm and is powered by a Twin-Valve power valve system. The exhaust port has been machined for accurate power valve performance and optimum power delivery. The power characteristics may be altered fast and simply with the two included springs, guaranteeing appropriate settings for varied courses and rider preferences. The aluminum lateral cylinder head brackets are designed to decrease vibration to near-zero levels.
Crankcases and engine covers
The lightweight engine casings are made utilizing a high-pressure die-casting technology that helps to reduce weight while maintaining strength and longevity. Because of the design, ideal shaft configurations closer to the center of gravity are possible, resulting in excellent mass centralization and easier ride-ability. The engine covers have a clever surface structure that eliminates wear caused by the rider's boots, making them seem as new as the day they were purchased.
Transmission
The engine is equipped with a robust 5-speed transmission that can handle any kind of motocross circuit. The gear ratios were created precisely to complement the 250 cc engine's power output. A "no-dirt" gear shifter is also included in the gearbox. It eliminates dirt build-up and assures that the next gear is always accessible, regardless of the circumstances, similar to the footpeg concept.
Balancer shaft
There will be no more numb hands and feet. Including a lateral balancer shaft in this engine, the design helps reduce engine vibrations to a minimum. As a result, you'll be able to keep charging harder for longer.
Cooling
Maintaining the proper engine temperature is essential for consistent horsepower throughout the journey. The radiators of the KTM 250 SX are positioned for a reduced center of gravity. Their design is a fantastic compliment to the shrouds and gives the ergonomics a nice slender feel. The revolutionary system provides the ideal engine temperature for maximum performance, regardless of the circumstances, by combining CFD technology with a sophisticated coolant circuit routing. The radiators also include specific guards that function as a brace that disperses energy around the radiators in the case of an accident, as well as protection against flying rocks and debris.
Chassis
Airbox
The KTM 250 SX's airbox guarantees excellent flow dynamics, which, combined with the intake snorkels, results in maximum power and rapid throttle response. Despite the apparent performance benefits, the design provides the best protection against air filter contamination. The massive Twin-Air air filter is set on a sturdy cage that is smartly engineered to prevent incorrect installation. Filter maintenance is fast and uncomplicated, and it doesn't need any tools like it did on prior models — a typical, original KTM feature.
Frame
The frame comprises hydroformed chromium-molybdenum steel tubes that are robot welded to ensure consistent quality. The stiffness has been fine-tuned for the most dynamic handling, and it works in tandem with the suspension to give agile agility without sacrificing high-speed stability. The frame also has "no dirt" footpegs with a simple but efficient self-cleaning technology that guarantees the footpegs return to their original position, giving you perfect control in any situation. All SX frames have the same high-durability powder coating as the KTM Factory bikes, and standard frame protectors are included. The lightweight aluminum subframe provides rear fender stability and robust support for the rider with little additional weight.
Swingarm
The one-piece swingarm uses a gravity die-cast manufacturing method for maximum strength and minimal weight. It has a broad range of rear-wheel adjustment, allowing for a shorter wheelbase on tighter, twistier tracks or a larger wheelbase on longer, more choppy courses for increased stability. The chain measurement lines on the swingarm are visible above, making adjustment more accessible and precise.
Wheels
On all SX models, KTM employs lightweight, CNC-machined hubs and high-end Excel rims to provide optimum stability and minimal weight. The aluminum spoke nipples are designed in such a way that they decrease the need to tighten the spokes regularly. The newest DUNLOP GEOMAX MX 3S tires are mounted to the wheels, providing maximum grip and stability while successfully transmitting all the power to the ground.
Front suspension
The super-lightweight WP XACT front fork with AER technology is standard on all full-size KTM SX models. It's a 48 mm USD air-sprung fork with damping functions on the right side and an air spring on the left. A two-chamber system, including a capsuled air cartridge, is used on the left leg to reduce air pressure loss. In simple terms, this implies that even if the exterior seal leaks, the internal cartridge pressure retains the bike in a normal position. The air spring is elementary and can be adjusted to any rider's weight with a single air valve and the included air pump. The right fork leg has a damping cartridge that may change the track conditions and the rider's preferences to match single damping leg needs. In addition, the fork top caps feature a redesigned shape that allows for more effortless adjustment.
Rear suspension
The WP XACT monoshock is standard on all KTM SX models, and it was designed to function in tandem with the whole frame and swingarm architecture, the linkage system, and the WP XACT fork. It has high-quality machined and anodized components that lend a touch of sophistication and make it appealing beyond merely being practical. It's completely adjustable, including high and low-speed compression, so you can fine-tune it to fit any track and rider's tastes.
Brakes
All KTM motorcycles have always come with high-tech BREMBO brakes as standard equipment. The acclaimed system, when combined with lightweight wave discs, gives the best degree of braking efficiency, allowing you to out-brake the competitors.
Fuel tank
The lightweight polyethylene fuel tanks are standard on all KTM SX models. The gasoline tank's form provides sleek ergonomics while maintaining a 1.98-gallon fuel capacity. The inner thread of the filler cap ensures a secure and stable sealing.
Ergonomics & Comfort
Footpegs
Even while digging in deep ruts, sophisticated 'no-dirt' footpegs avoid clogging the footpeg pivot. Do you want to ride at a higher position? Then just install the 2019 EXC footpegs, which are 6 mm taller than the SX variants.
Seat
The seats on all KTM SX models are designed to complement the range's dynamic performance-oriented ergonomics. The silicone stripes on the seat cover give the rider a more sumptuous feel and grip. The seat is secured to the motorcycle with a single long, lateral screw, making it safe and straightforward to use.
Handlebar
The high-strength aluminum tapered handlebar produced by NEKEN is standard on all full-size KTM SX models. The handlebar is held in place by rubber-dampened mountings that may be adjusted to two different settings. On the right side, there's an ODI vulcanized grip, and on the left, there's a comfortable ODI lock-on grip that doesn't need any wire or adhesive. They also have a bar-pad with a cover that can be easily attached and removed.
KTM 2022 250 SX Dirt Bike – Price
The new KTM 2022 250 SX Dirt Motorcycle is available at $8,499 only.
KTM 2022 250 SX Dirt Bike – Technical Specifications
Engine
| | |
| --- | --- |
| Transmission | 5-speed |
| Starter | Kickstarter |
| Stroke | 72 mm |
| Bore | 66.4 mm |
| Clutch | Wet, DDS multi-disc clutch, Brembo hydraulics |
| Displacement | 249 cm³ |
| EMS | Kokusan |
| Design | 1-cylinder, 2-stroke engine |
Chassis
| | |
| --- | --- |
| Weight (Without Fuel) | 95.5 kg |
| Tank Capacity (Approx.) | 7.5 l |
| Front Brake Disc Diameter | 260 mm |
| Rear Brake Disc Diameter | 220 mm |
| Front Brake | Disc brake |
| Rear Brake | Disc brake |
| Chain | 5/8 x 1/4″ |
| Frame Design | Central double-cradle-type 25CrMo4 steel |
| Front Suspension | WP XACT-USD, Ø 48 mm |
| Ground Clearance | 375 mm |
| Rear Suspension | WP XACT Monoshock with linkage |
| Seat Height | 950 mm |
| Steering Head Angle | 63.9 ° |
| Suspension Travel (Front) | 310 mm |
| Suspension Travel (Rear) | 300 mm |

Conclusion
Legendary motocrosser KTM 250 SX. Its high-performance 2-Stroke engine, state-of-the-art chassis, and top-shelf components are unmatched. This tried-and-true racing weapon is perfect for fans of 2-Stroke engines and hot laps.