The Harley-Davidson 2022 Ultra Limited Touring Motorcycle maintains the perfect balance, from its Twin-Cooled Milwaukee-Eight® 114 V-Twin engine to its heated handgrips: batting fairing and split-stream air vents for optimal airflow and reduced head buffeting, a BOOM! GTS infotainment system, electronic cruise control, responsive front, and rear suspension, and Tor-Pak® carrier with space for two full-face helmets. If that's not enough, one can opt for the all-new Striking Black treatment, which will wrap your vehicle in a contemporary black exterior flair.
For riders looking for an excellent, fully loaded touring experience without the trade-offs. Features include a Twin-Cooled Milwaukee-Eight® 114 engine, heated handgrips, Daymaker LED lighting, Tour-Pak® luggage carrier, and Boom! Box GTS entertainment system.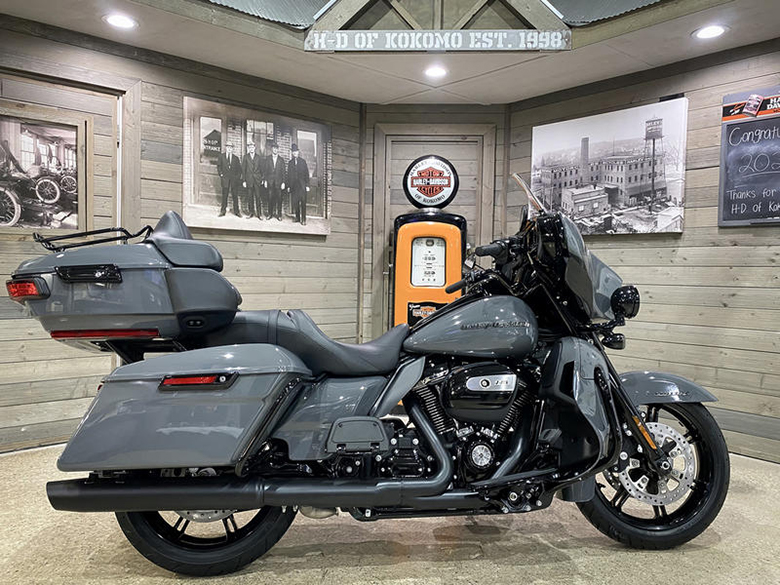 Harley-Davidson 2022 Ultra Limited Touring Motorcycle – Specs and Price
Milwaukee-Eight® 114 Engine
The most significant displacement H-D® Touring is available in the standard version. Crossing and trailing power come in at about 114 cubic inches.
Reflex™ Linked Brembo® Brakes With Standard ABS
They are designed primarily to help the rider maintain control when braking in a straight line by preventing the wheels from locking up. In an emergency, ABS works separately on the front and rear brakes to help keep the wheels in motion and stop uncontrolled wheel locks.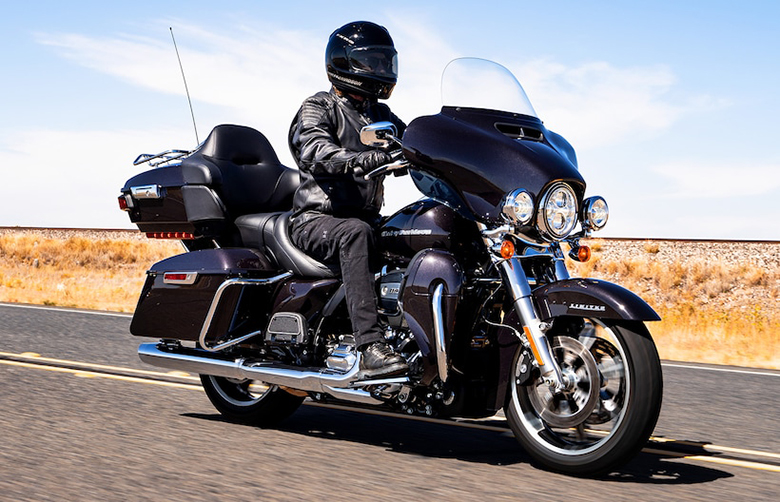 Boom! box GTS infotainment system
An advanced user interface with features tailored specifically for motorcycles, remarkable durability, and a modern look, feel, and functionality. Every component has been carefully considered and tuned to improve the rider's connection to the bike and the outside world.
Heated Handgrips
Six settings allow you to quickly and easily adjust the heat as needed.
Electronic Cruise Control
With the 6-speed Cruise Drive® transmission, you can choose your speed. It offers quiet, smooth shifting and adjusts to whatever surface you're riding on.
Premium Tour-Pak Luggage Carrier
A stylish yet spacious Tour-Pak® luggage carrier with a luggage rack that has room for both rider and passenger helmets as well as additional travel essentials.
Harley-Davidson 2022 Ultra Limited Touring Motorcycle – Price
The new Harley-Davidson 2022 Ultra Limited Touring Motorcycle is available at $29,269 only.
Harley-Davidson 2022 Ultra Limited Touring Motorcycle – Technical Specifications
Dimensions
| | |
| --- | --- |
| Length | 102.3 in. (2,600 mm) |
| Overall Width | 37.8 in. (960 mm) |
| Overall Height | 56.7 in. (1,440 mm) |
| Seat Height, Laden | 27.5 in. (699 mm) |
| Seat Height, Unladen | 29.1 in. (740 mm) |
| Static Ground Clearance | 5.3 in. (135 mm) |
| Rake (steering head) (deg) | 26 |
| Fork Angle (deg) | 29.25 |
| Trail | 6.7 in. (170 mm) |
| Wheelbase | 64 in. (1,625 mm) |
| Tires, Type | Dunlop Harley-Davidson Series, bias blackwall front & rear |
| Tires, Front Model | D408F |
| Tires, Front Specification | BW 130/70B18 63H |
| Tires, Rear Model | D407T |
| Tires, Rear Specification | BW 180/55B18 80H |
| Fuel Capacity | Six gals. (22.7 l) |
| Reserve Fuel Capacity, Fuel Injection (warning light) | One gal. (3.8 l) |
| Oil Capacity (w/filter) | Five qt. (4.7 l) |
| Transmission Capacity | One qt. (.95 l) |
| Primary Chain Case Capacity | 1.1 qts. (1 l) |
| Coolant Capacity | 0.8 qt. (0.76 l) |
| Weight, As Shipped | 880 lb. (399 kg) |
| Weight, In Running Order | 917 lb. (416 kg) |
| Gross Vehicle Weight Rating | 1,360 lb. (617 kg) |
| Gross Axle Weight Rating, Front | 500 lb. (227 kg) |
| Gross Axle Weight Rating, Rear | 927 lb. (420 kg) |
| Luggage Capacity -Volume | 4.7 cu ft (0.132 m3) |

Engine
| | |
| --- | --- |
| Engine | Twin-Cooled™ Milwaukee-Eight™ 114 |
| Valves | Pushrod-operated, overhead valves with hydraulic, self-adjusting lifters; four valves per cylinder |
| Bore | 4.016 in. (102 mm) |
| Stroke | 4.5 in. (114.3 mm) |
| Displacement | 114 cu in (1,868 ccs) |
| Compression Ratio | 10.5:1 |
| Fuel System | Electronic Sequential Port Fuel Injection (ESPFI) |
| Air Cleaner | Paper, washable |
| Exhaust | 2-1-2 dual exhaust with tapered mufflers |
| Lubrication System | Pressurized, dry-sump with oil cooler |
Drivetrain
| | |
| --- | --- |
| Primary Drive | Chain, 34/46 ratio |
| Final Drive | Belt, 32/68 ratio |
| Clutch | Mechanically actuated ten plate wet, Assist and Slip |
| Transmission | 6-Speed Cruise Drive® |
| Gear Ratios (overall) 1st | 9.593 |
| Gear Ratios (overall) 2nd | 6.65 |
| Gear Ratios (overall) 3rd | 4.938 |
| Gear Ratios (overall) 4th | 4 |
| Gear Ratios (overall) 5th | 3.407 |
| Gear Ratios (overall) 6th | 2.875 |
Chassis
| | |
| --- | --- |
| Frame | Mild steel; 2-piece stamped and welded backbone; tubular frame twin downtubes; cast & forged junctions; bolt-on rear frame containing forged fender supports; MIG welded. |
| Swingarm | Mild steel; 2-piece drawn and welded section; forged junctions; MIG welded. |
| Front Fork | 49mm of Dual Bending Valve |
| Rear Shocks | Premium standard height hand-adjustable rear suspension |
| Wheels, Optional Style Type | Gloss Black Slicer II |
| Wheels, Front Type | Slicer II cast aluminum, including a clear coat |
| Wheels, Front Width | 3.5 in. (89 mm) |
| Wheels, Front Height | 18 in. (457 mm) |
| Wheels, Rear Type | Slicer II cast aluminum, including a clear coat |
| Wheels, Rear Width | Five in. (127 mm) |
| Wheels, Rear Height | 18 in. (457 mm) |
| Brakes, Caliper Type | 32 mm, 4-piston fixed front and rear |
| Brakes, Rotor Type | Dual floating rotors (front), fixed rotor (rear) |
| Brakes, Front Diameter | 11.8 in. (300 mm) |
| Brakes, Front Thickness | 0.2 in. (5.1 mm) |
| Brakes, Front is dual | Yes |
| Brakes, Rear Diameter | 11.8 in. (300 mm) |
| Brakes, Rear Thickness | 0.28 in. (7.1 mm) |
| Front brake lever free travel | N/A |
| Rear brake pedal free travel | N/A |
| Brakes, Anti-Lock Braking System (ABS) | Standard |
| Suspension Travel, Front | 4.6 in. (117 mm) |
| Suspension Travel, Rear | Three in. (76 mm) |

Performance
| | |
| --- | --- |
| Engine Torque Testing Method | J1349 |
| Engine Torque | 122 ft-lb (166 Nm) |
| Engine Torque (rpm) | 3,000 |
| Power (Hp/kW) | 93 HP / 69 kW @ 5020 rpm |
| Lean Angle Testing Method | J1168 |
| Lean Angle, Right (deg.) | 32 |
| Lean Angle, Left (deg.) | 32 |
| Maximum hill-starting ability | N/A |
| Fuel Economy Testing Method | Estimated City/Hwy |
| Fuel Economy | 43 mpg (5.5 l/100 km) |
| CO₂ Emissions Testing Method | N/A |
| CO₂ Emissions | N/A |
Performance
| | |
| --- | --- |
| Engine Torque Testing Method | J1349 |
| Engine Torque | 122 ft-lb (166 Nm) |
| Engine Torque (rpm) | 3,000 |
| Power (Hp/kW) | 93 HP / 69 kW @ 5020 rpm |
| Lean Angle Testing Method | J1168 |
| Lean Angle, Right (deg.) | 32 |
| Lean Angle, Left (deg.) | 32 |
| Maximum hill-starting ability | N/A |
| Fuel Economy Testing Method | Estimated City/Hwy |
| Fuel Economy | 43 mpg (5.5 l/100 km) |
| CO₂ Emissions Testing Method | N/A |
| CO₂ Emissions | N/A |
Warranty And Service
| | |
| --- | --- |
| Warranty | 24 months (unlimited mileage) |
| Service Interval | First 1,000 miles (1,600 km), every 5,000 miles (8,000 km) thereafter |