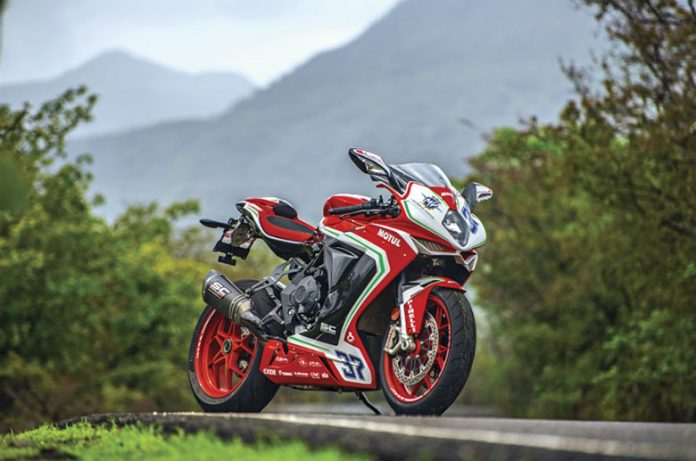 The new F3 800 RC 2019 MV Agusta Powerful Sports Motorcycle is a unique motorcycle with impressive features. The model is from Reparto Corse (Racing Department) that works tirelessly to eliminate a few hundredths of seconds on a race track and leave everyone behind.
The MV Agusta was born on the track, and the motorcycle has got excellent braking and acceleration combination. The whole story has been inscribed on the most famous racing tracks in the World since the dawn of the most glorious bike brand in the history of biking.
RC doesn't simply mean Reparto Corse; it denotes extreme attention to technical development, but in terms of design and function. It is a direct connection to the riders, achieving perfection from track to track. RC also means attention to detail because on the race track; each component is crucial and decisive. It also focuses on ultimate performance, a way of thinking known only by those who live to race. It is a direct descendant of racing experience brought to the road, crafted for the most demanding riders.
Both MV Agusta F3 675 RC and MV Agusta F3 800 RC have the same livery that improves the sleek lines and surprising compactness of the model born to deliver the best on the race track in the race or on the fiercest of track days. Each limited edition F3 RC unit has a dedicated race kit that features the titanium exhaust with SC-Project silencer, joints and pipes, the carbon fiber heel guard, and aluminum mounting brackets. The dedicated electronic control unit comes standard in the kit along with CNC machined brake and clutch levers in ergal, a sprocket to gain maximum acceleration, a rear-wheel stand and a bike cover. Each motorcycle is available with a certificate of authenticity.
F3 800 RC 2019 MV Agusta Powerful Sports Motorcycle – Model Range
The RC, denoting Reparto Corse (Racing Department), is from the place where the MV Agusta bikes destined for racing are born. At the core of the RC the range is one of the keystones of the MV Agusta concept: the belief that races are fundamental for enhancing factory production motorcycles. The technological transform from the track to the assembly line is as direct and as quick as possible. After the extensive technical updates in 2018 models, especially on the three-cylinder motorcycles, the 2019 RC bikes confirm they're an incredibly high level of technical content.
The MV Agusta F4 is a legendary project that is at its evolutionary peak. It comes with a dedicated racing kit, including an electronic control unit with specific mapping and a titanium SC-Project single exit exhaust. The components allow having a maximum power of the short-stroke four-cylinder engine to be increased bore of 79mm and stroke of 50.9mm with central timing chain and radial valve configuration from 205 hp to 212 hp. The technical contains the Ohlins fork and shock absorber and advanced engine and vehicle management software, making the MV Agusta F4 RC motorcycle the secure version to the one which raced in the World Superbike Championship. The 2019 color scheme is entirely new, centered on the large black central area exposed to carbon fiber. The wheels, tail fairing and fuel tank come in red, with white and green regions that proudly highlight Italian craftsmanship.
The new MV Agusta F3 675 RC & MV Agusta F3 800 RC comes with the same livery that enhances the sleek line and remarkable compactness of the model born to offer the best on the track. Each F3 RC model has a dedicated race kit that features the titanium exhaust including the SC-Project silencer, pipes and joints, the new carbon fiber heel guard, and aluminum attaching brackets. The new dedicated electronic control unit is included in the kit. The new CNC machined brake and an all-new clutch levers in ergal, a new sprocket to increase more excellent acceleration, a new bike cover and a rear-wheel stand. Each motorcycle comes with an authenticity certificate.
Dragster 800 RC is best interpreted as a "drag racing" vocation that made it famous. Thanks to its low weight of just 160 kg, its 150 horses, and highly effective chassis architecture, the new MV Agusta Dragster 800 RC is a pure sports motorcycle that finds its most fascinating side in the accessories package put together by the famous racing department of MV Agusta. The new spoked wheels in the standard package move over to make enough room for the trendy nine-spoke design in lightweight forged alloy with an unmistakable racing style. The new technical sponsor logos enhance the overall beauty of Dragster 800, along with the number 37 that shows the number of world titles won by MV Agusta.
Brutale 800 RC is an uncompromising motorcycle reminiscent of the most sensational and aggressive versions of the new four-cylinder Brutale. This model transformed the design of the middle-weight segment, plus focusing on extreme performance. It is a carbon fiber component that stands out including the front fender, the fuel tank side panels, the rear inner fender and the instrument cluster cover. The forged alloy wheels have a substantial impact, unmistakeably red, to complete the racing color scheme common to the entire RC range and made even more attractive by the technical sponsor logos.
Turismo Veloce RC focuses on the sporting DNA of the model that stands tall with the conceptual originality in the touring motorcycle segment. Its extreme versatility stems from distinctive and specific technical choices like the compact and relatively small displacement engine, the vehicle's consequent lightweight and agile dimensions of the chassis architecture—all the segments characterized by increasingly heavy and bulky motorcycles. Naturally, the Turismo Veloce RC is equipped with SCS technology that stands for "Smart Clutch System" and identifies the solution developed exclusively by MV Agusta for fully automatic clutch management. The new Smart Clutch System allows the rider to choose from two possibilities that operate the clutch manually using the clutch lever or leave operation entirely up to the system so that rider can focus only on the ride.
F3 800 RC 2019 MV Agusta Powerful Sports Motorcycle – Price
The new F3 800 RC 2019 MV Agusta Powerful Sports Motorcycle is available at $21,998.
F3 800 RC 2019 MV Agusta Powerful Sports Motorcycle – Technical Specifications
Engine
Type
Three cylinders, four strokes, 12 valve
Timing system
"D.O.H.C" including mechanical chain tensionerTotal displacement 798 cm3 (48.7 cubic inches)
Compression ratio
13.3:1
Starting
Electric
Bore x stroke
79mm x 54.3mm (3.1 inches x 2.1 inches)
Max. power- ROM (at the crankshaft)
108 kW (148 hp) @ 13.000 RPM
112.5 kW (153 hp) @ 13.250 RPM
Max. torque – RPM
88 Nm (8.97 kgm) at 10.600 RPM
Cooling system
Cooling including separated liquid and oil radiators
Engine management system
Integrated ignition- injection system MVICS (Motor and Vehicle Integrated Control System) with six injectors Engine control unit Eldor EM2.0, throttle full-body ride-by-wire Mikuni, pencil-coil including ion-sensing technology, control of detonation and misfire Torque control including four maps, Traction Control with eight levels of intervention
Electronic quick shift
MV EAS 2.0 (Electronically Assisted Shift up & down)
Clutch
Wet, multi-disc slipper clutch
Transmission
Cassette style; six speed, constant mesh
Primary drive
22/41
Gear ratio
1st gear: 13/37
2nd gear: 16/34
3rd gear: 18/32
4th gear: 19/30
5th gear: 21/30
6th gear: 22/29
Final drive ratio
17/43
Electrical Equipment
| | |
| --- | --- |
| Voltage | 12 V |
| Alternator | 350 W @ 5000 RPM |
| Battery | 12 V – 8.6 Ah |

Dimensions and Weight
| | |
| --- | --- |
| Wheelbase | 1380 mm (54.33 inches) |
| Overall length | 2060 mm (81.01 inches) |
| Overall width | 725 mm (28.54 inches) |
| Saddle height | 805 mm (31.69 inches) |
| Min. ground clearance | 125 mm (4.92 inches) |
| Trail | 99 mm (3.89 inches) |
| Dry weight | 173 kg (381.4 lbs.) – 165 kg (363.8 lbs.) |
| Fuel tank capacity | 16.5 liters |
Performance
| | |
| --- | --- |
| Maximum speed | 240 km/h (149.1 mph) |
Frame
| | |
| --- | --- |
| Type | ALS Steel tubular trellis |
| Rear swing arm pivot plates material | All-new Aluminium alloy |
Front Suspension
| | |
| --- | --- |
| Type | Marzocchi "UPSIDE DOWN" telescopic hydraulic fork including rebound-compression damping and spring preload external and separate adjustment |
| Fork diameter | 43 mm (1.69 inches) |
| Fork travel | 125 mm (4.92 inches) |

Rear Suspension
| | |
| --- | --- |
| Type | Progressive Sachs, single shock absorber including rebound and compression damping and spring preload adjustment |
| Single-sided swingarm material | Aluminum alloy |
| Wheel travel | 123 mm (4.84 inches) |
Brakes
| | |
| --- | --- |
| Front brake | Double floating disc including Ø 320 mm (Ø 12.6 in.) diameter, with steel braking disc and flange |
| Front brake caliper | Brembo radial-type monobloc, with four pistons Ø 34 mm (Ø 1.34 inches) |
| Rear brake | Single steel disc including Ø 220 mm (Ø 8.66 inches) diameter |
| Rear brake caliper | Brembo with two pistons – Ø 34 mm (Ø 1.34 inches) |
| ABS System | Bosch 9 Plus with Race Mode and RLM (Rear wheel Lift-up Mitigation) |
Wheels
| | |
| --- | --- |
| Front: Material/size | Aluminum alloy 3.50 " x 17 " |
| Rear: Material/size | Aluminum alloy 5.50 " x 17 " |
Tires
| | |
| --- | --- |
| Front | 120/70 – ZR 17 M/C (58 W) |
| Rear | 180/55 – ZR 17 M/C (73 W) |
Fairing
Kit Racing Parts
SC-Project exhaust silencer in titanium and carbon- Power unit for SCexhaust silencer carry-over (with unique mapping and traction control for race mode) – Anodized aluminum mirror caps kit – Billet aluminum Brake/Clutch levers – Billet aluminum footpeg kit – Fiber-glass rear seat cover – "Sport" License Plate holder – Dedicated bike cover – Rear paddock stand – Certificate of origin – Limited Edition

Emissions
| | |
| --- | --- |
| Environmental Standard | Euro 4 |
| Combined fuel consumption | 6.4 l/100 km |
| CO2 Emissions | 157 g/km |
Conclusion
The new F3 800 RC 2019 MV Agusta Powerful Sports Motorcycle is an impressive sports bike with a robust and high-performing engine. The compact but attractive chassis always seduce the rider to have another lap while always demanding another view.