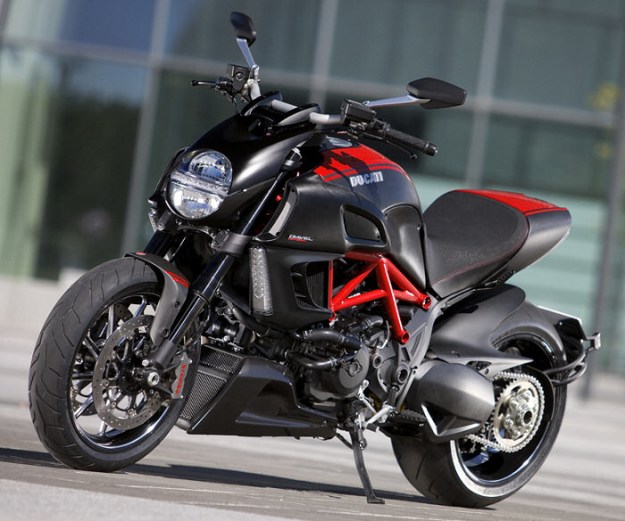 At Ducati, it would seem that each range is entitled to its version "Strada". But so on certain models, this treatment suits them, rather well it is not really the case for Ducati 1200 Diavel…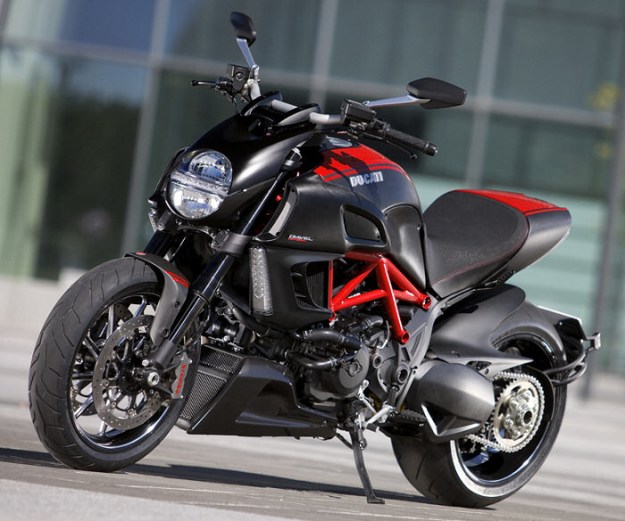 When it was seen the first time at the time of the press conference, one was a little circumspect… Ducati 1200 Diavel Strada, it is a little marriage of carp and rabbit, or as if one assembled a trunk of roof on a Ferrari. In short, that does not do it with our taste!
This version GT breaks the single line of Diavel and gives him a starched and awkward air. There appears one plank of doubtful genetic transplantation, then by pity, leaves Ducati 1200 Diavel as it must be, stripped, noisy and antisocial! Moreover, at Ducati, certain "frameworks" are with half excused with low voice, asserting that this model was mainly intended "to the Americans only"…
1200 Diavel Starda 2013: very "special"
Before we have tested it, we will not criticize the comfort and the practice, which seem clearly in progress with the large saddle, the bags and the careenage, but then side look, which surprised us a lot. Since the tastes and the colors are not discussed, so that will avoid us being disagreeable…!
Ducati Diavel Strada 2013: instrument panel
Diavel Strada keeps the instrument panel into two parts of the standard model, but is seen equipped with a high handlebar for comfort.
Milan Strada Ducati Diavel: exhaust-
Ah, the line of exhaust remains the same one as on the other models, a good point for the large sound which emanates from it, but on a GT, one will prefer a softer sound, definitely, between Ducati Diavel Strada and us, there is misunderstanding…
Ducati 1200 Diavel Strada 2013: bubble close
A high bubble equips this GT against nature… but it seems too narrow to protect correctly. They could have pushed the defect to put a true bubble quite broad and high, one is not any more with that close style question…
Ducati 1200 Diavel Strada: saddles and satchel
Saddles "comfort" in the old-fashioned design, rigid satchels of small capacity (41 liters), "side Bar" with American, or how "to break" a fluid line of origin…
In short, if you want a GT Ducati, lean on Ducati Multistrada 1200 S Touring, or on Hyperstrada (821cm3). To finish, will know that if you like this awkward "hybrid", it is a ticket of 19,690 € which will have to be left… Without comment