A fully automatic transmission and a tunable throttle control increase the excitement and potential. The first rides will be fun with the well-known PW50. For almost 40 years, the PW50 mini-motorcycle has exposed young riders and their parents to the joys of off-roading. The 2023 Yamaha PW50 Dirt Motorcycle is more than a toy since it has contributed to the formation of priceless family traditions.
2023 Yamaha PW50 Dirt Motorcycle – Features and Specs
The perfect first step
The well-known PW50 was created with rider comfort and pleasure in mind. You can choose your top speed thanks to the adjustable throttle restriction, plush suspension, low seat height, and compact chassis. They also provide a smooth ride and easy maneuverability.
The 50cc engine is rapid and fully automatic, providing effortless acceleration; the oil tank and shaft drive are easily accessible and separate for 2-stroke operation, simplifying maintenance. The PW50 is so compact and light that you can throw it in the back of a vehicle or the bed of a pickup truck and go. The premium kids' bike is built to last by Yamaha, so your family may enjoy it for years.
Perfect for new riders
You surely want the best product for your kids since they only get one shot at childhood. Many parents worldwide have decided to purchase a Yamaha PW50 because of the quality features and user-friendly technology included in this tiny motorcycle.
Since ease of use and maintenance is paramount, the PW50 was designed to be fun to ride and maintain. Featuring a 2-stroke 50cc engine, fully-automatic transmission for "twist-and-go" performance, handlebar-mounted brake levers, shaft drive, and a low seat, this bike is ideal for a young rider's first experience on two wheels.
Entry-Level Two-Stroke Engine
The 49cc air-cooled, case-reed-inducted, two-stroke single is tuned to provide consistent power that is easy on new riders' wrists and shoulders as they get the hang of off-roading.
Fully Automatic Transmission
The rider can relax and concentrate on the road ahead thanks to the single-speed automated transmission.
Maintenance-Free Shaft Drive
The shaft drive system is the first of its kind and is fully encased for protection.
Convenient Oil Injection System
With modern auto lube oil injection technology, pre-blending gasoline and oil is unnecessary.
Ultra-Low Seat Height
The average youngster can comfortably place both feet on the ground at the seat's low 18.7-inch height.
Robust Front Suspension
A large 26 mm telescopic front fork with 2.4 inches of travel cushions the road for precise handling at high speeds.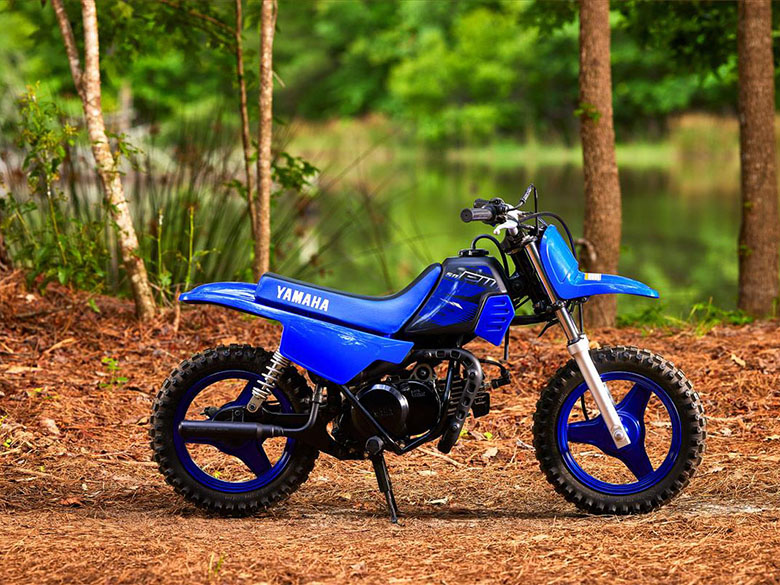 Dual Shocks
The two shocks in the back provide for a comfortable and secure ride, with a total of two inches of travel.
Maintenance-Free Mag Wheels
Mag wheels don't have any spokes, so you never have to worry about replacing or tightening them.
Enclosed Drum Brakes
Both the front and rear drum brakes work smoothly and consistently.
Durable Knobby Tires
Front and rear 10-inch knobby tires are tough and give excellent wear and traction.
Quiet, Compact Exhaust
An exhaust pipe with a removable baffle is placed out of the rider's line of sight.
Simplified Servicing
The back bumper, bench, and door panel all come off for easy servicing.
Comfortable Saddle
A thicker seat provides more padding for the rider.
Racy Styling
The design is reminiscent of more oversized off-road vehicles and takes cues from Team Yamaha with its colors, logo, and front and side number plates.
Grippy Foot Pegs
Large, collapsible foot pegs with a rubberized grip provide a firm footing.
2023 Yamaha PW50 Dirt Motorcycle – Price
The new 2023 Yamaha PW50 Dirt Motorcycle is available for $1,699 only.
2023 Yamaha PW50 Dirt Motorcycle – Technical Specifications
Engine
| | |
| --- | --- |
| Engine type | Reed valve;Single cylinder;Air-cooled;2-stroke |
| Displacement | 49cc |
| Bore x stroke | 40.0 mm x 39.2 mm |
| Compression ratio | 6.0: 1 |
| Lubrication system | Separate lubrication |
| Clutch type | Wet; centrifugal automatic |
| Ignition system | CDI |
| Starter system | Kick |
| Transmission system | Automatic |
| Final transmission | Shaft |
| Fuel system | Mikuni VM12/1 |

Chassis
| | |
| --- | --- |
| Frame | Steel tube backbone |
| Caster angle | 25°30′ |
| Trail | 50 mm |
| Front suspension system | Telescopic forks |
| Rear suspension system Unit | Swing |
| Front travel | 60 mm |
| Rear travel | 50 mm |
| Front brake | Drum mm |
| Rear brake | Drum mm |
| Front tire | 2.50-10 4PR |
| Rear tire | 2.50-10 4PR |
Dimensions
| | |
| --- | --- |
| Overall length | 1,245 mm |
| Overall width | 610 mm |
| Overall height | 705 mm |
| Seat height | 475 mm |
| Wheelbase | 855 mm |
| Minimum ground clearance | 95 mm |
| Wet weight (including full oil and fuel tank) | 41 kg |
| Fuel tank capacity | 2.0 liters |
| Oil tank capacity | 0.30 liters |