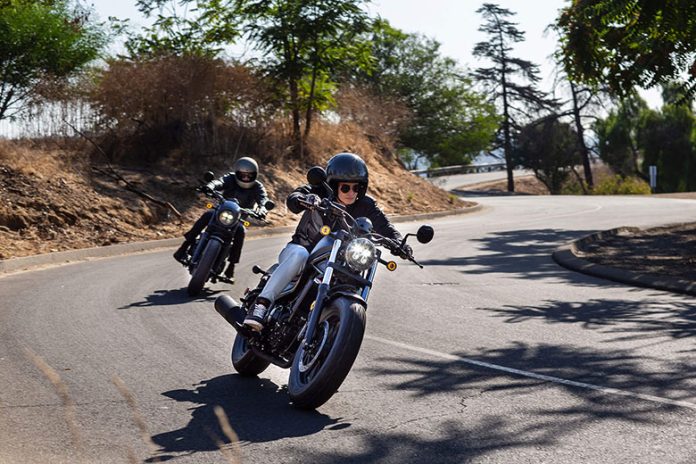 If you're looking for a bike that will make you the envy of other motorists while still allowing you to cruise with complete ease and confidence, look no further than the 2022 Honda Rebel 300 Cruisers. It's a platform to be yourself and explore your inner world. The Rebel combines modern features like an ABS and LED lighting package with more classic touches like a low seat height and a broad power band that is easy to navigate. The 286cc single-cylinder engine and Honda's slipper/assist clutch produce an exceptional performance on straight and curved roads. You can also find various Honda accessories here to help you personalize your bike.
2022 Honda Rebel 300 Cruisers – Features and Specs
Blacked-Out Style
You can put your unique stamp on the Rebel because it's a blank canvas. This canvas, however, is not the standard white color you'd find in an art store. There's no need to change a thing; it looks great day or night with its blacked-out engine, frame, and bodywork parts.
Blacked-Out Muffler
Having the Rebel's exhaust system blacked out makes it unnecessary to clean the chrome and is a beautiful aesthetic choice. The best part, if there is one? Incredible music to your ears, making every pedal stroke count.
Classic Instrument Shape
The instruments on the Rebel are another example of modernity meeting tradition; they have a traditional shape but display information on an LCD screen.
Four-Bulb Headlight
The motorcycle's headlight is an additional key design element. The Rebel allows you to combine the advantages of two different types of devices. The Rebel has a distinctive look for the twenty-first century thanks to its round nacelle; aluminum cast headlight mount, and conventional lens shape. This light is both very effective and dazzling.
All LED Lighting Package
LED lights are becoming more popular. LEDs may be more portable, more efficient, and less maintenance-intensive than incandescent bulbs during their service lives. The Rebel 300's headlight, taillight, turn signals, and license plate light are all LEDs.
Color Choices
Look at the vibrant colors you may be rocking: Perhaps a metallic pearl blue or a metallic gray.
Optional Honda Accessories
The Rebel 300 allows you to personalize your motorbike with various accessories. Think about the padded back, saddlebags, carrier, passenger seat, main seat with diamond stitching, foot peg kit, and more.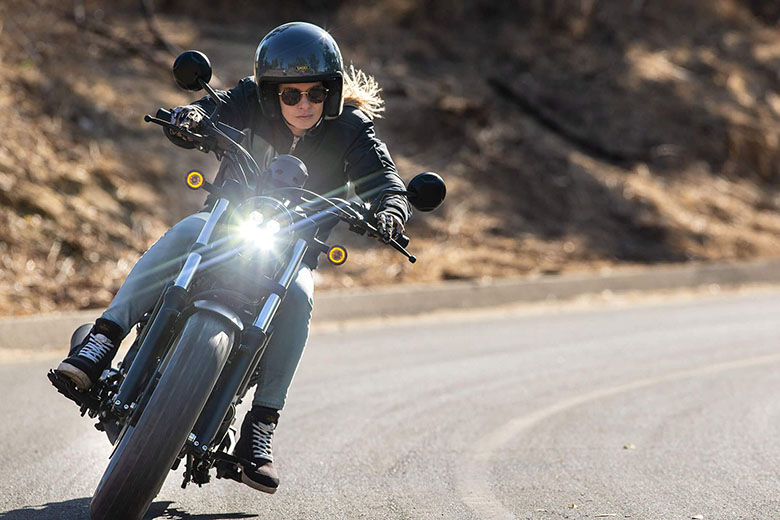 Steel Rear Fender
Accurate steel never goes out of style. To blend in with the tank, the Rebel installed a steel rear fender. Steel fender provides sturdy support for removable/adjustable passenger seat; beautiful finish.
Wide 41mm Fork
The Rebel shines at the front, the most crucial to a good appearance. The large 41mm fork tubes make a bold statement, while the bike's excellent steering and front suspension provide a smooth and relaxing ride. Once minor adjustments were made to the fork last year, it became universally adored.
Refined Rear Suspension
The nitrogen-filled rear shocks of the Rebel 300 each have their spring rate. Like the front suspension, it enhances the ride's comfort and performance.
Wide Front Wheel
The Rebel's front tire is wide (130/90-16), which improves not only its aesthetics but also its handling and stopping capability.
Low Seat Height
When given a choice, most individuals would choose seats lower to the ground. With a seat height of only 27.2 inches, the Rebel is among the lowest in the industry. It's relaxing on the road, and you can save energy by walking less at red lights and parking garage exits.
Light Weight
With a dry weight of only 364 pounds (370 pounds for the ABS version), the Rebel 300 is far more manageable and fun to ride than larger vehicles. It's an excellent option for riders looking for a lightweight, nimble bike. A lightweight design with a low center of gravity improves performance.
Narrow
The Rebel's unusual narrowness, especially at the pivotal tank/seat junction, facilitates getting on and off the bike and resting one's feet when stopped. The Rebel can also carry a wide variety of riders.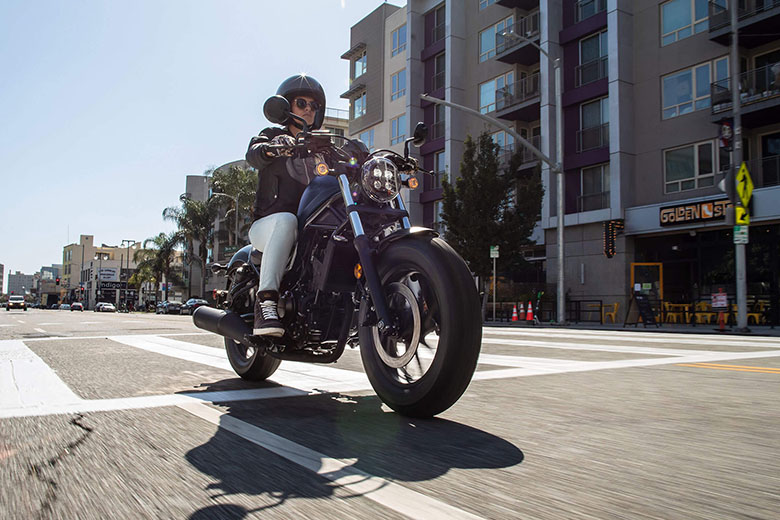 Roomy Rider Triangle
A rider's body makes contact with a motorcycle at three points: the seat, the handlebars, and the foot pegs. The Rebel's rider triangle strikes a happy medium between the two extremes of cruiser riding and sport riding. You'll feel like a boss the instant you sit on a Rebel in your showroom because of your commanding presence when you ride.
Single Seat with Available Accessory Passenger Seat and Footpeg Kit
How about a solo trip with a minimal amount of luggage? Is there room for a guest at your party? Like the clean lines of a single chair? You like how adjustable passenger seats can be, right? The Rebel makes it easy to have it both ways, as the extra passenger seat, passenger footpegs, and brand-new footpeg hangers are all simple, bolt-on components.
Slipper/Assist Clutch
The Honda racing cars were the proving ground and incubator for this innovation. A slipper/assist clutch has a weaker clutch pull while the lever is drawn but a strong lockup when the lever is released and force is applied. It's been estimated that this method may reduce clutch effort at the bar by as much as 30 percent.
Superior Handling
Some of today's motorcycles may seem significant from a distance, but they can't handle the twists and turns of contemporary roadways. Every Honda motorbike, including the Rebel, is built to the same exacting standards. We put as much consideration into the Rebel's maneuverability and directional stability as we did its flashy exterior.
2.9-Gallon Fuel Tank
A motorbike would be incomplete without a petrol tank. The timeless design of the Rebel's 2.9-gallon fuel tank has a purpose, too: it combines with the bike's exceptional fuel efficiency to give you a lot of range.
Die-Cast Aluminum Rear Sub-Frame
Here's a chance for Honda's designers to put their aesthetic stamp on a functional part of a motorcycle. Substantial, discreet, and lightweight aluminum subframe/fender mounts hold the passenger seat in place, should you want to install one.
Wide Rear Tire
The Rebel's wide and low 16-inch rear tire provides excellent grip and improves the bike's relaxed riding position. The difficulty level seems to be high as well.
Sporty Engine
We used a fantastic Honda engine, known for its reliability, in the Rebel 300. A few hard facts about this engine are that it is single-cylindered, has dual overhead cams, uses fuel injection, and has a counterbalancer. The single's low mass and slim profile help reduce the whole bike's weight. Also, it offers the perfect amount of torque and moderate power for riders of varying abilities.
Cast Aluminum Wheels
Front and rear cast wheels give the Rebel an inherently vintage look while still being lightweight, functional, and easy to keep clean. Wide rims and tires add to the bike's badass appearance.
2022 Honda Rebel 300 Cruisers – Price
The new 2022 Honda Rebel 300 Cruisers is available at $4,699 only.
2022 Honda Rebel 300 Cruisers – Technical Specifications
Engine
| | |
| --- | --- |
| Type | 286cc, liquid-cooled, single-cylinder, four-stroke |
| Bore and Stroke | 76mm x 63mm |
| Induction | PGM-FI |
| Ignition | Full transistorized ignition |
| Compression Ratio | 10.7:1 |
| Valve Train | DOHC, four valves per cylinder |
Drive Train
| | |
| --- | --- |
| Transmission | Six-Speed |
| Final Drive | O-ring-sealed chain |
Chassis Suspension Brakes
| | |
| --- | --- |
| Front Suspension | 41 mm of a fork; 4.8 inches of travel |
| Rear Suspension | Dual shocks, including 3.8 inches of travel |
| Front Brake | Hydraulic disc |
| Rear Brake | Hydraulic disc |
| Front Tire | 130/90-16 |
| Rear Tire | 150/80-16 |
Dimensions
| | |
| --- | --- |
| Rake (Caster Angle) | 28° 0′ |
| Trail | 4.3 inches |
| Wheelbase | 58.7 inches |
| Seat Height | 27.2 inches |
| Curb Weight | 364 pounds |
| Fuel Capacity | 2.9 gallons |
| Miles Per Gallon | 78 MPG |
Other
| | |
| --- | --- |
| Model ID | CMX300 |
| Emissions | Meets current EPA standards. California version meets current CARB standards and it may differ slightly due to emissions equipment. |
| Available Colors | Matte Gray Metallic, Pearl Blue |
Factory Warranty Information
One Year Included Transferable, unlimited-mileage limited warranty
Optional Extended Extended coverage available with a HondaCare Protection Plan®