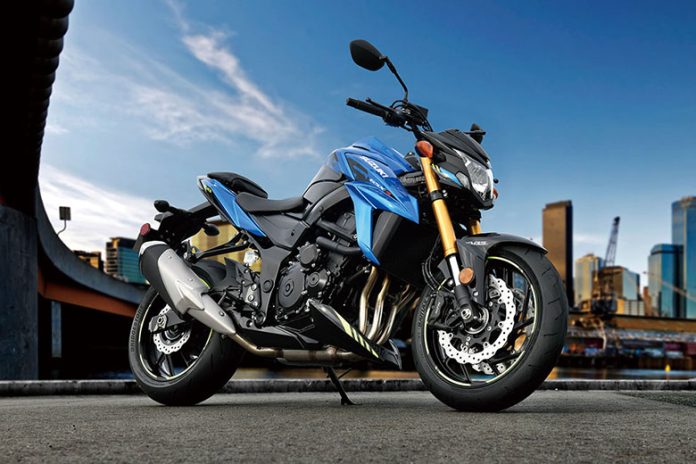 By fusing GSX-R750-derived engine performance with an ergonomically sound chassis, the 2022 GSX-S750 Suzuki Sports Motorcycle produces a naked sport bike with a dramatic design that attracts attention wherever it is ridden. Metallic Matte Black covers the 2022 Suzuki GSX-bodywork S70s, while blackouts extend to the motor, wheels, and several components of the chassis. Despite many of its competitors being far more costly to purchase and maintain, the GSX-S750 distinguishes out from other middleweight sportbikes because of its aggressive appearance, powerful performance, and comfortable riding posture.
The 2022 Suzuki GSX-S750 is based on the company's 35 years of GSX-R750 production and MotoGP racing experience. With its potent, torque-rich engine power and rider-adjustable traction control, the GSX-S750 is primed to win over fans and stand out as a class leader in terms of performance. The GSX-S750 is superior to other models in its class in terms of both aesthetics and performance, making it the perfect sport bike to meet the demands of today's discriminating riders. It's as elegant and comfy as any other Suzuki while providing a thrilling and affordable ride in the grand Suzuki heritage.
2022 GSX-S750 Suzuki Sports Motorcycle – Features and Specs
Key Features
With its GSX-R-inspired appearance and 749cc four-cylinder fuel-injected engine, this sportbike packs a serious punch. The Suzuki Advanced Traction Control (SATC) may be customized by the rider to suit the conditions.
Unique chassis combines the advantages of a twin-spar sportbike frame and tubular girder street bike frame, with KYB suspension added for precise handling. To stop quickly and safely, two wave-shaped brake rotors are gripped by four-piston Nissin calipers mounted radially up front. The streetfighter's dark Metallic Matte Black paint job helps create an aggressive appearance without sacrificing comfort.
Engine Features
The over-square GSX-R750 architecture of its 749cc, four-cylinder, the fuel-injected engine generates power that is both strong up top and solid down low. Additionally, the big-bore engine architecture allows for a shorter chassis, which greatly enhances handling. The GSX-S750 is the only motorcycle in its class with a SuperSport-derived engine. Each cylinder on the GSX-S750 has ventilation holes drilled into its bottom to allow for cooling airflow. With the holes, pumping loss is reduced, leading to more power generation and better fuel economy.
With the right camshaft tune for the GSX-S750, you can expect a powerful surge of smooth torque and quick acceleration. Suzuki's Dual Throttle Valve (SDTV) technology, used in throttle bodies, increases low- and mid-range torque while maintaining peak performance. Ten-hole, long-nose fuel injectors provide a finer atomized fuel stream, leading to more efficient combustion.
Thin and lightweight, Suzuki's Throttle-body Integrated Idle Speed Control (TI-ISC) system maintains a consistent idle speed for the engine and helps save pollution.
During takeoff and low-speed riding, the Suzuki GSX-TI-ISC S750's Low RPM Assist feature automatically alters engine speed to smooth out power delivery and reduce the rider's risk of stalling the motorcycle. A large airbox is used to accommodate the more powerful engine. The air vents were developed to create an energizing auditory environment.
Engine Control Modules (ECMs) in modern vehicles are responsible for engine management and include intake and exhaust system tuning. This results in excellent fuel economy and linear throttle response.
The GSX-S750 is equipped with Suzuki's Advanced Traction Manage System*, which aids the rider in maintaining firm throttle control in various conditions. The rider may feel more comfortable participating in sport riding. The rider may use the joystick positioned on the handlebar to toggle between the four traction control settings (1, 2, 3, and OFF) while the motorbike is idling or in motion. Each mode is unique from the others because of its responsiveness to changes in the route. Mode 1 is the least sensitive and should only be used by skilled drivers or when road conditions are ideal for grip (sport riding on good, smooth roads).
Setting the sensitivity to Mode 2 is a good idea for most riders and scenarios with varying road surface grip (city riding, regular road conditions). Mode 3's most excellent sensitivity is best used in slippery conditions on the road (wet or cold surfaces).
When you press the OFF button, the traction control system is off.
The digital ignition system's use of iridium-type spark plugs increases spark strength and combustion efficiency, leading to a more powerful engine, linear throttle response, easier engine start-up, and a stable idle. It's worth noting that compared to cheaper spark plugs, these premium components last far longer.
The engine's stainless steel 4-2-1 exhaust system provides a powerful low- to mid-range punch and an exciting surge to redline. To aid in emissions control without sacrificing performance, a larger catalyzer has been installed in the mid-pipe.
With the help of angled radiator shrouds, the high-capacity radiator is efficiently cooled. A compact, easily transportable liquid-cooled oil cooler removes the excess heat from the engine (like those used on GSX-R600 and 750 models).
Transmission Features
The vertically staggered shafts of the six-speed, close-ratio, race-proven gearbox help keep the engine compact. A lot of the inspiration for it came from the GSX-R. The 2022 model's final gear ratio is lower than the GSX-predecessor, allowing quicker acceleration. S750, the newest GSX-S750 model, has an increased peak power to keep the same maximum speed potential.
The rack-and-pinion clutch release gives the rider an excellent feel for its friction point, while the grip is a GSX-R750-inspired big-diameter, wet multi-plate design. The innovative shift linkage allows the rider to quickly and easily choose the best gear for the conditions. The strong drive chain's O-rings keep the chain's internal moving parts well-lubricated, allowing for smooth and noiseless power transmission.
Chassis Features
The GSX-S750 has specific design cues with the GSX-S1000, but with an aggressive twist that gives it a more ferocious appearance without sacrificing rider comfort. In this case, the under-cowl connects the chassis look to the powertrain and the tailpipe, while the headlight nacelle draws the eye. The advantages of a twin-spar sportbike frame and those of a small tubular-style street bike frame have been combined in the frame design for a dynamic ride. Comfortable sport riding posture requires careful consideration of the interplay between the handlebars, footrests, and seat.
Matte-black, tapered metal handlebars with a large diameter provide visual appeal and give the rider a lot of gripping power. The low seat height of 820 mm (32.2 inches) facilitates the upright, athletic riding posture and boosts rider confidence when coming to a halt. Radially mounted four-piston Nissin brake calipers compress dual 310mm wave-style rotors to provide controlled braking, while a single-piston caliper in the back provides additional support.
The inverted KYB fork's black outer tubes have a spring preload adjuster, and the axle holder provides a solid foundation for the Nissin radially mounted brake calipers. The trapezoidal, beam-style swing arm's precision chain adjusters strengthen and improve the bike's aesthetics. Adjustable spring preload is one of seven settings on the single shock absorber that is part of a link-type rear suspension coupled to a progressive linkage.
The GSX-S750 variants roll on TPR's 10-spoke cast aluminum wheels, which are shod with Bridgestone Battlax Hyper sport S21 radial tires for increased stability and grip. The black paint job and aluminum foot and hand controls give the motorbike a sporty look and feel, perfect for its easy maneuverability.
Electrical Features
The GSX-powered S750s may be easily kicked into life with a little push of the starter button, thanks to Suzuki's Easy Start System. The headlight nacelle is uniquely styled, and within you'll find a bright 60/55 watt H4 halogen bulb. The rear section incorporates a red and transparent lensed LED taillight.
The LCD screen on the compact and lightweight instrument panel displays time, a traction control warning indication, average and instantaneous fuel consumption, range, tachometer, odometer, gear position, coolant temperatures, dual trip meters, and more, similar to the SV650.
The display is surrounded by white, intensity-adjustable illumination for superior nighttime readability, and it contains LED indicators for turn signals, high beam, malfunction, and traction control, as well as alerts for coolant temperature and oil pressure. A three-phase charging system ensures the trouble-free functioning of the maintenance-free battery with an oil-cooled stator.
Additional Features
There is a large selection of branded apparel and protective gear designed specifically for the GSX-S750 and various Genuine Suzuki Accessories such as a solo seat cowl and a sport screen—no mileage restrictions throughout the 12-month warranty period. Suzuki Further Security provides added benefits throughout extended coverage periods (SEP).
2022 GSX-S750 Suzuki Sports Motorcycle – Price
The new 2022 GSX-S750 Suzuki Sports Bike is available at $8.549 only.
2022 GSX-S750 Suzuki Sports Motorcycle – Technical Specifications
Engine
| | |
| --- | --- |
| Engine | 749cc, 4-stroke, 4-cylinder, liquid-cooled, DOHC |
| Bore x Stroke | 72mm x 46mm (2.834 inches x 1.811 inches) |
| Compression Ratio | 12.3:1 |
| Fuel System | Fuel injection with SDTV |
| Starter | Electric |
| Lubrication | Wet sump |
Drivetrain
| | |
| --- | --- |
| Clutch | Wet, multi-plate type |
| Transmission | 6-speed constant mesh |
| Final Drive | Chain, RK 525, 114 links |
Chassis
| | |
| --- | --- |
| Suspension Front | Inverted telescopic, oil-damped, coil spring |
| Suspension Rear | Link type, single shock, oil-damped, coil spring |
| Brakes Front | Nissin, 4-piston caliper, twin disc |
| Brakes Rear | Nissin, 1-piston caliper, single disc |
| Tires Front | 120/70ZR17M/C (58W), tubeless |
| Tires Rear | 180/55ZR17M/C (73W), tubeless |
| Fuel Tank Capacity | 16.0 L (4.22 US gal.) |
| Color | Metallic Matte Black No. 2 |
Electrical
| | |
| --- | --- |
| Ignition | Electronic ignition (transistorized) |
| Spark Plug | NGK CR9EIA-9 or DENSO IU27D (x 4) |
| Headlight | 12V 60/55W H4 |
| Tail Light | LED |
Dimensions
| | |
| --- | --- |
| Overall Length | 2125 mm (83.7 in.) |
| Overall Width | 1055 mm (41.5 in.) |
| Wheelbase | 1455 mm (57.3 in.) |
| Ground Clearance | 135 mm (5.3 in.) |
| Seat Height | 820 mm (32.3 in.) |
| Curb Weight | 211 kg (465 lb.) |
Warranty
| | |
| --- | --- |
| Warranty | 12-month unlimited mileage limited warranty |
| Extension | More extended coverage periods, including other benefits, are available through Suzuki Extended Protection (SEP) |