Zero's new ZF75-10 motor and ZF14.4 lithium-ion battery make the 2021 Zero SR/F Electric Motorcycle capable of delivering 140 ft-lbs of torque and 110 horsepower with a simple twist of the throttle.
2021 Zero SR/F Electric Motorcycle – Features and Price
Power Pivot
To provide continuous drive-belt tension and maximum torque distribution to the rear wheel, a novel concentric motor and swingarm pivot design are necessary. Custom-built, large-bearing swing arm pivots enable the high-performance motor to fit in a tight chassis waist while enhancing rider ergonomics and bike mobility.
Cypher III
Zero's proprietary operating system, Cypher III, serves as a central hub for connecting the motorcycle's many functions. It consistently and flawlessly offers accurate performance for a better riding experience.
Arsenal Of Ride Modes
Riders may fine-tune the bike's performance with the intuitive next-generation app and dash interface of SR/RIDE F's MODE ARMY… With street, sport, eco, rain, and up to 10 programmable custom modes, the sr/f navigates the road in any condition.
Bosch Motorcycle Stability Control
The SR/F is the first electric motorbike to include Bosch's MSC System, famous for its dynamic acceleration and superior stability regardless of road surface or circumstances. It is only with Cypher III that the full potential of the MSC's ABS and cornering brake control, traction control, and drag torque control may be fully realized.
ZF14.4 Battery Pack
The SR/F can go up to 200 miles on a single charge, thanks to the ZF14.4 lithium-ion battery. An aluminum heat-sink casing and thermal transfer interface work together to offer constant cell cooling and optimal long-term powertrain performance thanks to the battery's outstanding power and energy density. In March 2020, Zero's Power Tank, which extends the maximum city range, will be released.
ZF75-10 Motor
The SR/F is quickly propelled to a peak speed of 124 mph by the ZF75-10 motor's 140 ft-lbs of torque and 110 horsepower. Class-leading performance and efficiency are achieved by combining Zero's acclaimed internal permanent magnet brushless architecture with a passively air-cooled compact design.
Chassis
It's fragile. Extremely powerful. Steel-trellis frame, unique swing arm and Showa suspension provide an agile and intuitive ride. To keep the weight down and the bulk in the vehicle's center, the power plant is appropriately distributed and the front brakes have a dual-radial design.
The Connected Bike
The SR/F is always linked to the app through cellular networks and transmits data. There is always access to ride information, including the bike's current state and position. Ride data sharing, charging, battery status, and system upgrades and updates are all possible with this level of connection.
SR/F Dash
Customize your dashboard. It's easy to choose the information you wish to view on the 12.5 cm TFT LCD, full-color. On-the-fly riding mode switching, cruise control, heated-grip* control, and more are all possible with multi-mode navigation. *Heated hand grips are only offered with the Premium model.
The Connected Bike
Cellular networks keep the SR/F connected at all times and transmit data to the app. Information on the ride, the bike's status, and the current location is available at all times. Riders can keep tabs on their motorcycle in four ways thanks to this connection, including checking on battery life, receiving notifications when their bike needs to be repaired or serviced, sending and receiving ride data, and even performing system upgrades and updates.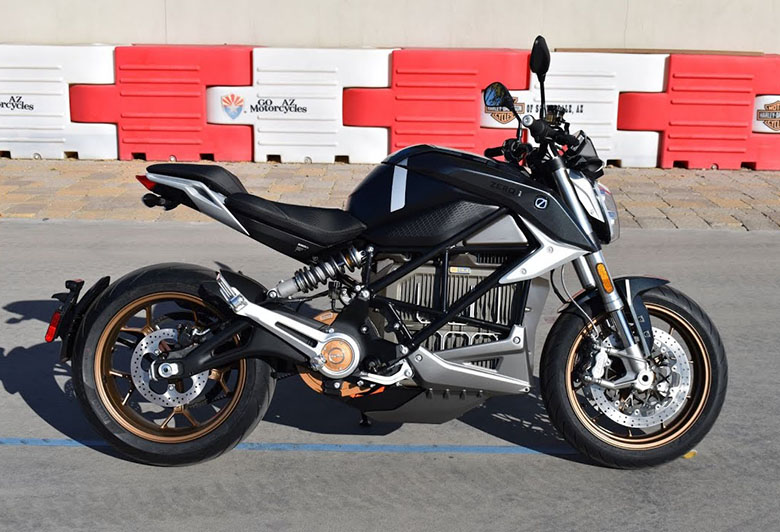 Advanced App
The dash and Cypher III, along with Zero's next-generation software, provide a robust ecosystem:
When it comes to selecting and creating a ride mode,
Customizable dash settings
Pre-determined and goal-oriented charging
Guidance in finding the nearest charging station.
Battery state of charge (SoC), charging time, and last-ride stats are all included in extensive alerts.
Notification and querying from a distance
In addition, ride data like position, speed, lean angle, power, torque, and SoC may be reviewed and shared.
Cypher III upgrades and remote diagnostics
2021 Zero SR/F Electric Motorcycle – Price
The new 2021 Zero SR/F Electric Bike is available at $21,495 only.
2021 Zero SR/F Electric Motorcycle – Technical Specifications
| Specs \ Features | Standard | Premium |
| --- | --- | --- |
Range
| | |
| --- | --- |
| City | 161 miles (259 km) |
| Highway, 55 mph (89 km/h) | 99 miles (159 km) |
| Combined | 123 miles (198 km) |
| Highway, 70 mph (113 km/h) | 82 miles (132 km) |
| Combined | 109 miles (175 km) |
Motor
| | |
| --- | --- |
| Peak torque | 140 ft-lb (190 Nm) |
| Peak power | 110 hp (82 kW) @ 5,000 rpm |
| Top speed (max) | 124 mph (200 km/h) |
| Top speed (sustained) | 110 mph (177 km/h) |
| Type | Z-Force 75-10 enhanced thermal efficiency, passively air-cooled, interior permanent magnet AC motor |
| Controller | High efficiency and power-dense, 900 Amp, 3-phase AC controller with regenerative deceleration |
Power system
Powerpack
Z-Force® Li-Ion intelligent integrated
Max capacity
14.4 kWh
Nominal capacity
12.6 kWh
Charger type
3.0 kW, integrated
6.0 kW, integrated
Charge time (standard)
4.5 hours (100% charged) / 4.0 hours (95% charged)
2.5 hours (100% charged) / 2.0 hours (95% charged)
With 6 kW Rapid Charge option
1.8 hours (100% charged) / 1.3 hours (95% charged)
1.5 hours (100% charged) / 1.0 hour (95% charged)
With EVSE cord and standard outlet
8.5 hours (100% charged)
8.0 hours (95% charged)
Drivetrain
| | |
| --- | --- |
| Transmission | Clutchless direct drive |
| Final drive | 90T / 20T, Poly Chain® HTD® Carbon™ belt |
Chassis / Suspension / Brakes
| | |
| --- | --- |
| Front suspension | Showa 43 mm Big Piston Separate Function forks, with adjustable spring preload, compression, and rebound damping |
| Rear suspension | Showa 40 mm piston, piggy-back reservoir shock with adjustable spring preload, compression, and rebound damping |
| Front suspension travel | 4.72 in (120 mm) |
| Rear suspension travel | 5.51 in (140 mm) |
| Front brakes | Bosch Advanced MSC, dual J-Juan radial 4-piston calipers with radial master cylinder, 320 x 5 mm discs |
| Rear brakes | Bosch Advanced MSC, J-Juan single-piston floating caliper, 240 x 4.5 mm disc |
| Front tire | Pirelli Diablo Rosso III 120/70-17 |
| Rear tire | Pirelli Diablo Rosso III 180/55-17 |
| Front-wheel | 3.50 x 17 |
| Rear-wheel | 5.50 x 17 |
Dimensions
| | |
| --- | --- |
| Wheelbase | 57.1 in (1,450 mm) |
| Seat height | 31.0 in (787 mm) |
| Accessory, low | 30.3 in (770 mm) |
| Accessory, tall | 31.9 in (810 mm) |
| Rake | 24.5° |
| Trail | 3.7 in (94 mm) |
Weight
| | |
| --- | --- |
| Curb weight | 485 lb (220 kg) |
| Carrying capacity | 515 lb (234 kg) / 502 lb (228 kg) |
Economy
| | |
| --- | --- |
| Equivalent fuel economy (city) | 430 MPGe (0.55 l/100 km) |
| Equivalent fuel economy (highway) | 219 MPGe (1.08 l/100 km) |
| The typical cost to recharge | $1.61 |
Pricing
Warranty
| | |
| --- | --- |
| Standard motorcycle warranty | Two years |
| Powerpack warranty | Five years/unlimited miles |