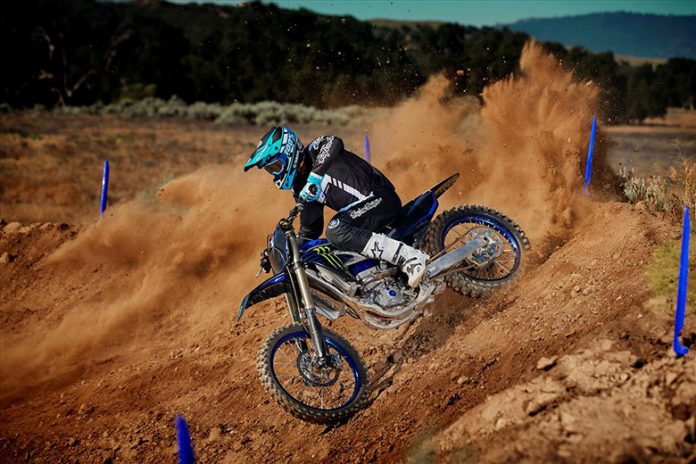 Race, like Yamaha, with your own 2021 YZ450F Monster Energy Yamaha Racing Edition class-leading Monster Energy squad. The full review of the new 2021 YZ450F Monster Energy Yamaha Racing Edition with its price and specifications is written below.
2021 YZ450F Monster Energy Yamaha Racing Edition – Features and Price
Top Features
The Monster Energy® Yamaha Racing Edition offers an aggressive color and graphics scheme that stands out from the crowd, inspired by the YZ450F ridden by the Yamaha Supercross team.
More power and better control. Simply stated, the YZ450FTM 2021 is superior in every way. The YZ450F offers the rider the ability to compete at their best, lap after lap, thanks to a more compact engine, a refined and balanced chassis, and better ergonomics.
Yamaha's Power Tuner app, which is available for free and is industry-exclusive, brings the versatility and precise tunability of the GYTR® Power Tuner to your smartphone. Make immediate fuelling and ignition timing adjustments and upload them to the bike for maximum track-side tweaking, or change fueling maps on the fly with the handlebar-mounted switch.
A high-compression cylinder head, forged piston, aggressive cam profiles, and more work together within the ultra-compact new engine offer YZ450F riders the most excellent combination of open-class power with controllability. It's much simpler with the electronic start.
The revised main spars, triple clamps, and engine mounting locations on Yamaha's bilateral beam aluminum frame help to concentrate mass and offer an optimum stiffness balance between cornering sensation and straight-line confidence.
Yamaha's spring-type forks provide industry-leading suspension performance right out of the box, thanks to precise, speed-sensitive damping.
The YZ450F's powerful engine features steeper valve angles, aggressive cam profiles, a high-compression piston with low friction rings, a longer connecting rod, a larger exhaust head pipe connector, a high-flow air filter, a more efficient breather system, and more—all while fitting beneath a smaller and lighter magnesium valve cover.
Gear widths and shapes enhance shifting feel and accuracy without sacrificing Yamaha's renowned race dependability.
The flex qualities of the YZ450F aluminum frame provide riders with the best mix of precise cornering performance, traction, and bump stability. The 2021 YZ450F raises rider confidence to new heights by fine-tuning the chassis rigidity balance with modifications to the lateral beams and engine cradle tube thickness, as well as the engine mounts, triple top clamp, and front axle.
The 240mm rear brake rotor conducts heat more effectively for more consistent performance under racing circumstances. The stiff front caliper and compact back caliper combine with the pads and discs to improve brake feel and controllability.
Cornering performance, grip, and bump absorption are all improved with front and rear damping adjusted in conjunction with the chassis. The rider can use the engine's tremendous power with more confidence thanks to smoother chassis movement.
Engine
The YZ450F is well placed inside the framework to provide optimal weight distribution via its unique rear slant cylinder light and compact form. The inside of the head is equipped with steep valve angles to offer even more straight intakes, more aggressive cam profiles and a large exhaust header joint with a higher compression bridge box design piston, DLC covered piston pin and the long connecting rod which gives YZ450F drivers the best balance in class and outstanding control.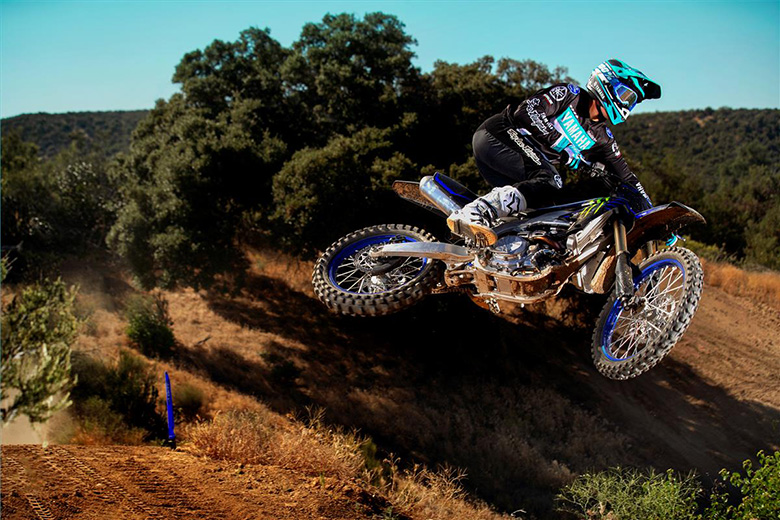 The Yamaha Power Tuner application is a free, unique industry software that offers your iOS® or Android® smartphones the power of the GYTR Power Tuner. The software enables owners to change air/fuel mixture and ignition timescale to modify engine performance for track circumstances, record race log information and monitor a variety of statistics including maintenance and system diagrams, engine runtime, etc.
The driver can switch between pre-set maps – loaded and modified for the Power Tuner app – quickly and with a manually placed map switch for changing routes and weather conditions.
A tiny electric starter technology is provided to the YZ450F, which lowers restart times on the track and improves comfort in other places. The gadget is negligible in weight and powered by a four-cell ultra-light lithium-ion battery with great capacity.
LCS optimizes engine power every time by improving controllability from the gate and ensuring that the rider has the best chance to win the holeshot and lead the race into the first turn.
The engine respires with a 44mm MikuniTM throttle body, equipped with a high-pressure electric pump, to guarantee optimum fuel atomization and power for a wide range of riding conditions. The ultra-compact throttle body offers better mass centralization in addition to conserving weight.
The YZ450F also features radiators directly orientated in the incoming air stream for enhanced cooling under the most demanding racing conditions.
With a high surface area, the transmission gears of the YZ450F are matched against improved clutch components. The shifting drum and selectors, each of which aim to extend lifespan, also enhance the feeling while replacing gears via a shorter, more direct stroke.
The unique design of Yamaha's exhaust tube increases mass centralization via a move to the rear end of the exhaust tube to make the muffler near to the mass center of the bike. A more comprehensive combined profile also supports power growth.
Chassis/Suspension
The compact aluminum framework of the YZ450F further enhances the intuitive handling that makes this Yamaha one of the sharpest of its kind. With a smaller principal spatula, denser down tubes, updated top three clamps, and all-new motor assemblies, every aspect has been meticulously changed to achieve an overall rigidity balance for outstanding handling particularly in rapid and bumpy situations.
The YZ450F has attractive bodywork with a small fuel tank specially built for motocross requirements from tip to tail. The lower lead position and the stiffer seat help the rider maintain his weight in an aggressive ride.
KYB® coil fork with speed-sensitive damping, which is industry-leading and completely adjustable, offers an extraordinary balance between handling and bump absorption. A KYB® shock with damping characteristics is provided by the connection-type rear suspension, which matches the YZ450F chassis.
A big 270mm front disc brake combined to provide an extraordinary braking performance and machine control is a stiff gauge and aggressive pad composition. With a small caliper and a 240mm rear rotor, the back system loses weight for improved heat discharge.
Computer-aided careful adjustment of the cross-sectional shape of each wheel shaves precious weight without compromising durability
Additional Features
The top triple-clamp design balances stiffness for better steering sensation. At the same time, the handlebar clamp with four positions changeable is rubber-mounted for comfort, decreased steering vibration and easy tuning position.
Unique Yamaha integrated graphics are incorporated into the bodywork, which withstands peeling and damage for long endurance. The YZ450F has top-of-the-range features, like a 1-1/8″ aluminum tape drive, more extensive but lighter legs, fast-mount clutch bar, elegant blue rims and gold chain.
2021 YZ450F Monster Energy Yamaha Racing Edition – Price
The new 2021 YZ450F Monster Energy Yamaha Racing Edition is available at $9,599 in the Monster Energy Yamaha Racing Edition.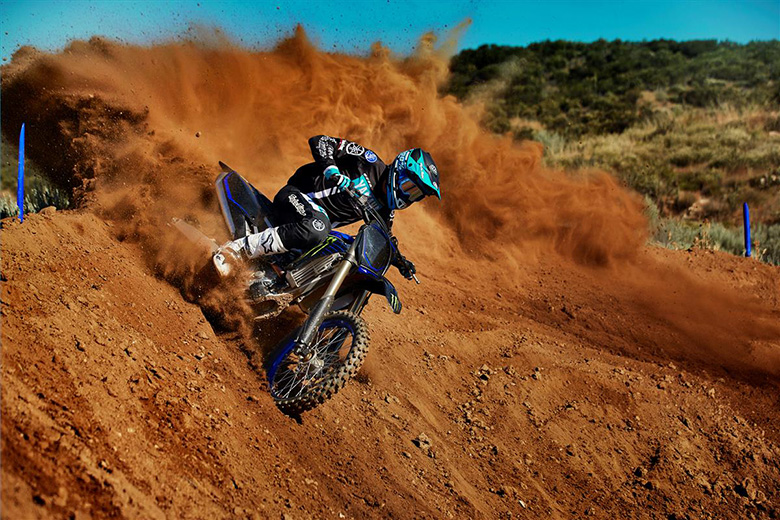 2021 YZ450F Monster Energy Yamaha Racing Edition – Technical Specifications
Engine
| | |
| --- | --- |
| Type | 449cc liquid-cooled DOHC 4-stroke; 4 titanium valves |
| Bore x Stroke | 97.0mm × 60.9mm |
| Compression Ratio | 13.0:1 |
| Fuel Delivery | Mikuni® fuel injection, 44mm |
| Transmission | 5-speed; multi-plate wet clutch |
| Final Drive | Chain |

Chassis
| | |
| --- | --- |
| Front Suspension | KYB® spring-type fork with speed-sensitive damping; fully adjustable, 12.2 inches travel |
| Rear Suspension | KYB® single shock; fully adjustable, 12.5 inches travel |
| Front Brakes | Hydraulic disc, 270mm |
| Front Brakes | Hydraulic disc, 240mm |
| Front Tires | 80/100-21 Dunlop® MX33® |
| Rear Tires | 120/80-19 Dunlop® MX33® |

Dimensions
| | |
| --- | --- |
| L x W x H | 86 inches x 32.5 inches x 50.2 inches |
| Seat Height | 38 inches |
| Wheelbase | 58.3 inches |
| Rake (Caster Angle) | 27.0-degree |
| Trail | 4.7 inches |
| Maximum Ground Clearance | 13.0 inches |
| Fuel Capacity | 1.6 gallons |
| Wet Weight | 245 lb |

Other
| | |
| --- | --- |
| Warranty | 30 Day (Limited Factory Warranty) |

Conclusion
The new 2021 YZ450F Monster Energy Yamaha Racing Edition comes with a potent engine with attractive chassis graphics. The motorcycle comes with Monster Energy graphics that not only look amazing but always demand another look. The suspension system works well, and the braking system provides reasonable stopping force.