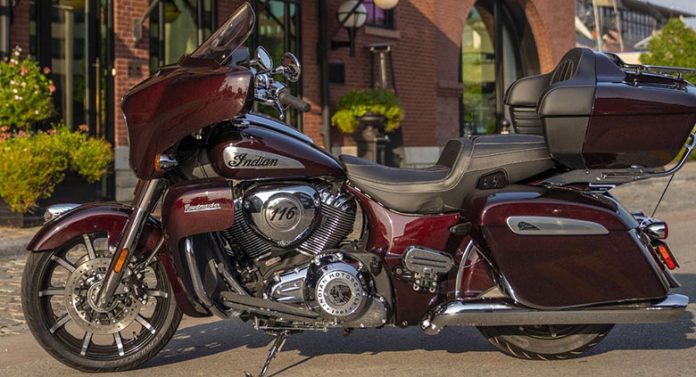 The new 2021 Roadmaster Limited Indian Touring Motorcycle is an expertly crafted, extremely powerful, and well-balanced touring motorcycle that is fully loaded with an extensive package of touring amenities that the Indian Motorcycle offers. The bike is loaded with a lot of premium features and outstanding comfort, especially during long rides. ClimaCommand Rogue heated and cooled seat, Ride Command with Apple CarPlay integration, touring truck, Metzeler Cruisetec tires, and fully adjustable airflow vents. The new 2021 Roadmaster Limited Indian Touring Motorcycle is available in two attractive color options, i.e., Thunder Black Azure Crystal and Crimson Metallic.
2021 Roadmaster Limited Indian Touring Motorcycle – Features and Price
ClimaCommand Heated and Cooled Seats
The new 2021 Roadmaster Limited Indian Touring Motorcycle has a distinctive feature, i.e., ClimaCommand heated and cooled seat, which is available as an upgrade across all Thunderstroke models. The ClimaCommand seat is open in two unique styles, Rogue and Classic, with modern and streamlined styling.
In addition, the 2021 ClimaCommand seat allows the riders to adjust heating fully and cool the Ride Command infotainment system directly on 2021 models, thus offering riders an easy way to achieve comfort while on the road. With the low, medium, or high setting, the thermoelectric technology is used to cool or heat the rider and passenger seat independently. At the same time, the brand new flexible graphene material helps the heating or cooling to scatter through the entire surface area of the seat. The new non-perforated seat is 100% water-resistant and highly durable. The new ClimaCommand seat comes as standard equipment in all 2021 models.
Apple CARPLAY
The new 2021 Roadmaster Limited Indian Touring Bike is equipped with Ride Command with a navigation system. The Apple CarPlay delivers an easy and highly customized level of control for music, navigation preferences, and mobile device information.
Thunderstroke 116 V-Twin Engine
The powerful Thunderstroke 116 engine delivers 126 ft-lb of torque for greater power at low RPM and a smooth ride at any speed.
Massive Cargo Space
The Roadster offers more than 36 gallons of cargo space so that rider can easily take his luggage with him. Furthermore, one can protect his cargo from the elements in weatherproof storage with remote-locking saddlebags trucks and ease access storage in the lowers.
Ultimate Comfort
The new ClimaCommand Rogue heated/ Cooled seat comes standard in Roadster along with passenger armrests that adds even more rider and passenger comfort.
Long Haul
The road may be long, but there is no need to feel tired as the motorcycle is fully loaded with an array of the latest touring amenities that enhances every ride.
Comfort and Style
It does not matter whether his rider is going too far or short; the new 2021 Roadmaster Limited Indian Touring Motorcycle is equipped to get him here in comfort and style with fender-to-fender brilliant paint and premium chrome finishes.
Optimized Airflow
A push-button power windshield helps the rider to change the height easily. Lower fairing vents allow airflow for optimal rider and passenger comfort.
A Higher Standard
The top-of-the-line riding amenities include LED lighting, cruise control, keyless ignition, power locking saddlebags, heated grips, and tire pressure monitoring.
Ride Command Controls
The most extensive and fully customizable system on two wheels is available on the 2021 Roadmaster Limited Indian Touring Motorcycle.
Choose Your Ride
The 2021 Roadster allows the rider to choose between three ride modes, i.e., Standard, Tour, and Sport, for an outstanding experience that's customized to his riding style. Rear Cylinder Deactivation automatically shuts the rear cylinder when the motorcycle is stopped for better comfort in slow-moving traffic.
Premium Audio
The brand new high-output speakers in the fairing and trunk deliver 200 Watts of crystal-clear audio. It also sports a new dynamic equalizer that automatically adjusts for wind, road, and engine noise.
Controlled Comfort
A brand new and beautiful 7 inches screen features Apply CARPLAY integration, turn-by-turn navigation, Bluetooth connectivity, weather, traffic connectivity, and controls for the ClimaCommand Rogue cooled/ heated seat adds more comfort for both rider and passenger.
2021 Roadmaster Limited Indian Touring Motorcycle – Price
The new 2021 Roadmaster Limited Indian Touring Bike is available at $30,749 only.
2021 Roadmaster Limited Indian Touring Motorcycle – Technical Specifications
Engine and Drivetrain
| | |
| --- | --- |
| Bore x Stroke Ratios | 4.063-inch x 4.449-inch (103.2mm x 113mm) |
| Compression Ratio | 11.0:1 |
| Displacement | 116 cu in (1,890 ccs) |
| Drive/Driven Clutch | Wet, Multi-Plate, Assist |
| Electronic Fuel Injection System | Closed-loop fuel injection / 54 mm bore |
| Engine Type | Thunderstroke® 116 |
| Exhaust | Split Dual Exhaust w/ Cross-over |
| Gear Ratio (1st) | 9.403: 1 |
| Gear Ratio (2nd) | 6.411: 1 |
| Gear Ratio (3rd) | 4.763: 1 |
| Gear Ratio (4th) | 3.796: 1 |
| Gear Ratio (5th) | 3.243: 1 |
| Gear Ratio (6th) | 2.789: 1 |
| Horsepower | 92 HP |
| Peak Torque | 126 ft-lb (172.2 Nm) |
| Peak Torque RPM | 2,900 RPM |
| Transmission/Final Drive | 2.2: 1 |
| Transmission/Primary Drive | Gear Drive Wet Clutch |
Dimensions
| | |
| --- | --- |
| Fuel Capacity | 5.5 gal (20.8 L) |
| Ground Clearance | 5.1 inches (130 mm) |
| GVWR | 1,385 lb (628 kg) |
| Lean Angle | 31-degree |
| Overall Height | 58.7 inches (1,491 mm) |
| Overall Length | 102.1 inches (2,593.3 mm) |
| Overall Width | 39.4 inches (1,000 mm) |
| Rake/Trail | 25° / 5.9 inches (150 mm) |
| Seat Height | 26.5 inches (673 mm) |
| Weight | 858 lb |
| Wheelbase | 65.7 inches (1,669 mm) |
Brakes
| | |
| --- | --- |
| Front Brakes | Dual / 300mm Floating Rotor / 4 Piston Caliper |
| Rear Brakes | Single / 300mm Floating Rotor / 2-Piston Caliper |
Tires / Wheels Specs
| | |
| --- | --- |
| Front Tires | Metzeler Cruisetec 130/60B19 66H |
| Front Wheel | 10-Spoke Contrast Cut 19-inch x 3.5-inch |
| Rear Tires | Metzeler Cruisetec 180/60R16 80H |
| Rear Wheel | 10-Spoke Contrast Cut 16-inch x 5-inch |
Suspension
| | |
| --- | --- |
| Front Fork Tube Diameter | 46 mm |
| Front Suspension | Telescopic Fork |
| Front Travel | 4.7 inches (119 mm) |
| Rear Suspension | Single Shock w/ Air adjust |
| Rear Travel | 4.5 inches (114 mm) |
Features
| | |
| --- | --- |
| Color / Graphics | Thunder Black Azure Crystal, Crimson Metallic |
| Factory Warranty Info | 2-Year, Unlimited-Mile |
| Gauges | Fairing-mounted instrument cluster containing analog speedometer and tachometer including odometer, fuel gauge, range, and current gear. 15 LED telltale indicators; cruise control enabled, check engine, ABS, cruise control set, neutral, high beam, battery, low tire pressure, turn signal, low fuel, security system, low engine oil pressure and MPH or km/h unit designation. Tank-mounted auxiliary analog fuel and voltage gauges. |
| Infotainment | Ride Command with Connected Services such as real-time traffic weather and traffic overlay on the 2021 bike model includes a complimentary 2-year trial for connected features from the vehicle sales date (after which fees apply). 7″ Ride Command® touchscreen display with a real-time clock; ambient air temperature; heading; audio information display; vehicle trouble code readout; Vehicle Status (tire pressure, voltage, engine hours, oil change); Vehicle Info (speed, fuel range, RPM, gear position); Dual Trip Meters (fuel range, miles, average fuel economy, instantaneous fuel economy time, average speed); Ride Data (heading, moving time, stop time, altitude, altitude change); Bluetooth Status for phone and headset; Ride Mode Selection; Map/Navigation, Apple CarPlay integration |
| Lights | Pathfinder LED Headlamp/ Driving/ Tail/ Brake/ Turn Signal |
| Standard Equipment | 7″ Ride Command® Touchscreen Display including Navigation and Apple CarPlay® integration; Power Windshield; Highway Bars; Driving Lights; Genuine Leather Seats (Separate Rider/Passenger Heat Controls); Heated Grips; Tire Pressure Monitoring; Adjustable Passenger Floorboards; 36.2 Gallons of Storage; Remote-locking Hard Saddlebags & Trunk; Selectable Ride Modes; Rear Cylinder Deactivation; ABS; Cruise Control; Keyless Ignition; 600 Watt Audio System with AM/FM, USB, Bluetooth, Smartphone Compatible Input, and Weatherband; Passenger Armrests; Pinnacle Mirrors; Chrome Front & Rear Bumpers; Premium Floorboards; Paint Matched Engine Badges; 12V Charging Port |