The KTM brand is ruling in the world of dirt bikes for decades, and this year it has launched the new 2018 KTM 450 EXC-F Six Days Dirt Bike. In 2017, the ISDE (International Six Day of Enduro) held in Brive-la-Gaillarde, France and this new KTM Model line-up has been suitably equipped to handle the situation very carefully. Due to its compact SOHC powerhouse fitted in the state-of-the-art chassis the new 2018 KTM 450 EXC-F Six Days Dirt Bike is one of the most reliable and most competitive dual-sport in its category. It features the low weight with the new 4-stroke engine offering massive acceleration and handling experience in all conditions.
2018 KTM 450 EXC-F Six Days Dirt Bike – Features and Specifications
Ergonomics
The new 2018 KTM 450 EXC-F Six Days Dirt Bike features an impressive bodywork with an extremely slim ergonomics offering excellent contact points between rider and machine. This new dirt bike provides maximum freedom of movement and has the styling to match its notable event. The engineers of KTM were cautious in making of handlebars. The handlebars are made by high-strength aluminum by NEKEN. It contains the throttle assemble with the robust aluminum body and has easy free-play adjustment. The new ODI volcanized grip sits on the right side while the left side includes the comfortable ODI lock-on grip. The seat is designed to meet all the necessary conditions of off-road racers. The new seat is kept 10 mm lower that helps to handle most of the challenges during off-road riding.
Performance
The new 2018 KTM 450 EXC-F Six Days Dirt Bike ensure to have better performance under all conditions. The front suspension system consists up of WP XPlor 48 upside-down fork which is a split fork, and the famous WP develops it with the help of KTM. It is fitted with the spring on both of the sides, but it includes a separate function for both fork leg, i.e., compression damping is attached on the left side while the rebound is on its right side. The fork can easily be adjusted for both compressions and rebound with just the twin of a dial on the top of its forks. The long and sealed hydro-stop ensure to have more excellent resistance to bottoming-out. Thanks for the high-quality materials and state-of-the-art production process, the new XPlor 48 fork, containing 300 mm of travel features an outstanding response and damping characteristics.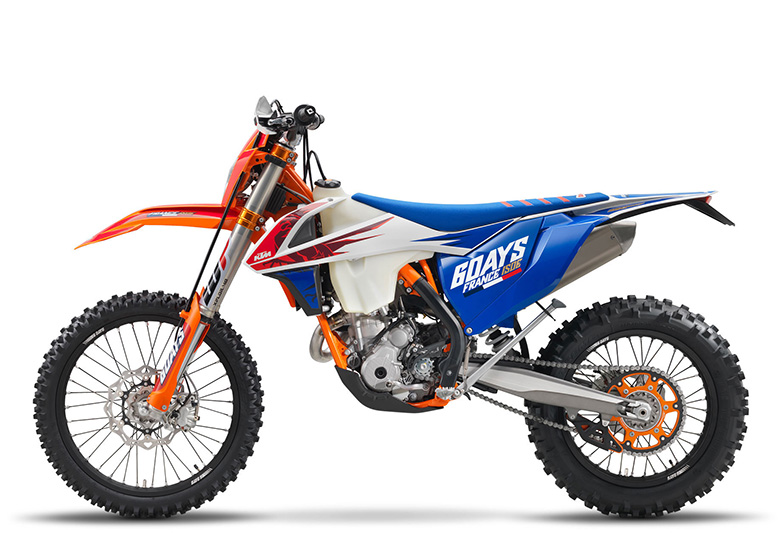 The latest state-of-the-art Keihin Engine Management System with an electronic fuel injection system contains an all-new 42 mm of throttle bodies. Due to the unique injector position, the engine provides instant response. The engine starting process makes it easier to start the engine even in cooler weather like in 2017 KTM 450 EXC-F Six Days Dirt Bike.
Chassis
An all-new 2018 KTM 450 EXC-F Six Days Dirt Bike features the high-tech and lightweight chrome-moly steel frame that features a knack for an easy handling and outlandish rideability. It helps in precise cornering and excellent stability. The rider can also feel the high torsional rigidity and low longitudinal stiffness. It will result in better absorption of energy created from the front and rear suspension sucking up jumps and bumps. The engine has been laterally attached that contribute to reduced vibration level — the two threaded inserts in the lower cradle tubes that allow for safe fixation of an optional skid plate. The KTM engineers make the frame about 2.2 pounds lighter than the lightest competitor on the market. The overall maintenance of the bike is effortless. This dirt bike features an extra-light sub-frame which is made up of aluminum which tips the scales at less than 2 pounds.
The new 2018 KTM 450 EXC-F Six Days Dirt Bike comes with the new high-end CNC machined triple clamps anodized in orange with the offset of 22 mm. It guarantees to have a solid grip of the fork for precise handling. The handlebars are adjustable in both forward and backward in four different positions. The braking system contains the high-tech Brembo calipers which are combined with the lightweight wave discs, and it features much-reduced piston diameter for better modulation. The rear brake consists up of 10 mm longer brake pedal and has less aggressive brake pads which are fitted in both front and rear. The steel-flex brake hose provides efficient protection. It has an integrated channel for speedo cable.
Equipment
Following equipment will come as standard in new 2018 KTM 450 EXC-F Six Days Dirt Bike.
Six Days seat
Exclusive Six Days graphics with a striking design
Handlebar with Six Days logo
Machined orange anodized triple clamps
Radiator fan
Floating front brake disc
Solid rear brake disc (no slots/holes)
Orange Anodized Rear Sprocket
Front axle puller
Orange frame
Engine guard
Orange chain guide
2018 KTM 450 EXC-F Six Days Dirt Bike – Technical Specifications
Engine
| | |
| --- | --- |
| Design | 1-cylinder, 4-stroke engine |
| Displacement | 449.3 cm³ |
| Bore | 95 mm |
| Stroke | 63.4 mm |
| Starter | Electric starter |
| Transmission | 6-speed |
| Secondary gear ratio | 14:45 |
| Clutch | Wet, DDS multi-disc clutch, Brembo hydraulics |
| EMS | Keihin EMS |

Chassis
| | |
| --- | --- |
| Frame design | Chrome-molybdenum steel central-tube frame |
| Front suspension | WP-USD Xplor 48 with preload adjuster |
| Rear suspension | WP Xplor PDS shock absorber |
| Suspension travel (front) | 11.81 inch |
| Front brake | Disc brake |
| Rear brake | Disc brake |
| Front brake disc diameter | 260 mm |
| Rear brake disc diameter | 220 mm |
| Steering head angle | 63.5 ° |
| Seat height | 37.8 inch |
| Weight READY TO RACE (without fuel) | 241.4 lb. |
| Suspension travel (rear) | 12.2 inch |
| Tank capacity (approx.) | 2.25 US gallons |

Conclusion
This article provides the full review of new 2018 KTM 450 EXC-F Six Days Dirt Bike and it is covered under Bikes Catalog. This dirt bike is one of the most powerful and efficient dirt bike and is an ideal for those riders who want to ride with style and agility. The engine ensure to provide an instant response while the starting system guarantee to start engine under all conditions. The seat offers maximum riders movement under all circumstances. It is indeed one of the best bike for those riders who are born to ride.