2015 Harley Davidson Sportster 1200 Custom is a Special featuring fat front cruiser. It has a powerful 1200cc air-cooled 45 degree v-twin engine. This bike has a low nimble look, wider from the front and shorter from the rear. 1200 Custom will give you much choices and parts to change its features; especially you can change your bike's seat, handle, security system and many more. The engine is all that an Evolution engine heritage from Harley Davidson since 1984. Evolutions engine of the company is specially boosted with power and special thrust for today Era.
The Sportster 1200 Custom engine is 67 Hp and has passed all tests for durability and strength. The heads and cylinders of the custom bike are made from aluminum in order to give light weight and extra efficiency. It also enhances the air cooling effect of the engine. Due to Efi technology, the vintage carburetor Era has gone. This will increase the overall performance of the bike. Sportster 1200 Custom is capable of long runs and country roads due to this special and strong engine. The wider wings of the amazing bikes are very attractive from the front. The design of this bike is truly the heritage of Harley Davidson company that shows no compromises. It will take the attention of many of you due to its powder-coating and chromed cylinders. Its cylinder and head on the engine looks like a jewel made up of special metals. The rider will obviously love to ride 1200 Custom. The enormous power of the engine is controlled by a special braking system planted in the wheels of the Sportster 1200. Brakes in the bike are larger in size than older models and piston size is also increased to take maximum efficiency. The other special feature of this Braking system is master cylinder installed in the rear wheel with a reservoir, reducing the friction and allowing the bike to be stopped smoothly.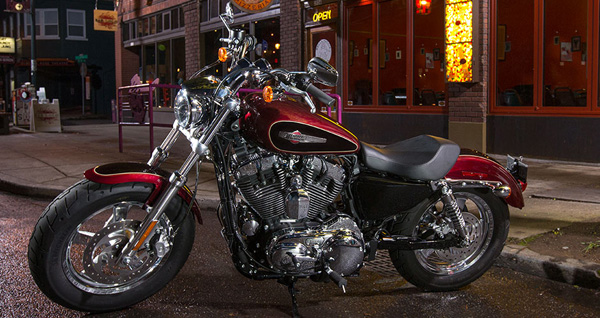 Main Features
Fat and wider front end
5-spooked chromed cast wheels
H-D1 Factory customization available
Evolution 1200cc air-cooled 45 degree v-twin engine
Best Harley-Davidson's style
Chromed and powder-coated cylinders of aluminum
H-D smart security system optionally available
Large and bright rear Led Light
Best ever Foundation Braking system
More comfortable handlebar
Integrated electrical system to minimize wires, switches and harnesses
Close looping exhaust system to deliver maximum efficiency
Speedometer with gear indicator
Optional ABS braking system
Michelin Scorcher Tires to give a super grip and high speed for the race bike
A special pullback Handlebar is installed to give a comfortable cruising ride
Specially designed  2-up seat for your companion to ride along with you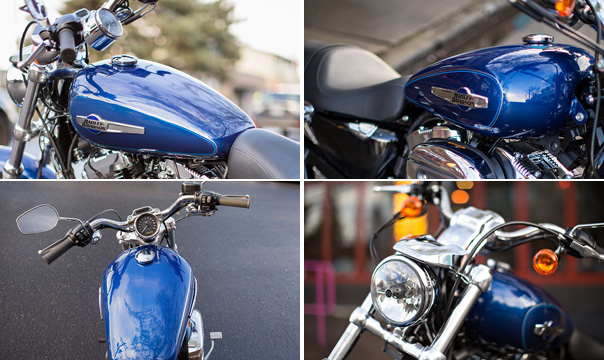 Price:
The amazing cruiser Harley Davidson 2015 Sportster 1200 Custom is available in the market with a good price of starting from $10.649. You can have the color of your choice with an extra $350. And a two-up seat can also be customized by adding more $550 to the total price. The price of optional security system is also not much; you will have the special H-D security system in just $350. Then there is also an option there to upgrade your brakes to special ABS system by just adding $795 to the total price. If you use all these components in your bike, you will have a fully equipped, strong 2015 Sportster 1200 Custom cruiser in $12,500, which is good deal.
Harley Davidson 2015 Sportster 1200 Custom First Ride
Harley Davidson 2015 Sportster 1200 custom has not basically changed from the 2014 model. So there will be not much different in its Ride. But there are some features which are upgraded to give you a sensational ride. After starting this super cruiser, you have the eye on its instrument panel. There are many warning lights, gauges and the gear indicator in the canopy. The rake is adjusted to 30 degree to make your handle grip in a perfect position. After the powerful 1200cc engine is fully started, shift your bike's first gear and release the clutch, you will witness a smart and gentle ride that you have never before. Its special front wider shoulders will allow you to ride like a gentleman and the big Michelin Tires just help you in making long runs. Due to high pressure in the tires, it is easy to maneuver this bike on city and country roads.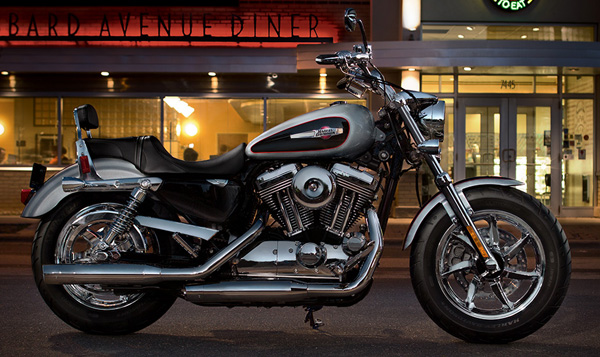 1200 custom has a fuel capacity of 4.5 gal. You have enough fuel in your tank to cover long distances. It will give you an average fuel economy of 48mpg, which is nice for such a heavy cruiser. Any person watching closely 1200 custom running on a race track would admire its beauty and special wide and fat front.
Harley-Davidson's 2015 Sportster 1200 Custom is a lovely cruiser in my opinion. It is a classic bike with today's technology. It has a strong 67 Hp v-twin air-cooled engine of Evolution technology trademark. It is fatty from the front and has the ultimate control on the road due to its big pressure tires. It is available in four colors. You have to choose among Black, Whiskey, Blue and two tones with an extra paying of $350. The ultimate control idea lays in the Big Michelin fatty tires, which have the special grip effect on the road and will give you the maximum satisfaction of riding this machine with full pressure tires.
The powder-coating and chromed aluminum on the cylinders and head of the 1200cc engine looks like a jewel fixed on metal. Harley-Davidson's has an experience of producing bikes more than thirty years. But now they have made this 1200 Custom specially to prove their dignity and respect in the market. The 67 Hp engine can give you a maximum speed of 100mph. With its special electronic sequential port fuel injection, the speed and comfort is guaranteed. This bike has a dashing and stylish look. Wider from the front will make this bike grace looking.
1200 Custom has also an optional H-D security system that is available in just $350. The bright Led on the rear also has some special effect. You may also customize this bike with a little effort and budget in order to take maximum from it. You can choose the colors of your choice and a special Anti-lock Brake (ABS) system available for the race boys for a better handling.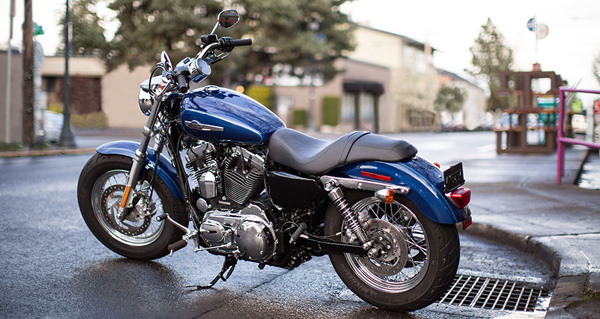 2015 Harley Davidson Sportster 1200 Custom Specs:
Engine:
| | |
| --- | --- |
| Capacity | 1200cc, 67Hp  45°  Air-cooled V-twin |
| Power | 62HP @5800rpm |
| Displacement | 73.4 Cu in |
| Torque | 71ft-lb |
| Bore | 3.5 in |
| Stroke | 3.8 in |
| Compression ratio | 10.0:1 |
| Fuel | Electronic sequential port fuel injection |
| Gears | Five speed |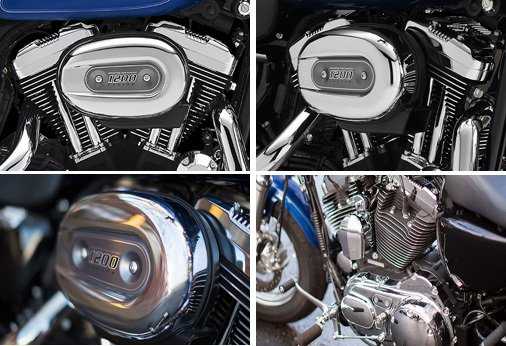 Dimensions:
| | |
| --- | --- |
| Length | 87.6 inches |
| Front tire | 130/90B-16 |
| Rear tire | 150/80B-16 |
| Fuel capacity | 4.5 gal |
| Fuel Economy | 48mpg |
| Weight | 569 lbs |
| Oil capacity with filter | 2.8 qt |
| Rear Brake | Disc |
| Front Brake | 2 Piston Caliper with 300mm Disc |
| Frame | Dual down tube steel |
| Available colors | Black, Whiskey, Blue, 2-tones |
| Security system | H-D security system optional |
| Seat height | 28 inches |
| Ground clearance | 4.3 inches |
| Rack | 30 degrees |
| Wheel base | 60 inches |
| Trail | 4.2 inches |
| Wheels | 5-spooked aluminum cast |
| Electronics | Led Rear lights and Tach gauges |
| Final Drive | Belt |
| Recommended Oil | 91 Octane or higher |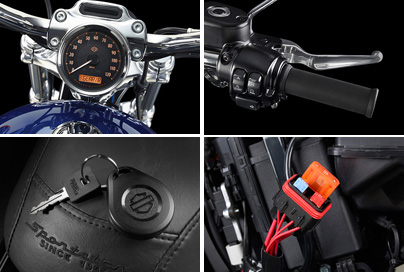 Conclusion:
The Harley Davidson 2015 Sportster 1200 custom is a special cruiser, wider from the shoulders and a fat front end. It has all the comforts and leisure you can see in this type of bike. It is elegantly designed to give you an optimal performance. The design is a basic concept of Harley Davidson heritage. It is unique front the front to rear. All of its parts are assembled nicely to make bike special bike. The 1200cc Evolution 45 degree air-cooled v-twin engines let your dreams come true by running this on a race track. Its special features let you avail the superiority amongst other cruise bikes. The electric system is specially designed to have less wires, switches and harnesses. You can also install H-D security system for your security. Then comes the big Michelin Tires with 5-spooked aluminum cast wheels which will give you the complete grip on the road and a comfort ride. The amazing ABS braking system is also a big feature of this bike. 1200 custom is a fully loaded and versatile bike and you will definitely have this.