KTM is a sport motorcycle and KTM start producing motorcycles back in the year 1954. Since 1954 KTM is famous for producing off road bikes, but in past few years it has extended its production into the street motorcycles. The New Duke that's stands today here is empowered by having more smoothness and in enduring long-distance ability. The thing which still resides in 2014 KTM 690 Duke is due to its accelerated dynamics for ride. While riding on 2014 KTM 690 Duke you will felt an enduring and exceptional experience of riding ever. The bike appears to have an outstanding technical feature that cranks up its grace aesthetically. An article about 2014 KTM 690 Duke Review, Price And Specs is given here.
2014 KTM 690 Duke Specs:
Features
Details
Bore
102 mm
Stroke
84.5 mm
Clutch
APTC™ Anti-hopping clutch that is operated hydraulically
Color
Black and white
Frame
Tubular space frame constructed by chrome molybdenum steel and powder-coated
Starting aid
Electric starter and automatic decompression
Front Suspension travel
135 mm
Rear Suspension travel
135 mm
Displacement
690 cm³
Seat height
835 mm
Gear Ratio(Primary)
36:79
Gear Ratio(Secondary)
16:40
Performance
50 kW or 67 hp
Fork
WP Suspension that means Up Side Down
Transmission
6-speed and claw shifted
Engine lubrication
Semi-dry-sump lubrication with 2 rotor pumps
Chain
5/8 x 1/4" X-Ring
Shock absorber
WP Suspension with Pro-Lever linkage
Front Brake system
Disc brake with radially mounted four-piston brake caliper
Rear Brake system
Disc brake with single-piston brake caliper
Wheel base
1,466±15 mm
Ignition system
Contact-less, controlled, fully electronic ignition system with digital ignition timing adjustment
Design
Single-cylinder and 4-stroke along with spark-ignition engine and liquid-cooled
Ground clearance
192 mm
Total fuel capacity
14 l
Unleaded premium fuel (95 RON)
Weight without fuel
149.5 kg
Steering head angle
63.5°
Cooling system
Liquid cooling system along with continuous circulation of cooling liquid with water pump
Front Brake discs – diameter
320 mm
Rear Brake discs – diameter
240 mm

Highlighted Factors Of 2014 KTM 690 Duke:
1. Fuel Consumption low:
The best part for the new 2014 KTM 690 Duke is that it utilizes quite less amount of fuel than before and this is due to the refinements made in electric and mechanics. For the last year undoubtedly, Duke had stood first in consumption comparison test with ease that was conducted internationally. This time it comes up more friendly and economical riding.
2. Concerning Fun Dynamically:
Swing arm:
It is completely light in weight. The tabular space frame is supposed to be made up of chrome-molybdenum steel and is of 9kg in weight. While the swing arm is of 4 kg in weight and is of highest quality, jointed pin and die-cast that impress the extreme level of stiffness that in result gives 150 kg 2014 KTM 690 Duke along with an excellent tracking stability.
Elements of Suspension:
The 2014 KTM 690 Duke is said to be quite well equipped in any kind of situation. The Duke involves upside down fork along with a upright tube of diameter 43 mm. The articulated pivot-arm is excelled with WP pressurized-gas mono-shock giving perfect turning. This gives out remarkably broad spectrum to be utilized or fulfilled for every kind of demand/requirement. The 2014 KTM 690 Duke amazingly works great from cruising to racing around the closed circuits.
Innovation in KTM design:
There are new rims used in the KTM 2014 Duke's design. Although nowadays these appeared not be of such an innovation. The major part to discuss here is that the new improvements don't even take your few minutes nowadays.  KTM has permitted the few intelligent technicians to hang on with technical computations in the software and in result, from a casting die we produced a stable, durable set of rims that are aesthetically elegant as well as holds on having extreme light weight property. In fact, the weight has been saved at the rim ring. And than we are left with an incredible bike named KTM Duke 2014 that is quick in changing direction, faster ever and having speedy acceleration.
Brakes Detail:
The Duke's brake comes up with an extremely incredible power that cranks up the control ability. There exists a radically-mounted fixed brake caliper that is having 4 pistons and includes the brake disc of 320mm.
ABS:
For total perfection against the over braking, Duke includes an ABS of dual-circuit along with 9M+modulator. Big thanks held for the fine sensors that helps a lot in maintaining full effect and incredible feedback of genuine sport brake. It weights not more than 1 kilogram. All in the entire 2014 KTM 690 Duke permits an excellent sport braking.
Ergonomics:
We have the newest Duke 2014 690 model that have few of the properties from its predecessor like its low in weight even less than 150 kg, powerful brakes and last but not the least its first class handling feature. When set up with all kinds of dynamically riding positions it still holds a "comfortable" tag on it. The perfect support has been provided for controlling the bike by using wide aluminum handlebar.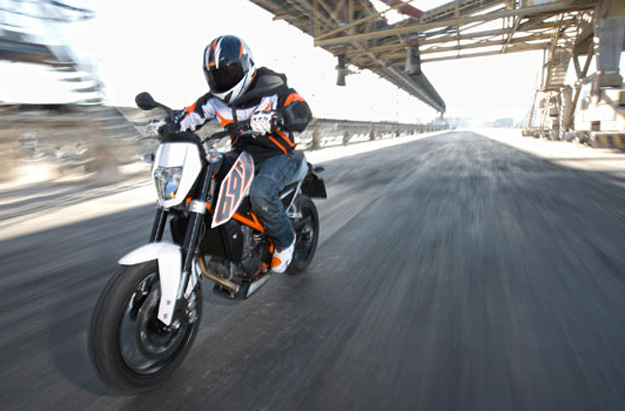 3. MESSAGE REGARDING A2-COMPLIANCY
Great Riding Experience Yet More Safety Provided:
There re still little confusion that resides in with KTM 2014 Duke models throughout the A-Compliancy.
390 Duke
690 Duke
690 Duke R
690 SMC R
690 Endure R
The press gives out the impression as if the models are quite very much light in weight and in result are not approved for A-2 Beginners. The A-2 driving license holds to have a minimum power-to-weight ratio i.e. 0.2 KW/Kg. For the models being too light the A-2 beginners can have a dynamic advantage due to an increased pleasure of riding while accelerating. The above mentioned models are not only A-2 complaint but are strongly recommendable as well as they grant greater riding pleasure ever.
4. Refined Single-Cylinder, Strapping:
Engine:
The new Duke model is said to be equipped with the advanced version of legendary LCA. It comes up to be an elegant, sporty ad highly cultivated bike with the use of displacement of 690 cm³, twin ignition and perfect combustion. It is still a well known bike having standard goodies being used for production like engine casting, slipper clutch and ventilation.
Engine Management:
Out of the ingenious LC4 engine the electronic engine always gets maximum performance. The more advanced technology used here includes twin ignition along with an individual mapping each for each spark that helps in ensuring that the mixture is effectively burned. Along with that an electronically controlled throttle valve actuation having no mechanical linkage. This is for the provision of power in a perfect way as smooth as possible.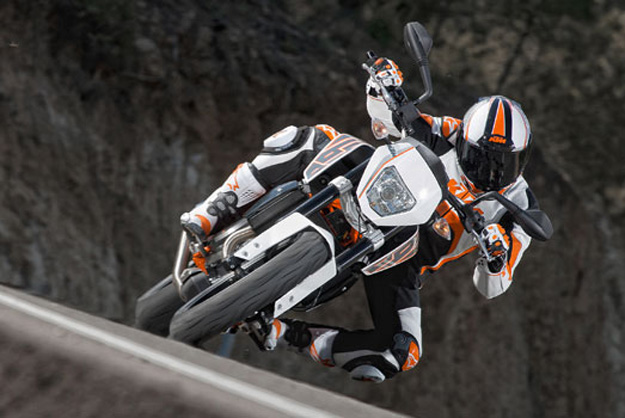 5. Polished ride dynamics:
Mass Centralization:
The 2014 KTM Duke is not supposed to be impressed with low weight along with a perfect geometry. The mass centralization includes positioning the brushed stainless steel per-silencer that in results contribute to razor-sharp precision.
ABS:
For total perfection against the over braking, Duke includes an ABS of dual-circuit along with 9M+modulator. Big thanks held for the fine sensors that helps a lot in maintaining full effect and incredible feedback of genuine sport brake. It weights not more than 1 kilogram. All in the entire Duke permits an excellent sport braking.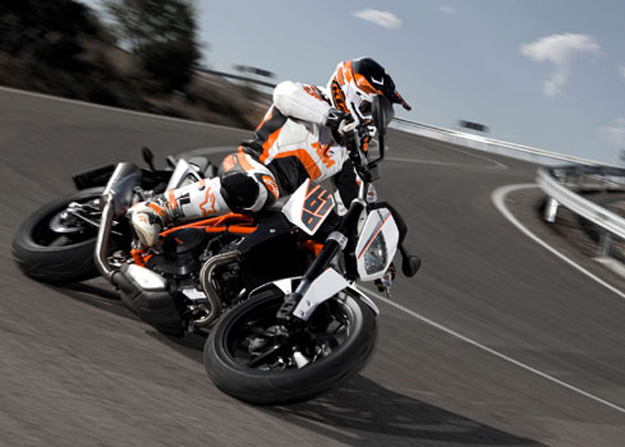 Finally the 2014 KTM 690 Duke is supposed to be the best choice for the riders in case for any track of their own choice. This model is innovative as well as embedded with a lot more of advanced technologies in it. This appeared as the best bike for having certain above mentioned characteristics so make a choice for having that bike and feel a little higher form where you stand today.
2014 KTM 690 Duke Review, Price And Specs is written by Shekinah Edwin.
All pics are taken from the official website of KTM 690 Duke.