The new 2021 Yamaha YZ250F Monster Energy Yamaha Racing Edition is a fantastic racing edition off-roader that offers impressive riding pleasure. Ride like a factory racer with this Monster Energy-inspired moto weapon of choice.
YZ250F 2021 Yamaha Monster Energy Yamaha Racing Edition – Features and Price
Top Features
The Monster Energy® Yamaha Racing Edition has an aggressive color and graphics scheme that stands out from the crowd, inspired by the YZ250F raced by the Yamaha Supercross team.
The YZ250F's already powerful engine received a slew of upgrades, including a brand-new cylinder head with enhanced intake port shape, a new exhaust camshaft profile, a new silencer, and an updated ECU, among other things, to produce more mid-to-top-end power and increased peak power while maintaining its class-leading low-end torque.
With a new high-flow air filter, air cleaner boot with a new form for greater flow, and a larger diameter throttle body joint, additional airbox lid intake ducts have been installed for increased airflow.
With race-winning features never seen before in the 250cc class, the YZ250FTM is primed to dominate the competition.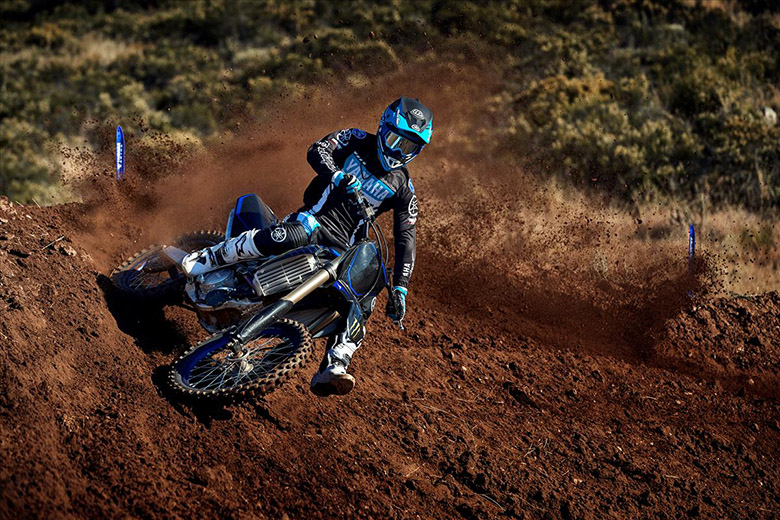 Yamaha's Power Tuner app, which is available for free and is industry-exclusive, brings the versatility and precision tunability of the GYTR® Power Tuner to your smartphone. For maximum track-side tweaking, make instant fueling and ignition timing modifications and upload them to the bike.
The YZ250F uses a tiny starter motor and an ultra-lightweight lithium battery to bring the simplicity of push-button starting to the racetrack, allowing for effortless restarts when the time is ticking and casual riding when the clock isn't ticking.
Yamaha's inverted cylinder head arrangement, which includes a high-spec piston, aggressive cam profiles, cylinder geometry, and more, aims to provide YZ250F riders the optimum mix of high-rpm power with a broad, usable powerband.
The primary spars, engine mounts, and mounting position on Yamaha's bilateral beam frame are engineered to center mass and deliver an optimal mix of cornering feel and straight-line sturdiness.
Yamaha's spring-type forks offer industry-leading suspension performance right out of the box, thanks to precise, speed-sensitive damping.
To improve overall durability, the crankcase, cam chain and tensioner, water pump, clutch basket, and third, fourth, and fifth gears have all been revised.
Engine Features
A forward-positioned straight downdraft intake, including a symmetrical intake and exhaust ports, is featured on the liquid-cooled, DOHC 4-valve, fuel-injected engine. The engine has been upgraded for 2021 with a new cylinder head with a new air intake system, better intake port shape, new exhaust camshaft profile, and an updated ECU, all to provide greater mid-to-top-end power and higher peak power while maintaining its class-leading low-end torque.
The Yamaha Power Tuner app is a free, industry-exclusive software that delivers the power of the GYTR Power Tuner to rider's iOS® or Android® smartphone. The app enables the owners to alter air/fuel mixture and ignition timing maps to tune the performance of the engine for track conditions, record race log information, and monitor a range of data like maintenance and system diagnosis, engine run time, and more using wireless connectivity to talk to the bike's onboard CAN-bus network.
The YZ250F 2021 Yamaha Monster Energy Yamaha Racing Edition is equipped with a small electric starting system that reduces restart times on the track and provides convenience in other areas. The system is powered by a four-cell lithium-ion battery that has a large capacity and is ultra-lightweight.
The YZ250F's two-mode changeable engine mapping enables the rider to change the engine's character at the touch of a button, creating it simple to tailor the bike for different tracks or weather conditions.
A bridge-box design on a flat-top forged piston adds strength while reducing weight. The offset cylinder design, coupled with the piston, rings, and DLC-coated piston pin, minimizes friction loss and contributes to fast response. Intake ports, cam profiles, a high-strength connecting rod, and a tuned crank and counterbalancer all work together to provide mighty high-rpm power with user-friendly delivery and outstanding dependability.
A 44mm throttle body, supplied by a high-pressure electric fuel pump, injects gasoline via a 12-hole Denso® injector in the adjustable fuel injection system. It provides optimal fuel atomization and air/fuel calibration for excellent rideability in a variety of circumstances.
The mass centralization and power development features of an innovative exhaust pipe design are improved. This arrangement puts the muffler closer to the bike's center of mass and pushes the rear end of the exhaust pipe forward.
Even under the most severe racing circumstances, lightweight radiators are more oversized and oriented more directly in the arriving air stream for improved cooling. The high-flow impellor and water pump within the engine increase endurance and durability under the most demanding racing circumstances.
The new transmission gears, dogs, and shift mechanisms are all intended to enhance durability and smooth gear changes in motocross racing. The YZ250F also has a large-diameter clutch, which improves dependability even further in high-heat situations.
Chassis/Suspension Features
The small frame of the Yamaha YZ250F refines the intuitive handling that makes this Yamaha one of the supreme handling bikes in the class. The stiffness and endurance of the top frame are improved by the massive upper frame bracing. The YZ250F-specific engine mounts and larger rear frame spars concentrate mass for the most excellent possible combination of bump absorption, rigidity, and grip.
The YZ250F has a compact body from head to tail, including a small fuel tank intended especially for motocross use. The body design offers a more comfortable knee grip and control sensation, as well as a seat designed to allow the rider more space to maneuver on board the bike, in addition to reducing weight.
The engine, aluminum muffler, and small gasoline tank are all near to the center of mass of the motorcycle. This configuration promotes a concentrated group for a light handling sensation on the track. The broad 55mm footpegs assist in lowering the rider's center of gravity, which improves machine balance, control, and comfort.
The YZ450FTM utilizes the same big 270mm front brake disc and aggressive pad composition as the YZ450FTM for excellent stopping power and braking control. Brake durability is improved with a heat-resistant rear rotor.
The fully adjustable KYB® coil spring-type fork with speed-sensitive damping is the industry leader in handling and bump absorption, resulting in race-winning handling performance. A KYB® shock with altered damping characteristics to fit the chassis is used in the linkage-type rear suspension.
Each wheel's cross-sectional shape is meticulously computer-aided refined to save weight without compromising durability.
Additional Features
The rubber-mounted 4-position adjustable handlebar mounts enhance comfort and minimize handlebar vibration, while the aluminum handlebar helps balance total mass.
Yamaha's integrated graphics are incorporated into the bodywork for long-term durability and resistance to peeling and damage.
The YZ250F has 1-1/8″ aluminum tapered handlebars, broad 55mm footpegs, a quick-adjust clutch perch, beautiful blue rims, and a gold chain, among other high-end features.
The air filter is located at the front of the bike to prevent roost from the back tire, and the sleek air cleaner cover allows for tool-free access to it.
YZ250F 2021 Yamaha Monster Energy Yamaha Racing Edition – Price
The new YZ250F 2021 Yamaha Monster Energy Yamaha Racing Edition is available at $8,499 in the Monster Energy Yamaha Racing Edition.
YZ250F 2021 Yamaha Monster Energy Yamaha Racing Edition – Technical Specifications
Engine
| | |
| --- | --- |
| Engine Type | 250cc, liquid-cooled, DOHC, 4-stroke, four valves |
| Bore x Stroke | 77 mm × 53.6 mm |
| Compression Ratio | 13.8:1 |
| Fuel Delivery | Mikuni® fuel injection, 44mm |
| Transmission | Constant-mesh 5-speed; multi-plate wet clutch |
| Final Drive | Chain |

Chassis
| | |
| --- | --- |
| Front Suspension | KYB® Speed-Sensitive System inverted fork including fully adjustable, 12.2 inches travel |
| Rear Suspension | KYB® single shock; fully adjustable, 12.5 inches travel |
| Front Brakes | Hydraulic disc, 270mm |
| Rear Brakes | Hydraulic disc, 245mm |
| Front Tires | 80/100-21 Bridgestone® Battlecross® X20F |
| Rear Tires | 100/90-19 Bridgestone® Battlecross® X20R |

Dimensions
| | |
| --- | --- |
| L x W x H | 85.6 inches x 32.5 inches x 50.6 inches |
| Seat Height | 38.2 inches |
| Wheelbase | 58.1 inches |
| Rake (Caster Angle) | 26-degree |
| Trail | 4.7 inches |
| Maximum Ground Clearance | 13.2 inches |
| Fuel Capacity | 1.6 gallons |
| Wet Weight | 234 lb |

Other
| | |
| --- | --- |
| Warranty | 30 Day (Limited Factory Warranty) |
Conclusion
In conclusion, team Bikes Catalog would love to say that the new 2021 Yamaha YZ250F Monster Energy Yamaha Racing Edition is an impressive dirt bike and it comes with high performing engine. The overall chassis is strong that helps in offering remarkable handling while the bodywork is desirable. The suspension and braking system makes the overall ride full of fun.