When making the concept into reality Yamaha has always done this job right, like for example if we see V-Max Super Tenere, MT-01 and MT-03 they all came into being after the fantastic ideas of Yamaha. But many other concept ideas of many bikes just disappeared right before they could even be produced or traced. So here we are going to talk about the Top Ten Yamaha Concept Bikes that Never Manufactured.
Top Ten Yamaha Concept Bikes that Never Manufactured – Top Rated
10. Deinonychus, 2005
In today's time electric bikes have taken their sports very seriously but the concept of a nine-year-old Yamaha bike concept which was not only electrical power but also had the ability and flexibility to create more than an ordinary spark. It needs to use the power train and with the hub of electric motors. This bike the Deinonychus 2005 was a two-wheeler drive with a framework that could be adjusted to radically geometric making it possible to stretch out like a chopper and be a little more compact and faster steering just like a sportbike. The only flaw we could see is that the size of the battery was small and couldn't take you on the long drive.
9. Y125 Moegi, 2011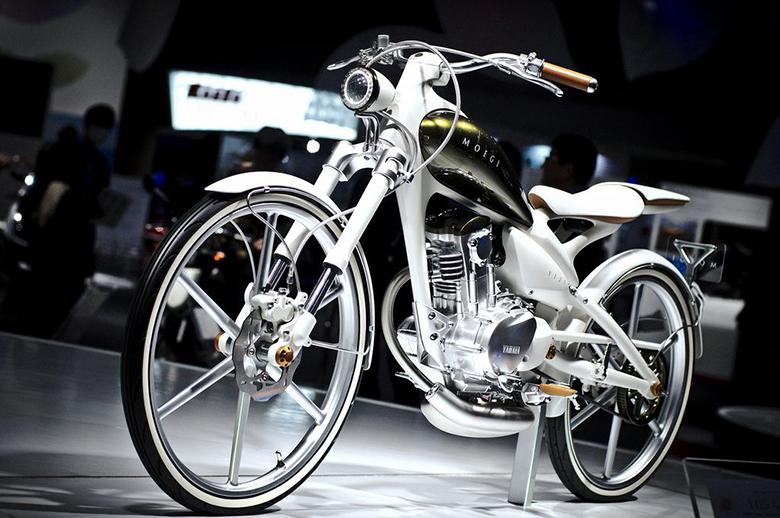 125cc usually is known to be one the most exciting bikes to own, but this Moegi 125 was a fresh and straightforward idea, which simply allows us to understand that a motorcycle can be elegant and non-dangerous without being cartoonish and messy. Like a classic bike and an engine that is fitted this bike is original and sensible with a lightweight too.
8. Chivicker, 2003
Yamaha was always a hit for making small size bikes, mainly trusting to shape than making sure the power is high or the performance too. This bike the 50cc had a long-lasting trend in the Yamaha concept world with four-stroke and incredibly slow, the only surprising thing was it was tiny and a fun-size bike. But this bike was nothing more than a show bike.
7. HV-X, 2009
This bike was the first hybrid motorcycle and for some moment we thought the production of this bike was possible too. This bike has been worked based on Toyota Prius also with a smart gearbox that has handled the power from the electric motor and the petrol engine just as reversing the motor when changing the battery when they are down. Yamaha did show this bike as the fanfares but then we didn't hear a word after that.
6. Maxam 3000, 2005
The Maxum 3000 was an excellent concept bike that was created like many scooters they were pretty low looking but when it won the three meters long and inspired by American land yachts of the 1950s Yamaha made the people turn faces towards it. This bike was only about looks so we do not need to mention the performance level or the handling. But something was always particular about this bike.
5. Tesseract, 2007
The four-wheel bike is not supposed to be one of the concepts of bikes. But if you put out in a big V-twin and superbike derived styling than a thing can perk up a bit. But the smart system of this bike is promised to handle like a regular bike lining up with a double amount of rubber on the road to give a fantastic level ride with a grip. This concept is not ideal but three-wheel scooters came from the same ideas even within the entirely different suspension system.
4. Gen-Ryu, 2005
We knew that Yamaha felt much confident back in 2005 when they launched Gen Ryu along with the Maxim 3000 that we have mentioned before in this top ten. And this bike is more of a wild motorcycle and crazier looking. This bike has the technology so as the arresting mode on the HV-X in 2009. But it never came to production, even though it would have the sell in an actual world.
3. Morpho 2, 1991
Morpho concept came in 1989 and its concept 2 began in 1991 and it was memorable. This bike had the original variable riding position idea, adjusting according to the rider's mood, but also align with an active suspension and with a weird style of two-wheel steering with massive performance improvement. But not like 400cc Morpho 2 was also supposed to be 1000cc bike.
2. XS-V1 Sakura, 2007
Yes this bike was good looking but also too much inky too but it was also a retro-looking bike. But now if we see it after seven years the style was a production viable and the concept of a torquey but yet basic.it was a 1000cc air-cooled also with a V twin and a retro look which made it more attractive. And can you imagine it going against the Bonneville, and W800 and Guzzi V7 and now the Sukura. Yamaha was already let down by the MT-01 and people knew by then f sakura was made then the cost would be high.
1. Morpho, 1989
This bike was one of that concept bike which would just set in your mind, even if it was 400cc it didn't have that big an influence. And that front suspension was not seen in the later model of GTS1000. Lots of riders found it very suitable because of its ability to morph into different shapes. Even the seat went up and down and the footstep also did the similar and so did the bars. You could imagine as the analog type of electronic trickery that makes bikes do lots of multiple functions in riding modes. This bike came with Honda's original NR759 concept bike in 1989.
Top Ten Yamaha Concept Bikes that Never Manufactured – Top List
| Sr. # | Top Ten Yamaha Concept Bikes that Never Manufactured |
| --- | --- |
| 1 | Morpho, 1989 |
| 2 | XS-V1 Sakura, 2007 |
| 3 | Morpho 2, 1991 |
| 4 | Gen-Ryu, 2005 |
| 5 | Tesseract, 2007 |
| 6 | Maxam 3000, 2005 |
| 7 | HV-X, 2009 |
| 8 | Chivicker, 2003 |
| 9 | Y125 Moegi, 2011 |
| 10 | Deinonychus, 2005 |
Conclusion
The above-given article is about that classic bike which was the idea or concept of Yamaha bikes which were never able to or couldn't reach the capability of launching or producing. Team bike has gathered the information for the love of motorcycles that these bikes could also be there and be loved.