In India, biking is fun and popular, especially among the youth. Many cyclists embark on long road trips and mountain rides every year. These riders look for the most desirable bikes that get excellent gas mileage, are reasonably priced, and require little maintenance. Following are the Top Ten Famous Motorcycles for Long Rides in India.
Top Ten Famous Motorcycles for Long Rides in India – Top Rated
Bajaj Avenger Cruise 220
Ever since it was introduced in India, the Bajaj Avenger Cruise 220 has captured the hearts of its riders. It is a comfortable cruiser available in the range of 1.22 lakh. A petrol-powered motorcycle with self-start functionality and an engine conforming to BS 6. 5-speed transmission, and 1-channel ABS. Two colors are offered: Moon White and Auburn Black. A 220cc single-cylinder motorcycle with 19bhp and 17.5Nm torque engine.
KTM 390 Duke
There is only one version of the commuter bike KTM 390 Duke, available in India. It costs Rs. 2.58 lakhs to buy. The bike also has additional features that can impress you. 373.2cc engine with 42.9bhp and 37Nm of torque mated to a 6-speed manual transmission. The KTM 390 Duke, which is available in two colors, has disc brakes at the front and rear and ABS. Bluetooth connectivity for color TFT screen with rider's smartphone.
Royal Enfield Thunderbird 350
The Royal Enfield Thunderbird is the ideal vehicle for long journeys. It is loved by thousands of riders and is a cruiser on the road. The bike is available as follows: Price, which starts at Rs. 1.56 lakh, is reasonable. It delivers 30 kmpl of fuel. The bike is powered by a powerful 346cc engine that produces 19.8 horsepower and 28Nm of torque. You may also enjoy: In just 129 hours, this lady biker traveled from Kanyakumari to Leh.
Harley Davidson SuperLow
Many people's ideal motorcycle is the Harley-Davidson Superlow. A sturdy bike with angular edges is a good option, as the 17-liter fuel tank of the bike can hold 20 kmpl of fuel. It has a powerful 883cc engine produces 50 horsepower and 69Nm of torque. The starting price of the bike is just Rs. 6.60 lakhs
Bajaj Dominar 400
In India, the Bajaj Dominar 400 is a cruiser bike suitable for long journeys on Indian roads. The 27cc engine on the Bajaj Dominar 400 produces 35 nm of torque and 39.42 bhp power. A 6-speed manual transmission makes driving even more enjoyable. The reasonable price range starts from Rs. 1,97,438. Candida Louis, a woman biker from Bengaluru, traveled 34,000 km from India to Australia alone on a Bajaj Dominar 400.
Royal Enfield Himalayan.
Indian Royal Enfield is the bike of choice for Himalayan thrill seekers. The touring bike, Royal Enfield, is ideal for driving in hilly terrains. The bike has a single-cylinder, four-stroke motor with a displacement of 411 ccs, among other features. This bike can give you a fuel mileage of 30 to 36.26 kmpl. The bike is priced between Rs 1.87 lakh to Rs 1.91 lakh. There are about ten different color options to choose from.
Jawa Perak
The massive, rambunctious Java Perak is a powerful, heaviest motorcycle that regularly makes long trips across India. Following are some positive features of Java Perk: The starting price is Rs. 1,96,941. Its 334cc engine produces 30 horsepower and 32.74 Nm of torque. The Java Prak's single-cylinder engine is mated to a 6-speed manual transmission.
Royal Enfield Interceptor 650
The 650cc Royal Enfield Interceptor provides a comfortable ride. The engine of this motorcycle is air/oil cooled. The pillion rider and the driver will find the seats comfortable. Because the bike has a parallel twin 649cc engine that produces 47 hp and 52 Nm of torque, you can opt for it. The bike is priced between Rs. 2.5 lakh and Rs 2.88 lakh motorcycle has a fuel economy of 25 kmpl. For safety, it has dual-channel ABS. The Chief Minister of Arunachal started a bike ride on the RE Interceptor to promote adventure sports in the state as the bike is trendy.
Suzuki V-Strom 650 XT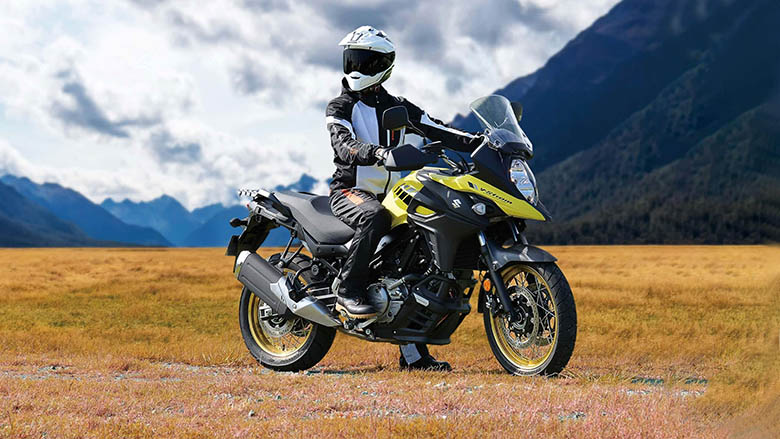 The powerful twin-cylinder engine on the Suzuki V-Strom 650 XT can provide you with a comfortable ride over long distances. The bike sports a smooth-riding 6-speed manual transmission. The motorcycle's 645cc engine churns out 71 horsepower and 62 Nm of torque. Mileage is 26.46 kmpl. You have to pay Rs. 7,46,000 for this.

Volcanic Red and Ocean Blue are the colors offered for the Mahindra Mojo XT 300. A liquid-cooled, EFI 300cc engine powers the bike. A well-made bike costs between Rs.500 and Rs. 1,63,000 and Rs.1,89,000, depending on the model. The engine produces 30 Nm of torque and 27.19 horsepower. With a 21-liter petrol tank, you can travel 25 km per liter. Do you plan to buy one of these bikes and then disappear from the public eye? We agree! However, to ensure a safe ride, please bring the following items: a tiny bike repair kit, fluorescent tape, a flashlight, a good helmet with proper riding clothing, and a harness with all ropes and knots. A bag, some snacks, bike documents and a driver's license are the essential insurance.
Top Ten Famous Motorcycles for Long Rides in India – Top List
| Sr. # | Top Ten Famous Motorcycles for long Rides in India |
| --- | --- |
| 1 | Mahindra Mojo XT 300 |
| 2 | Suzuki V-Strom 650 XT |
| 3 | Royal Enfield Interceptor 650 |
| 4 | Jawa Perak |
| 5 | Royal Enfield Himalayan. |
| 6 | Bajaj Dominar 400 |
| 7 | Harley Davidson SuperLow |
| 8 | Royal Enfield Thunderbird 350 |
| 9 | KTM 390 Duke |
| 10 | Bajaj Avenger Cruise 220 |