To create the list for Top Ten Best Rated Supermotos on Bikes Catalog, we have used your ratings and reviews. This list has a list of best bikes with a discussion of three or more based on details given about handling, brakes, engine and comfort. So here's your guide to the motorcycle of your choice.
Top Ten Best Rated Supermotos on Bikes Catalog – Top Rated
10. Husaberg FS650E: 3.5/5
The bike consists of quality factors and high-end suspension, the FS650 is considered to be the wildest one with high maintenance because it's a race bike with lights. It requires valve clearance checks above 500 miles and oil changes are also needed after every 300 miles. The maintenance is simple because it has locknut valve adjustments and screw.
9. Yamaha XT660X: 3.6/5
This Japanese bike is reliable and practical with a good amount of poke. The bike is the newest version of the XT family which was launched in the 70s. This bike might not be comfortable for long routes, but the trail model XT660R has large wheels but its weight and gearing make it rough on trials. There might be some issues with the fuel injection but the owners have the solutions to this and some other parts that increase the power as well.
8. CCM 604 E Dual Sport Supermoto: 3.66/5
The CCm 604 E Dual Sports Supermoto comes with WP suspension and brembo brakes that make you stop at any time. The tuning can go up to 60hp+ to the rear wheel. The bike is hardcore with a consistent engine and is considered as the B-road weapon.
7. KTM LC4 640 Supermoto: 3.88/5
This model is considered as the most practical and sensible one among all the European supermotos. Which means that it's reliable, speedy and focused. The bike isn't made for long drives but it is made for stunting and urban assault. Like every other KTM bike, it is reliable and the engine is used in many KTM models like The Adventure, Duke and LC4 Enduro and if it's properly maintained then it's tough.
6. Aprilia SXV550: 3.9/5
The SXV came with the two cylinders but the other Real supermotos were always with a single cylinder. The advantage of having another automobile is that you get more oomph and decreased vibration and it's very lightweight with 70bhp. So the bike is 128kg. It's crazier than liter sports and is a mixture of geometry.
5. Honda FMX650: 4/5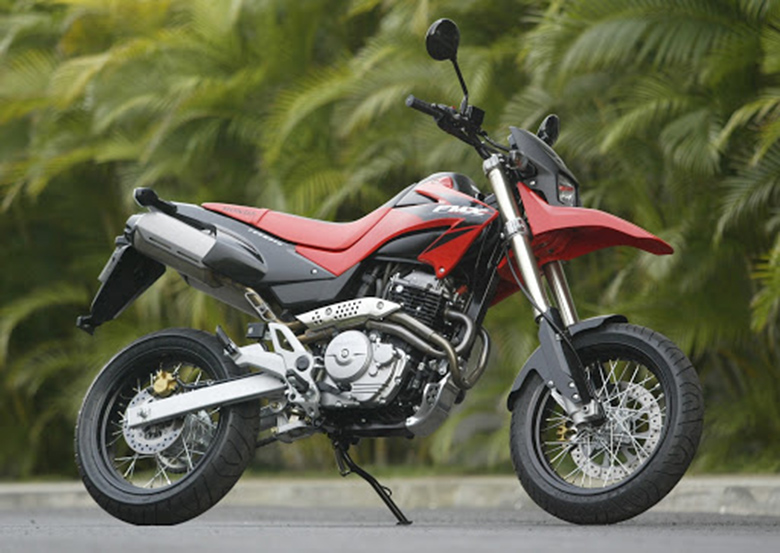 This bike has 36bhp and 37lb.ft torque with a 644cc engine which hasn't been changed since 1988. The riders who have experience will ride it pretty well and will treat it as an on/off switch with an FMXs engine. It spins more than 7000rpm and Torque and doesn't have a rev counter. The Honda considered it as a fun moto that targets the young population.
4. KTM 690 SM Supermoto: 4.3/5
This model is a beast to ride with its powerful single cylinder. It's pretty more comfortable to live with but it's not very exciting. The SM has a different geometry and new frame with equal weight distribution. It's useful and soft which is a pure KTM from the bottom.
3. KTM 990 Supermoto: 4.375/5
This one comes with a 15% increase in its power by its whole rev range, is field injected and has a 990 engine with 950SMs chassis. The 950 is comparatively more sensible. However 990 is more practical but it has poor fueling and throttle response.
2. Honda CRF250M: 4.5/5
The Honda developed this bike when all other manufacturers were disappearing from the market. This bike is a no competition one with CBR250 single-cylinder engine CRF250L derived. It looks like a crossed derived supermoto which is quite propers. The only fault is that the Panache isn't there. It is the only option left for the owners if they're looking for a supermoto without service schedules of a real motocross bike.
1. KTM 950 SM Supermoto: 4.6/5
This bike is considered as the cult hooligan with 1510mm wheelbase, v twin engine and 98hp. It's more like a Sunday morning ride unlike the single cylinder and can cover vast miles.
Top Ten Best Rated Supermotos on Bikes Catalog – Top List
| Sr. # | Top Ten Best Rated Supermotos on Bikes Catalog | Rating (Out of 5) |
| --- | --- | --- |
| 1 | KTM 950 SM Supermoto | 4.6 |
| 2 | Honda CRF250M | 4.5 |
| 3 | KTM 990 Supermoto | 4.375 |
| 4 | KTM 690 SM Supermoto | 4.3 |
| 5 | Honda FMX650 | 4 |
| 6 | Aprilia SXV550 | 3.9 |
| 7 | KTM LC4 640 Supermoto | 3.88 |
| 8 | CCM 604 E Dual Sport Supermoto | 3.66 |
| 9 | Yamaha XT660X | 3.6 |
| 10 | Husaberg FS650E | 3.5 |
Conclusion
All the bikes were chooses carefully for you to match your criteria of the best super Moto. Since the owners itself do the ratings and reviews, we are sure you will trust our guide to suggest you the best supermoto that has ever existed.