All of the people and property in the event of an accident are protected by motorcycle insurance. Most states need motorcycle insurance, and plans may cost anywhere from a few hundred dollars to more than $2,000, depending on the rider, bike, and region.
Top Ten Best Motorcycle Insurance Brands in the World – Top Rated
10. Progressive
Among Progressive's notable features are its accident forgiveness benefits, which are included in most of its vehicle insurance plans. If your total claim is $500 or less, your insurance premium will not be affected by the minor accident forgiveness.
To qualify for significant accident forgiveness, you must have been a Progressive customer for at least four years and have been accident-free for three of those years.
Progressive also prepares insurance for the most extensive variety of machines on this list: conventional motorcycles and mopeds (as well as dirt and sport bikes), autocycles (as well as enduro bikes and touring bikes), three-wheel trikes (as well as collector ones), scooter, ATV, and UTA.
9. GEICO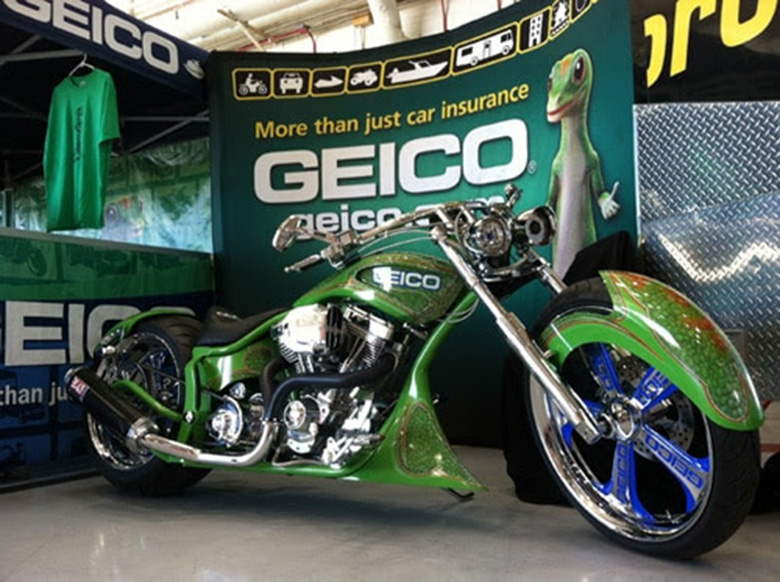 If you have a non-stock sidecar, a trike conversion kit, a seat and saddlebags, electronic equipment, or chrome parts, they're all covered by Geico's comprehensive and collision plans.
Additional reductions include 10% off your rate if you transfer to Geico from another insurer, insure more than one motorbike with Geico, or become a long-term client.
8. Harley-Davidson
Harley-Davidson is an excellent choice for beginning riders since it offers more than just insurance. Besides selling extended service plans, Harley-Davidson also provides financing to purchase your bike, as well as theft and appearance protection policies.
Multi-policy discounts for bundling policies, anti-theft, multi-cycle, military and law enforcement, timely payer, and claim-free renewal are just some of the many savings available. Taking safety classes from the Harley-Davidson Riding Academy may potentially lower your insurance premiums.
7. Dairyland
Dairyland also provides bike replacement cost insurance, roadside assistance, travel interruption, and rental reimbursement in addition to its regular coverage and Physical Damage plus add-on. Physical damage-plus coverage from Dairyland pays to repair your damaged motorbike using original equipment manufacturer replacement components (OEM), which is perfect for novice or experienced riders who own a unique or historic motorcycle and wish to maintain the machine's integrity.
As a last option, Dairyland provides SR22 insurance for persons with a history of driving offenses, including driving under the effect of drugs or alcohol, reckless driving, at-fault car accidents, driving without insurance, or driving without a license.
6. Farmers
Farmers are among the few insurers that provide track-day insurance for customers who want to ride their bikes on a non-competitive circuit.
5. Allstate
You may save up to 30% on your Allstate rates if you bundle your bike insurance with any other Allstate insurance product. Bundling discounts typically have a limit of ten or fifteen percent, making this one of the most incredible offers available. A first-accident waiver and lease/loan gap coverage are both excellent add-ons to the company's motorbike insurance. However, Allstate only offers five motorcycle insurance discounts, which is less than the other carriers on our list.
4. Markel
Most of Markel's nine discounts have simple requirements, such as adding anti-lock brakes on your motorbike, ensuring several bikes, being a careful driver, and renewing your insurance. Additional coverage options offered by Markel include trailer insurance and mechanical breakdown protection in addition to the company's standard products.
The accident forgiveness programs offered by Markel allow you to avoid paying any at-fault costs on your first loss. To be qualified, you must have been accident-free for the last four years without incident.
3. Safeco Insurance
With over a hundred years of involvement under their belts, the agents at Seattle-based Safeco are well versed in delivering inexpensive motorbike insurance packages. With its reputation as one of the most economical insurance providers, this member of Liberty Mutual Group has long been a favorite among motorcycle riders.
2. USAA
Over 8 million troops of the US Army, its subsidiaries, and their families currently belong to this Texas-based corporation. In addition to vehicle and house insurance, Progressive is contracted to provide motorbike insurance for the firm. With USAA, on the other hand, you'll be able to get a motorbike loan at a cheap interest rate and even refinance your current loan.
1. VOOM Insurance
VOOM Insurance is the first-ever pay-per-mile motorcycle insurance and currently provides policies in select US states. Riders who only ride occasionally will save money when you only pay the insurance by the mile spent on the road. Riders pay a low monthly rate, and every month riders will submit a photo of their odometer reading. Based on that, VOOM will charge riders a fee that's rated to how many miles they traveled. If they don't ride their bike very far, they'll see their rate drop for the next month.
Top Ten Best Motorcycle Insurance Brands in the World – Top List
| Sr. | Top Ten Best Motorcycle Insurance Brands in the World |
| --- | --- |
| 1 | VOOM Insurance |
| 2 | USAA |
| 3 | Safeco Insurance |
| 4 | Markel |
| 5 | Allstate |
| 6 | Farmers |
| 7 | Dairyland |
| 8 | Harley-Davidson |
| 9 | GEICO |
| 10 | Progressive |
Conclusion
It's a fact that the chances of getting into an accident increases when you are using a car or motorcycle for riding daily. So, it is essential to get yourself secured by using the best insurance policy from the best Motorcycle Insurance Brands in the World.