Many business owners these days want to start using motorcycles to deliver their goods, which is why many people ask me which motorcycles are best for delivery given the wide range of possibilities in the market. Fuel economy and delivery time are two critical factors when buying a bike for food delivery, and guess what? 50cc to 125cc motorcycles are best for delivering food. You will be surprised to know this, I am sure. Since these are the most affordable vehicles in the market in terms of cost, maintenance, gasoline, and even safety, they are generally the best and most convenient for food delivery. Another benefit of using them is that most riders can ride as long as they have a driver's license. So, here is the list of the Top Ten Best Bikes for Food Delivery.
Top Ten Best Bikes for Food Delivery – Top Rated
1. Honda PCX 125
Honda PCX 125 is undoubtedly the best and most recommended bike for food delivery. It is one of Honda's top 125cc models and is undoubtedly a bestseller that has achieved massive success. The majority of food and fast-food chains use PCX 125.
A small scooter with exceptional fuel efficiency is the Honda PCX 125. It can transport food quickly, runs well in the city, and is durable. It rarely requires maintenance, and I can't think of any competing products that do better, which is impressive.
Price
The Honda PCX 125 is available for purchase at a slightly above-average price of £2,799, which is expensive for a scooter.
2. Yamaha YBR125
One of the best-selling and most efficient 125cc motorcycles in the market is the Yamaha YBR125. While it doesn't deliver incredible performance (no pun intended), it's incredibly cheap and fuel-efficient, and plentiful for food delivery, reminding me of Honda's 125cc version.
Additionally, Yamaha sold more than 200,000 YBR125 motorcycles, making it particularly popular among food delivery companies.
Price
Although the Yamaha YBR125 costs around $2,499, it is worth it. While this can also be a fantastic option, the used version is available for a meager price of between £500 and £2,000, so I recommend you try it first.
3. Honda CB125R
Honda CB125R, another Honda model in this list, is one of your best buys. It costs significantly more than most models on the list, but it's incredibly efficient, reasonably easy to operate, and offers everything you need for food delivery.
In general, Honda CB125R will perform better than most of the bikes on this list, and it is also quite affordable and fuel efficient. You also get a Honda warranty, which doesn't require much maintenance.
Price
The CB125R is priced at around £3,989, well below its more expensive rivals. Because it saves money, it also costs less over time.
4. Vespa PX 200
Another great alternative in the market that works well for food delivery is the Vespa PX. It provides a ton of room and can handle many orders without a problem. I love it and recommend it.
It is vital to remember that the Vespa PX was released several years ago and is still active today. It's a great, affordable bike for commuting around town and delivering food.
Price
The Vespa PX 200 costs £5,999, which is higher than most motorcycles. Still, you should understand that it performs significantly better than the other motorcycles on the list and is truly a work vehicle.
5. Kawasaki Z125
The Kawasaki Z125 is a fantastic 125cc motorbike engine that is reliable and looks great. It just does a beautiful job and is excellent for food delivery. Moreover, it is thought to have a higher capacity than the other motorcycles on the list.
The build quality of the Kawasaki Z125, which is significantly superior to Yamaha or Honda 125cc motorcycles and adds to the bike's durability, is, in my opinion, its most prominent distinguishing feature. The Kawasaki Z125 will undoubtedly fit you if you have a long-term company plan, ten years or more, unlike other models that only last for an average of about 5 years or less.
6. Lexmoto LXR 125
Lexmoto LXR 125 is undoubtedly a wonderful and loved 125cc motorcycle that performs flawlessly, which I find extremely attractive. I think it outperforms its Yamaha and Honda counterparts and offers excellent value.
The Lexmoto LXR 125 also performs admirably, better than the other motorcycles on the list; Still, what's most remarkable about it is how cheap it is. The LXR 125 is mainly similar to the Kawasaki 125cc motorbike in terms of construction, as both are designed with robust components.
7. Suzuki GSX-R125
A great alternative for food delivery is the Suzuki GSX-R125, which does a great job. Although it's a race-ready sports bike, it can also carry food, and it handles city streets and short distances very well.
The Suzuki GSX-R125's seat flattens out quickly, which may not bother you at first but will start to make you uncomfortable after a few hours. As a result, I advise you to consider getting upholstery for the seat, as this should not be a factor in your decision to buy a GSX-R125.
8. Kawasaki Z650
Now it's time to move on to a much more powerful motorcycle equivalent to the 650cc engine, the Kawasaki Z650. If until now, I've only shown you motorcycles with less and less powerful engines sold at meager prices. Kawasaki Z650 is considered an ideal bike and far better than the other bikes on the list.
So why is the Kawasaki Z650 suitable for food delivery? The Kawasaki Z650, one of the most incredible food delivery bikes, has significant advantages over motorcycles with less demanding engines.
Price
Although the Kawasaki Z650 costs around $7,649, which is significantly higher than the other motorcycles on the list, in my opinion, it is worth the extra money.
9. Bajaj Platina 100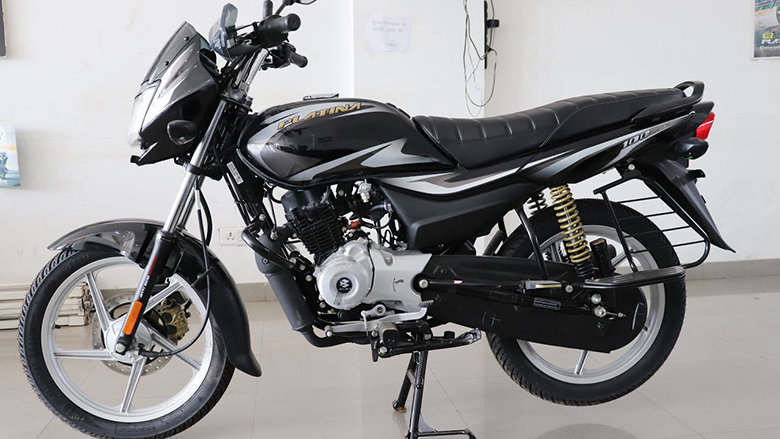 The Bajaj Platina 100 is an ideal motorcycle for you and one of the best motorcycles to take delivery of if you don't want a very affordable bike at a meager price.
Price
Unfortunately, it is pretty challenging to find a Bajaj Platina 100 for sale as new. Thus, it is usually sold in used markets, although many vendors are happy to sell it to you at a meager price.
10. Aprilia RS4 50
Those of you who are reading my posts know that I always save for the best, and this time I went with the Aprilia RS4 50, the cheapest bike on the list and had a 50cc engine. It is among the most affordable and cost-effective models in the market.
Price
The Aprilia RS4 50 costs around $3,999, and in my opinion, it's worth the money. I wholeheartedly support it.
Top Ten Best Bikes for Food Delivery – Top Rated
| Sr. # | Top Ten Best Bikes for Food Delivery |
| --- | --- |
| 1 | Honda PCX 125 |
| 2 | Yamaha YBR125 |
| 3 | Honda CB125R |
| 4 | Vespa PX 200 |
| 5 | Kawasaki Z125 |
| 6 | Lexmoto LXR 125 |
| 7 | Suzuki GSX-R125 |
| 8 | Kawasaki Z650 |
| 9 | Bajaj Platina 100 |
| 10 | Aprilia RS4 50 |