The Suzuki 2019 QuadSport Z90 Quad Bike is the perfect ATV for riders 12 and older supervised by adults to develop their skills. Convenient features like an automatic transmission and an electric starter help make this ATV suitable for supervised riders aged 12 and up. An easy-to-adjust throttle limiter allows adults to adjust the power level appropriately for young cyclists, and a key switch ensures there are no unauthorized trips. Start with your little ones on the QuadSport Z90, so that your whole family can discover the pleasure of the outdoors and the joy of driving a Suzuki!
2019 Suzuki QuadSport Z50 Quad Bike – Features and Specs
Engine Features
The compact 90 ccs air-cooled four-stroke single-cylinder engine has been designed to last and require little maintenance similar to that 2018 Suzuki QuadSport Z90 Quad Bike. The Suzuki Composite Electrochemical (SCEM) cylinder, derived from Suzuki's high-performance GSX-R sports motorcycles, offers durability, weight reduction, and excellent heat dissipation. Multi-plate cam chain that works well and allows the engine to run quietly. Easy-access oil filter and oil strainer cover reduce maintenance time.
The clean combustion four-stroke engine easily meets the Environmental Protection Agency (EPA) emission regulations (eligible for red label registration in California). The muffler fitted with a spark arrester is environmentally friendly but has a pleasant exhaust note. The massive 6.0-liter (1.6 gallons) fuel tank provides long driving times. A vacuum fuel valve automatically stops the flow of fuel when the engine is not running. A key ignition switch allows adults to decide when the action begins and ends.
The single screw gas limiter allows adult supervisors to limit the maximum power according to the pilot's capabilities. The speed limiter collar in the automatic clutch limits top speed to 15 mph. It can be removed to increase high gear as the rider gains capacity. Suzuki 2019 QuadSport Z90 Quad Bike includes a simple electric start system and a standard booster starter. The smooth-running CVT automatic transmission provides smooth operation and allows the driver to focus on driving instead of shifting gears.
Chassis Features
Child size controls (Y-12) for easy use. The single-link front suspension with two independent shock absorbers and a single-shock rear suspension provides long wheel travel for a smooth and comfortable ride. The new rear axle shaft has double oil seals for performance and reliability. The flagship style front part is detachable to achieve the sporty look of the QuadSport Z400.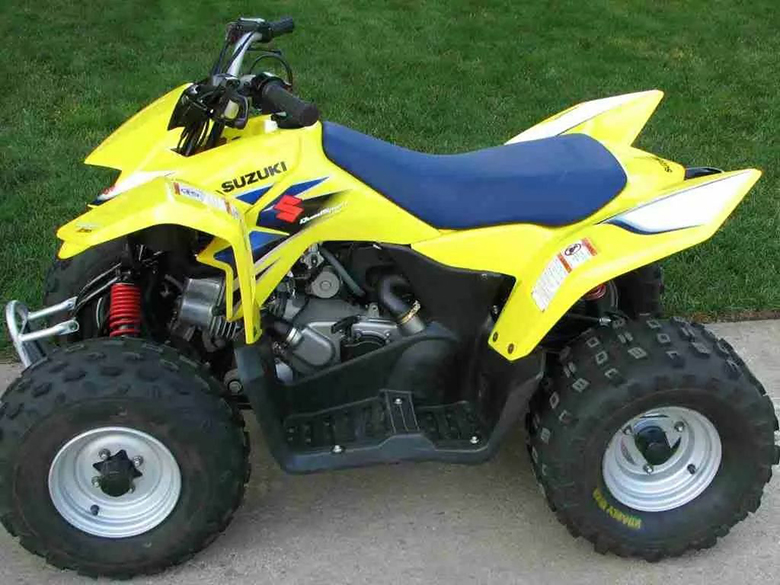 The newly designed large-diameter semi-sealed front drum brakes and the fully sealed single rear drum brake provide strong braking performance to Suzuki 2019 QuadSport Z90 Quad Bike. The modern style with solid floors creates an excellent Quad look which also presents a new yellow bodywork with coordinated graphics. Eight-inch one-piece wheels with tubeless tires ensure a comfortable and smooth ride. The stable, high-rigidity steel frame is robust and compact.
The low seat height of only 25.6 inches allows the operator to mount and operate the ATV efficiently. The design of the T-shaped seat from Suzuki is similar to that of the QuadSport Z400 for a smooth weight transition and a comfortable ride. The seat is easy to remove for maintenance. The place has a durable black cover that completes the graphic whole of the ATV. The competition-inspired body features the new Suzuki Championship Yellow color palette.
Other Features
The Suzuki 2019 QuadSport Z90 Quad Bike has a 12-month limited warranty, twice that of most other warranties for young ATVs. A variety of original Suzuki Accessories for QuadSport owners are available, including a wide selection of clothing with the Suzuki logo.
Suzuki 2019 QuadSport Z90 Quad Bike – Price
The Suzuki 2019 QuadSport Z90 is available at $ 2,999.
Suzuki 2019 QuadSport Z90 Quad Bike – Technical Specifications
Engine
| | |
| --- | --- |
| Engine | 90cc, 4-stroke, air-cooled, single-cylinder, OHC |
| Bore x Stroke | 45.5mm x 55.2mm (1.791 inches x 2.173 inches) |
| Compression Ratio | 9.5:1 |
| Fuel System | Mikuni VM16, solo carburetor |
| Starter | Electric and back-up recoil |
| Lubrication | Wet sump |
Drive Train
| | |
| --- | --- |
| Transmission | CVT automatic |
| Driven Wheels | Dry shoe, automatic, centrifugal type |
| Driven Wheels | 2WD |
| Final Drive | Chain, RK530, 60 links |
Chassis
| | |
| --- | --- |
| Suspension Front | Independent, swing axle, coil spring, oil damped |
| Suspension Rear | Swingarm type, coil spring, oil damped |
| Brakes Front | Twin drum brakes |
| Brakes Rear | Single drum brake |
| Tires Front | AT19 × 7-8, tubeless type x 2 |
| Tires Rear | AT19 × 7-8, tubeless type x 2 |
| Fuel Tank Capacity | 1.6 US gal. (6.0 L) |
| Color | Championship Yellow No. 2 |
Electrical
| | |
| --- | --- |
| Ignition | Electronic ignition (CDI) |
| Headlight | N/A |
| Tail Light | N/A |
Dimensions
| | |
| --- | --- |
| Overall Length | 1505 mm (59.3 inches) |
| Overall Width | 875 mm (34.4 inches) |
| Overall Height | 915 mm (36.0 inches) |
| Wheelbase | 1005 mm (39.6 inches) |
| Ground Clearance | 150 mm (5.9 inches) |
| Seat Height | 650 mm (25.6 inches) |
| Curb Weight | 127 kg (280 lb.) |
Warranty
| | |
| --- | --- |
| Warranty | 12-month unlimited mileage limited warranty |
| Extensions | Coverage extension and additional benefits are available |
Conclusion
Suzuki 2019 QuadSport Z90 Quad Bike is an ideal choice and best quad bike brand for young riders who want to start their riding career in the quad bike world. The engine performs well in all situations. The chassis and frame design are similar to a large ATV. The color combination remains attractive. The overall seat height is kept low to ensure a safe ride. The brake and suspension systems are working correctly. In short, 2019 Suzuki Z90 Bike is a four-wheeled motorcycle that impresses young riders.