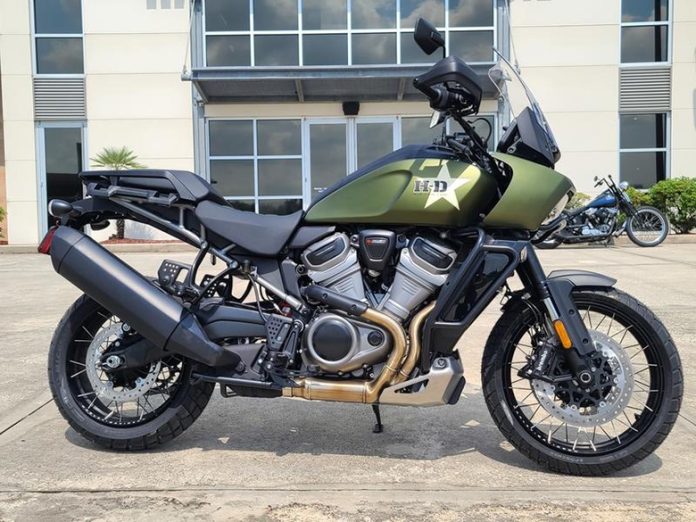 The Pan America 1250 Special G.I. 2022 Adventure Bike pays tribute to the Harley-Davidson community of riders who have served in the U.S. Armed Forces and are now doing so. It is a contemporary version of the military-issued appearance from decades ago. This limited-edition model is for people who are motivated by travel and dream of traversing countries and creating priceless experiences. It is covered in magnificent Mineral Green Denim Deluxe paint and has military-inspired patterns.
The liquid-cooled V-Twin Revolution Max 1250 engine powers this rugged, powerful, and technologically sophisticated motorcycle, the Harley-Davidson Pan America model, built from the bottom up to motivate rider confidence and stoke the spirit of adventure both off and on-road. The Pan America 1250 Special model has been the most popular adventure touring motorbike in North America since its inception in February 2021.
The G.I. Enthusiast Collection is covered in gorgeous Mineral Green Denim Deluxe paint, a brand-new shade developed just for this line, and finished with military-inspired designs. Exclusively the Pan America 1250 Special and Tri Glide Ultra models come with the G.I. Enthusiast Collection, which is only offered in small numbers especially for the American market.
According to Brad Richards, vice president of design at Harley-Davidson, "the new Mineral Green Denim Deluxe color pays special tribute to the Olive Drab paint used on Harley-Davidson WLA models." "This hue has a metallic sheen that creates a soft gold accent, enhancing the color travel's drama and highlighting the surfacing's form.
Richards continues, "The tank logo honors the distinctive white five-point star, utilized on military vehicles throughout WWII."The tank image also includes a stenciled 'H-D' and an abbreviated Milwaukee, Wisconsin location, which were drawn inspiration from the spec tags seen on officially sanctioned military gear. As lettering was typically done on the field, the stenciled technique is a treatment frequently seen on military vehicles. Here, we draw attention to the location of the original WLA models and the Harley-Davidson Motor Company's birthplace.
Pan America 1250 Special G.I. 2022 Adventure Bike – Features
All-new Revolution Max 1250 Engine
Here begins the new chapter in a century of storied V-Twins. With 150 horsepower, plenty of torque, and a roaring power band tailored to maximum rider control, Revolution Max is a liquid-cooled power plant.
Dual Purpose Powertrain
The elimination of the standard frame by the Revolution Max 1250, a structural part of the motorbike chassis, considerably lowers total weight and maintains tight handling. Because of the shallow center of gravity and robust chassis, this performance is ultimate.
Peak Performance
Higher peak horsepower is made possible by double overhead camshafts (DOHC), and independent variable valve timing (VVT) broadens the entire power band and improves torque management. It recommends that you will have as much high-RPM horsepower and low-end acceleration off the line as you can twist.
Revolutionary Suspension
Pan America 1250 Special G.I. 2022 Adventure Bike is the first vehicle to include adaptive ride height. By reducing seat height while stopped and maintaining a consistent, ideal suspension sag at speed by altering preload while continually monitoring weight inputs, this factory-installed accessory makes confidence tangible.
Semi-Active Front & Rear Suspension
Showa BFF (Balance Free Forks) front forks with 190mm (7.48 inches) of travel and a BFRC (Balanced Free Rear Cushion-lite) coil-over rear shock, including electronic preload adjustment and new semi-active damping, are both used. A new linkage system linking the shock, swing arm, and frame offers the new rear suspension a progressive sensation throughout the stroke.
Unique By Design
The design and technical teams at Harley-Davidson have created a concept based on usefulness inspired by enduring American off-road vehicles. Pan America 1250 Special G.I. 2022 Adventure Bike is a challenging take on a Harley-Davidson bike that combines function and design in a way that stands out in a sea of motorcycles that are becoming more similar.
All Terrain Long Hauler
The Pan America is built to retain a high-speed ride and handling performance even when loaded to its weight and baggage capacity, thanks to H-D's heritage. No matter how hard you push Pan America, it maintains its poise and assurance. It is a bike that is refined, competent, and intuitive.
Vehicle Loading Control
By automatically changing the rear preload, this technology notices the weight of the rider, passenger, and baggage to choose the ideal suspension sag.
Semi-Active Suspension System
To maintain an intended comfort setting, this system automatically responds to suspension position, vehicle speed, bike acceleration, roll angle and rate, throttle, brake inputs, and the chosen Ride Mode. Each Ride Mode is pre-configured with one of five profiles:
Off-Road Ready
Pan America 1250 Special G.I. 2022 Adventure Bike comes with several upgrades as standard for when you want to visit the uncharted territory.
The engine crankcase is sheltered from collisions by an aluminum skid plate.
Brush guards assist in calming the motorbike in the event of a tip-over and protect the radiator.
A steering damper to enhance dynamic performance when off-roading aggressively.
A brake pedal that is easily changeable without needing any tools enhances control and comfort when the rider is standing.
Semi-active front and rear suspension with a dedicated Off-Road mode that aids the rider in maintaining control and traction on more challenging terrain and roads
Great Expectations
The Pan America 1250 models come with the newest technology available on the market, including a 6.8′′ (173 mm) touchscreen with a six-axis IMU, selectable riding modes, Bluetooth connectivity, and moving map navigation capabilities.
Tubeless Laced Wheels
The spokes are put into the aluminum wheel rim external the tire bead as a factory-installed option. In off-road situations, these wheels offer several benefits over cast wheels for the rider.
With this unique design, a tubeless tire may be used, saving the overall weight of an inner tube, and the new spokes can be fixed easily on the spot. Without eliminating the wheel from the bike or the tire from the wheel, spokes that become loose or, in extreme cases, break may be repaired or replaced.
Adaptive Lighting
Advanced Day maker Adaptive Headlamp
This device automatically projects extra light into bends to highlight portions of the road that an LED headlight would not light without this latest technology by using the ABS IMU to guess the lean angle of the adventure bike.
Contains three LED components on each side, directly above the primary Day maker headlight.
Depending on the lean angle of the Pan America 1250 Special G.I. 2022 Adventure Bike, adaptive lighting turns on in order at 8-degree, 15-degree, and 23-degree.
An increased illumination is progressive and seems seamless since the current to the adaptable components ramps increasingly rather than abruptly turning on and off.
Pan America 1250 Special G.I. 2022 Adventure Bike – Price
The new Pan America 1250 Special G.I. 2022 Harley-Davidson Adventure Motorcycle is available for $20,799 only.
Pan America 1250 Special G.I. 2022 Adventure Bike – Technical Specifications
Dimensions
| | |
| --- | --- |
| Length | 89.4 inches (2,270 mm) |
| Overall Width | 38.4 inches (975 mm) |
| Overall Height | 59.4 inches (1,510 mm) |
| Seat Height, Laden (Low seat position) | 31.1 inches (789 mm) |
| Static Ground Clearance | 6.9 inches (175 mm) |
| Dynamic Ground Clearance (with optional suspension) | 6.9 inches (175 mm) |
| Rake (steering head) (deg) | 25 |
| Fork Angle (deg) | 25 |
| Trail | 4.3 inches (108 mm) |
| Wheelbase | 62.4 inches (1,585 mm) |
| Tires, Type | Michelin Scorcher "Adventure," Radial |
| Tires, Front Model | Scorcher Adventure |
| Tires, Front Specification | 120/70R19 60V |
| Tires, Rear Model | Scorcher Adventure |
| Tires, Rear Specification | 170/60R17 72V |
| Fuel Capacity | 5.6 gal. (21.2 l) |
| Reserve Fuel Capacity, Fuel Injection (warning light) | 1 gal. (3.8 l) |
| Oil Capacity (w/filter) | 4.75 qt. (4.5 l) |
| Transmission Capacity | N/A |
| Primary Chain Case Capacity | N/A |
| Coolant Capacity | 2.32 qt. (2.2 l) |
| Weight, As Shipped | 534 lb. (242 kg) |
| Weight, In Running Order | 569 lb. (258 kg) |
| Gross Vehicle Weight Rating | 1,003 lb. (455 kg) |
| Gross Axle Weight Rating, Front | 399 lb. (181 kg) |
| Gross Axle Weight Rating, Rear | 665 lb. (302 kg) |
| Luggage Capacity -Volume | N/A |

Engine
| | |
| --- | --- |
| Type | Revolution Max 1250 |
| Valves | Chain-driven, DOHC, hydraulic self-adjusting lifters, intake and exhaust VVT; four valves per cylinder |
| Bore | 4.13 inches (105 mm) |
| Stroke | 2.85 inches (72.3 mm) |
| Displacement | 76.4 cubic inches (1,252 ccs) |
| Compression Ratios | 13.0:1 |
| Fuel System | All-new Electronic Sequential Port Fuel Injection (ESPFI) |
| Air Cleaner | All-new Downdraft intake, tuned velocity stacks, washable filter media |
| Exhaust | 2-into-1-into-1; catalyst in the header |
| Lubrication System | Semi-Dry Sump |
Drivetrain
| | |
| --- | --- |
| Primary Drive | Gear, 49/89 ratio |
| Final Drive | Chain, 19/48 ratio |
| Clutch | Mechanical, eight plates wet, assist and slip, 1090N |
| Transmission | 6-Speed |
Chassis
| | |
| --- | --- |
| Frame | Stressed-member, extraordinary strength low alloy steel trellis frame; stamped, MIG welded; cast, & forged junctions; aluminum forged mid-structure |
| Swingarm | One-piece cast aluminum |
| Front Fork | 47mm of an inverted fork including electronically adjustable semi-active damping control. All-new aluminum fork triple clamps |
| Front Fork, Optional | 47mm of inverted fork including electronically adjustable semi-active damping control & Adjustable Right Height (ARH). Aluminum fork triple clamps |
| Rear Shocks | Linkage-mounted monoshock including automatic electronic preload control and semi-active compression and rebound damping |
| Rear Shocks, Optional | Linkage-mounted monoshock including automatic electronic preload control and, semi-active compression & rebound damping, and Adjustable Ride Height (ARH) |
| Wheels, Optional Style Type | Annodized aluminum tubeless laced |
| Wheels, Front Type | Aluminum cast, satin black |
| Wheels, Front Width | Three inches (76 mm) |
| Wheels, Front Height | 19 inches (483 mm) |
| Wheels, Rear Type | Aluminum cast, satin black |
| Wheels, Rear Width | 4.5 inches (114mm) |
| Wheels, Rear Height | 17 inches (432mm) |
| Brakes, Caliper Type | Front: radially attached, monoblock, 4-piston caliper; Rear: floating, solo-piston caliper |
| Brakes, Rotor Type | Front: dual rotor, floating, tower-attached; Rear: solid uniform expansion rotor |
| Brakes, Front Diameter | 12.6 inches (320 mm) |
| Brakes, Front Thickness | 0.17 inches (4.5 mm) |
| Brakes, Front is dual | Yes |
| Brakes, Rear Diameter | 11 inches (280 mm) |
| Brakes, Rear Thickness | 0.2 inches (5 mm) |
| Front brake lever free travel | N/A |
| Rear brake pedal free travel | N/A |
| Brakes, Anti-Lock Braking System (ABS) | Standard |
| Suspension Travel, Front | 7.5 inches (191 mm) |
| Suspension Travel, Rear | 7.5 inches (191 mm) |

Performance
| | |
| --- | --- |
| Engine Torque Testing Method | J1349 |
| Engine Torque | 94 ft-lb (127 Nm) |
| Engine Torque (rpm) | 6,750 |
| Power (Hp/kW) | 150 HP / 112 kW at 9000rpm |
| Lean Angle Testing Method | J1168 |
| Lean Angle, Right (deg.) | 42 |
| Lean Angle, Left (deg.) | 42 |
| Maximum hill-starting ability | N/A |
| Fuel Economy Testing Method | Estimated City/Hwy |
| Fuel Economy | 46mpg (5.1 l/100km) |
| CO₂ Emissions Testing Method | N/A |
| CO₂ Emissions | N/A |
Electric Specs
| | |
| --- | --- |
| Battery | Sealed, absorbed glass mat (AGM) battery, maintenance-free, 12V, 12Ah, 225 CCA @ 0-degree F |
| Charging | Three-phase, 45Amp system |
| Starting | 0.9 kW electric, including direct drive starter motor engagement |
| Lights, Headlamp | Daymaker Adaptive LED Headlamp including 6-segment LED banking lamp |
| Lights, Tail/Stop | All LED Tail/Stop lamps, including signature tail lighting |
| Lights (as per country regulation), Front Signal Lights | LED Bullet Turn Signals |
| Lights, Rear Turn Signals | LED Bullet Turn Signals |
| Gauges | 6.8-inch viewable area TFT display including speedometer, gear, odometer, fuel level, clock, trip, ambient temp, low temp alert, side stand down attention, TIP over attention, range, cruise, & tachometer indication BT capable |
| Auxiliary Lamps | N/A |
| Electric Power Outlet | USB C-Type, Output 5V @ 2.4 Amp |
| GPS System | N/A |
| Reverse Gear | N/A |
Warranty & Service
| | |
| --- | --- |
| Warranty | 24-month (unlimited mileage) |
| Service Interval | First 1,000 miles and every 5,000 miles after that |