This year, at Beta, one was likely to see the range Enduro RR 4-time to evolve but 2013 especially marked the arrival of 2-time in the Italian manufacturer. And it is not all: as each year Beta adds a little prickly with its range by proposing its motorcycles of Enduro in racing version.
Our Italian neighbors like to emphasize the motorcycles on any ground, and superb RR Enduro Racing is there to confirm it! But there appeared not only the esthetics which takes precedence over the RR Racing, since besides visually approaching the official motorcycles of the world championship Enduro EWC, Beta also adds some elements allowing to optimize a little more of its motorcycles. Three models will be declined in version Racing, the Beta 350 RR and Beta 450 RR 4T as well as the any news Beta 300 RR 2T.
The Racing version of the Beta RR Enduro exchanges its fork Sachs against Marzocchi of 48 mm to a closed cartridge, assembled with the hiding places green dust SKF which limit the friction and rise in anodic adjustable t-pieces black aluminum. Clarification with the pilots of Team Beta Factory, this fork should raise the level of performances of Beta RR in particular on degraded ground. The RR Racing is delivered with protect-hands for a better protection vis-a-vis the branches and to stone projections.
The footrests machined out of aluminum are lighter, more resistant and offer the best hangs to the boots. They also relative the cover of Factory saddle to the grip improved and a small pocket for the paperboards of pointing. Lastly, RR Enduro Racing receives the official kit deco motorcycles of the Enduro world championship.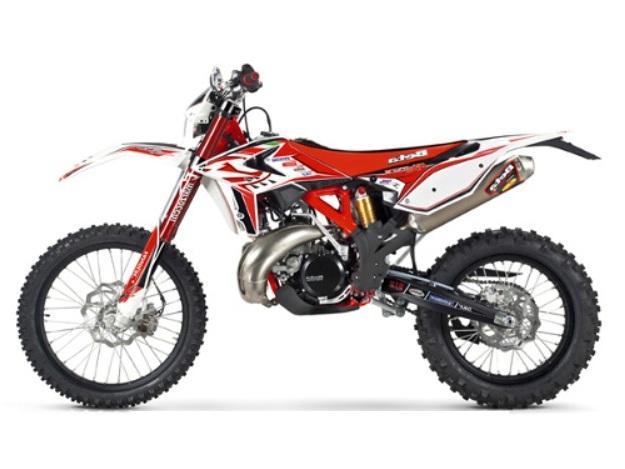 These limited editions are available right now at your dealers and distributors Beta: it is the moment to go to visit your preferred dealer…
Beta RR Racing 2013: Rates
Beta RR 350 4T Racing 2013: 9,250 € (Standard Version: 8,790 €)
Beta RR 450 4T Racing 2013: 9,250 € (Standard Version: 8,790 €)
Beta RR 300 2T Racing 2013: 8,250 € (Standard Version: 7,790 €)