For 2013, Victory Motorcycles inaugurates a new logo and to celebrate that, "the other American brand" accommodates a new member in the cruiser family. Victory Boardwalk will try to combine with the look custom of Kingpin, which it replaces, road aptitudes of Judge, of which it takes again the technical base. Enticing program!

Easy to live, cool and quite comfortable: thus Victory Motorcycle defines his second great innovation for the year 2013, which on its very own  way inaugurates the new logo of the brand, which aims to reinforce the modern identity of the brand and to leave unambiguous the "historical" crenel to future "the Indian by Polaris". This new cruiser – which will replace Kingpin with the Victory catalog – again takes the platform of the Victory Judge, introduced earlier in the year, but in a definition more custom.
Victory Boardwalk thus inherits rims with 60 rays, of Metzler which tires to white side (150 mm in the back, 130 mm with before), of very enveloping mudguards, a new reserve of 17.8 liters, footboards controls, of a large handlebar and a good chromium amount. For the rest, Victory Boardwalk takes again the framework steel, the oscillating arm aluminum, the suspensions and V-twin Freedom 106 (1 731 Cm3) of Judge. The saddle – two-seat – perched to 658 mm of the ground should not pose problem with the courts in legs. One will perhaps not say of it as much the handlebar, announced like broadest of the range.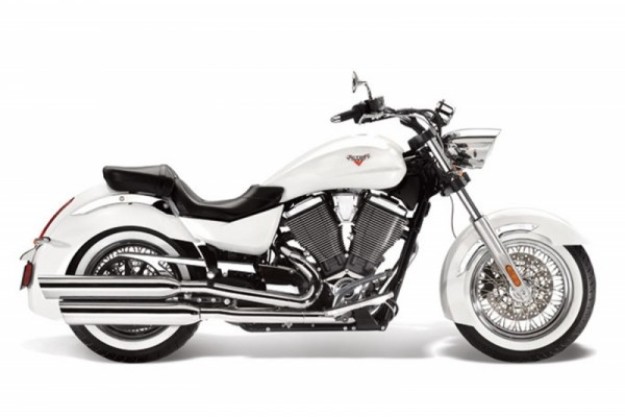 In addition, Victory Boardwalk could be transformed into toured light and for this thanks to a whole catalog of accessories including side satchels Lock & Wrinkle (detachable in 30 seconds), windshield, momentary file, and carry-luggage. The news Victory Boardwalk will be available in October 2012 in black or white too, with a still unspecified rate, but which one can estimate between 15 500 and 16 500 €.