At a few days of opening of living room EICMA of Milan 2012, MV Agusta makes us pretty surprised, revealing its new roadster 3 cylinders which should make speak about him. Muscled version from current Brutale the 675, the Brutale news MV Agusta 800 2013 promises the ideal compromise: fire power of one 1000 (or almost) and agility of a rolled average. That feels the powder!
With the disappearance from Brutale the 920, one thought that the range MV Agusta roadster 2013 would be limited to the three Brutale 1090, 1090R and 1090 RR and small Brutale the 675. But Varese held a surprise, revealed for us this morning by line of communication. Whereas one expected a super mortared 675, its finally the one MV Agusta Brutale 800 2013 which is presented to us, in its broad outline like Brutale 675, is inflated in cubic capacity.
With 167 kg announced for a power of 125 ch. with 11 600 tr/min, but especially a couple of 8.1 daN.m with 8 600 tr/min, the Brutale news 800 2013 is announced like a serious competitor in the coveted circle of the roadsters acting as sports of rolled average.
Side part-cycle, MV Agusta Brutale 800 2013 inherits electronic pack MVICS (wrinkle by wire, multiple and anti-skid cartography on 8 levels), of the very good framework lattice house, adjustable suspensions and radial clamps Brembo racing. The style remains faithful to him so that one knows – and that one appreciates – in the productions of Varese, of which the typical exhaust box at three exits of the 3-cylinders of the mark.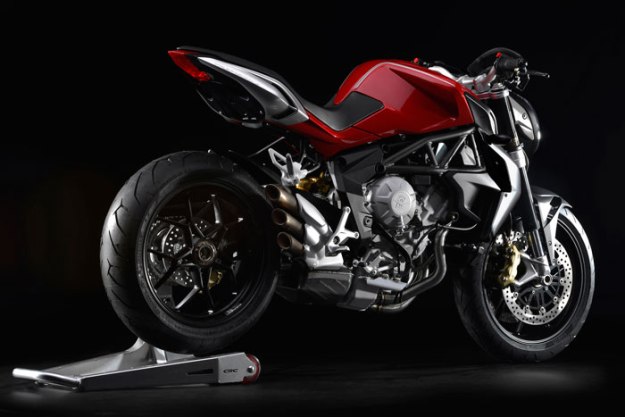 MV Agusta Brutale 800 2013 will be available in four colors (ruby metal and money, white and red mamba, gray metal and beaded, white and blue white beaded) with a tariff going of 10 390 € with 10 990 €, variable according to the taxes specific to each market. For as much, a question arises in an obvious way: doesn't this 800 risk a cannibalize MV Agusta 675 current, sold it – according to the concessions – around the 9,500 to 10,000 €? Answer as soon as possible.