The MV Agusta is well-known bike brand due to its amazing shape and outstanding performance and this year it has launched its new MV Agusta 2018 Turismo Veloce 800 Naked Bike. It is one of the boldest bike ever made by MV Agusta offering incredible riding experience of all times. Its shape is kept aggressive and has awesome graphics. The engine has been optimized for an outstanding performance making it the fast touring bike. It is available in two color options i.e. Mica Blue/ Dark Metallic Opaque Grey and Grey/ Dark Metallic Opaque Grey. The review of new MV Agusta 2018 Turismo Veloce 800 Naked Bike with its specifications and pictures are given below.
MV Agusta 2018 Turismo Veloce 800 Naked Bike – Specifications
Engine
The new MV Agusta 2018 Turismo Veloce 800 Naked Bike features the powerful medium size 800 cc inline three-cylinder engine. This engine has been optimized to deliver 20 % more torque at 2100 less rpm. It was all possible due to redesigning of the engine profile and by using the new piston, newly dedicated intake, and exhaust system with better mapping strategies. The overall performance was enhanced by the use of three-cylinder split. This three-cylinder engine features different characteristics making this MV Agusta bike a milestone in terms of technology applied to the standard production bike. The engine has an oil and water cooling systems that have been built into the engine casting working well in maintaining the overall temperature of the engine. The cast and forged aluminum surfaces lie the counter-rotating crankshaft that has been derived directly from MotoGP. It was introduced as a standard in MV Agusta F3 675 and it comprises the MV Agusta three-cylinder engine. It has the best fluid dynamic and thermodynamic principle with an advanced electronic engine management systems offering specific fuel mapping settings to be designed to provide better performance for both touring and sport riding modes. The new hydraulic timing chain tensioner and the hydraulically controlled clutch have been used but at the same time, it also boasts the mechanical slipper clutch. All of these new equipment allows having a longer service interval i.e. 15,000 km. The spark plug changes and valve adjustment interval is about 3000 km. The powerful battery and alternator have been used i.e. 450W. The new exhaust system consists up of 400 cell catalytic converter.
Electronics
The new MV Agusta 2018 Turismo Veloce 800 Naked Bike comes with the latest electronics system at all times. It comes with the second generation of MVICS 2.0 (Motor and Vehicle Integrated Control System) that has the ability to customize the engine mapping. There are three mapping options available for the riders to tune into. The Turismo option is especially for the touring and it limits the engine output to 90 HP only. The second option is Sports setting which increases the engine output to the maximum output to 110HP while the Rain option is best for those surfaces where there is poor grip and Traction Level is kept at its maximum like in 2018 MV Agusta RVS # 1. There is another important Custom option available for those riders who want to select the various parameters with their own choice. Some of these parameters include power output, throttle sensitivity, engine braking, and engine response and traction control. There are some new parameters also included in new MV Agusta 2018 Turismo Veloce 800 Naked Bike which includes the handlebar controls. The rider can easily gain access to the instrumentation menu by using the dedicated buttons. The latest instrument cluster displays all the necessary information and it is specially designed for this latest model. It consists up of five inches of bright and ultra-modern color TFT display offering plenty of board electronic parameters. There is an advanced GPS data acquisition system available for this bike offering the full data during a ride. The rider can then further analyze the data to check the performance. There is the perfect arrangement of TFT panels and ultimate ergonomics, the rider has a perfect view of the road. This naked bike also features the Bluetooth technology, which establishes the connection between the rider and vehicle allowing his to check the riding experience through the dedicated apps.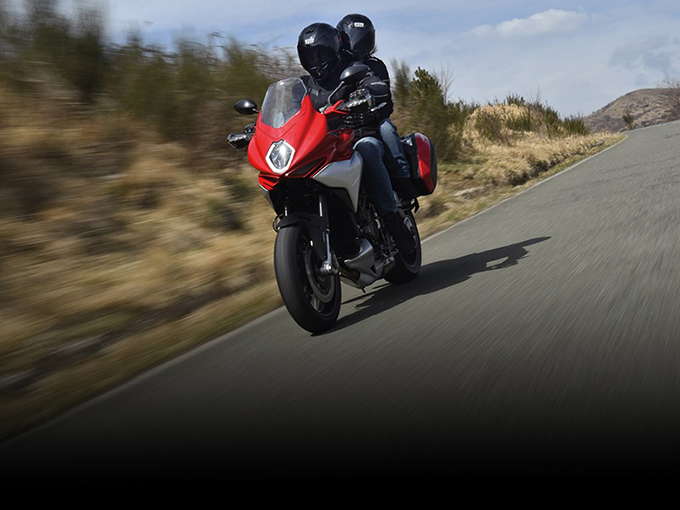 Design
The new MV Agusta 2018 Turismo Veloce 800 Naked Bike features an impressive design with perfect ergonomics. The overall design has been perfectly well balanced, slim, sleek and attractive. Its 30-liter fuel tank capacity is been integrated into the seat and saddle is carefully mounted into the frame for the excellent riding position. Its latest side panniers feature the regular volume that has the ability to accommodate the flip-up helmet and they have two indentations where the rider's legs can rest comfortably. The fuel tank is narrow in the area that comes in contact the knees. The overall design is been dominated by the full LED light clusters and an all-new three-muffler exhaust layout. It features the semi-fairing having the clean and tidy design and an adjustable windshield. There is a space of about two glove boxes in it that can be snap closed while the handguards have new built-in turn indicators. The new two saddle portions are fully comfortable and refined while the passenger seating area is perforated and has sporting exposed stitching. The new lightweight alloy wheels have been used and its rear wheel contains 6 inches channel.
Frame and Suspension
The new MV Agusta 2018 Turismo Veloce 800 Naked Bike features the steel tubing frame having the front set off by aluminum alloy side plates. They are entirely redesigned to meet the specific requirements. The middle section is kept wider and it contains the special plates, which have been designed to act as an anchor for the center stand. It provides the best saddle support to the riders and passengers and its saddlebags feature the lightweight aluminum alloy support system. Its suspension system has been developed to provide the maximum comfort during a touring and ultimate performance in the sporty ride. Its latest Sachs front forks and rear shock absorber comes with the sophisticated electronic control system offering the best response to all riding conditions by continuously monitoring and changing the hydraulic settings. Its ECU contains an inertial platform that gives the vital parameter readings key to its continuous suspension settings changes plus it features the Skyhook algorithm. This awesome algorithm was developed by MV Agusta. An all-new system acts on its hydraulic compression and rebound reading when the motorcycle is in motion.
Unique Key Features
WITH ABS BOSCH 9 PLUS
RLM (REAR WHEEL LIFT-UP MITIGATION)
EAS 2.0
MV Agusta 2018 Turismo Veloce 800 Naked Bike – Technical Specifications
Engine
Type
Three cylinders, 4 strokes, 12 valve
Timing system
"D.O.H.C" with mechanical chain tensioner
Total displacement
798 cm3 (48.7 cubic inches)
Compression ratio
12.2:1
Starting
Electric
Bore x stroke
79 mm x 54.3 mm (3.1 inches x 2.1 inches)
Max. Power – RPM (at the crankshaft)
81 kW (110 HP) at 10.150 RPM
Max. Torque – RPM
80 Nm a 7.100 giri/min
Cooling system
Cooling with separated liquid and oil radiators
Engine management system
Integrated ignition – injection systemMVICS 2.0 (Motor & Vehicle Integrated Control System) with three injectors.
Engine control unit Eldor EM2.0, throttle body full ride by wire Mikuni, pencil-coil having an ion-sensing technology, control of detonation and misfire. Torque control comes with the four maps, Traction Control has eight different levels of intervention having lean angle sensor
Electronic quick shift
MV EAS 2.0 (Electronically Assisted Shift Up & Down)
Clutch
Hydraulic clutch, wet multi-disc with slipper clutch
Transmission
Cassette style; six speed, constant mesh
Primary drive
22/41
Gear ratio
First gear: 13/37
Second gear: 16/35
Third gear: 18/32
Fourth gear: 20/30
Fifth gear: 22/29
Sixth gear: 21/25
Final drive ratio
16/41
Electrical Equipment
| | |
| --- | --- |
| Voltage | 12 V |
| Alternator | 450 W at 5000 RPM |
| Battery | 12 V – 11 Ah |

Dimensions and Weight
| | |
| --- | --- |
| Wheelbase | 1445 mm (56.89 inches) |
| Overall length | 2125 mm (83.66 inches) |
| Overall width | 910 mm (35.83 inches) |
| Saddle height | 850 mm (33.46 inches) |
| Min. ground clearance | 140 mm (5.51 inches) |
| Trail | 108 mm (4.25 inches) |
| Dry weight | 191 kg (421.1 lbs.) |
| Fuel tank capacity | 21.5 liters (5.68 U.S. gal.) |
Performance
| | |
| --- | --- |
| Maximum speed | 230 km/h (143 mph) |
Frame
| | |
| --- | --- |
| Type | ALS Steel tubular trellis (MAG welded) |
| Rear swing arm pivot plates material | Aluminium alloy |
Front Suspension
| | |
| --- | --- |
| Type | Marzocchi "UPSIDE DOWN" telescopic hydraulic fork having the rebound-compression damping with spring preload external plus it has separate adjustment |
| Fork diameter | 43 mm (1.69 inches) |
| Fork travel | 160 mm (6.30 inches) |

Rear Suspension
| | |
| --- | --- |
| Type | Progressive Sachs, solo shock absorber having rebound and compression damping with latest spring preload adjustment |
| Single sided swing arm material | Aluminium alloy |
| Wheel travel | 165 mm (6.50 inches) |
Brakes
| | |
| --- | --- |
| Front brake | Dual floating disc with Ø 320 mm (Ø 12.6 inches) diameter having steel braking disc and flange |
| Front brake caliper | Brembo radial-type having 4-piston Ø 32 mm (Ø 1.26 inches) |
| Rear brake | Single steel disc with Ø 220 mm (Ø 8.66 inches) diameter |
| Rear brake caliper | Brembo with 2 pistons – Ø 34 mm (Ø 1.34 inches) |
| ABS System | Bosch 9 Plus having RLM (Rear wheel Lift-up Mitigation) |
Wheels
| | |
| --- | --- |
| Front: Material/size | Aluminium alloy 3.50″ x 17″ |
| Rear: Material/size | Aluminium alloy 6.00″ x 17″ |
Tyres
| | |
| --- | --- |
| Front | 120/70 – ZR 17 M/C (58 W) |
| Rear | 190/55 – ZR 17 M/C (75 W) |
Fairing

Original Equipment
Included accessories
Immobilizer – Bluetooth –
Cruise control – Adjustable windshield
Optional
Bags (30 l – 7.92 U.S. gal. each) – Heated Grips
Center stand
Emissions
| | |
| --- | --- |
| Environmental Standard | Euro 4 |
| Combined fuel consumption | 5.8 l/100 km |
| CO2 Emissions | 129 g/km |

Conclusion
This article is about the review of all-new MV Agusta 2018 Turismo Veloce 800 Naked Bike and it is covered under the best review site i.e. www.bikescatalog.com. It comes with the powerful engine that is capable to deliver the better performance under all conditions. The engine has been optimized for three mapping settings. Its attractive chassis not only looks good but it is very comfortable as well. It has the full support of the latest technology and equipment.