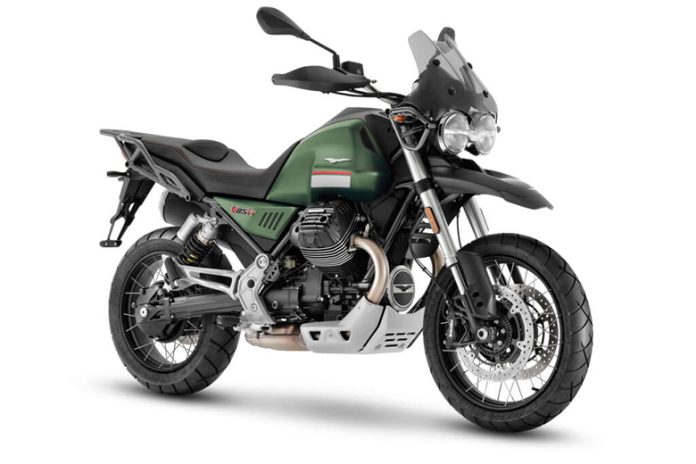 The Moto Guzzi 2022 V85 TT Enduro Bike and the V8 TT TRAVEL can't be described in any other way. The Euro 5-compliant engine produces more torque at low and medium speeds, producing more robust and exhilarating performance than ever before. Even the most experienced riders can find something to get their heart beating with the five riding modes. In the aesthetics department, there are magnificent tubeless wheels and eye-catching new graphics that highlight every curve of the bike, not to mention the impact they'll have on passers-by as you glide over the road's bends. You're anxious to put on your helmet, aren't you?
Moto Guzzi 2022 V85 TT Enduro Bike – Features and Specs
Electronic Systems
If three riding modes weren't enough, the new Moto Guzzi 2022 V85 TT Enduro Bike now has two more, making controlling traction, ABS, and pick-up through the Ride-by-Wire handlebar control more straightforward. Cruise control and a brand new color TFT instrument panel are standard. The accessories catalog is brimming with options like Moto Guzzi MIA, a multimedia platform that links your smartphone to your bike to offer a magnificent suite of capabilities.
Engine
The engine is the classic Moto Guzzi air-cooled transverse 90° V twin-cylinder engine with OHV distribution and two valves per cylinder since you don't mess with a successful recipe. However, in true Mandello eagle fashion, we're not resting on our laurels, so we've added more torque at low and medium speeds, as well as a redesigned electronic engine management system.
Wheels Tubeless tires are now mounted on spoked rims, lowering unsprung weight by about 1.5 kg and improving riding dynamics even further.
A bike for a living, not Simply Riding
The V85 TT is the ideal partner for everyday commuting or daring excursions, being sleek, practical, and boasting the iconic Moto Guzzi design. There are no compromises regarding comfort and performance, which is vital in a market that is becoming more cookie-cutter. When it comes to a vintage enduro, the V85 TT has undoubtedly delivered on its objective to blend iconic design with all the bells and whistles of a contemporary enduro touring bike. It gets the title of First and Only in Class.
Distance poses no problem
The Moto Guzzi 2022 V85 TT Enduro Bike is equipped with the same technology as its V85 TT Travel brother. The Touring windscreen, Urban series side panniers with greater capacity and decreased weight, LED auxiliary lighting, adjustable heated handgrips, and the Moto Guzzi MIA multimedia platform are all available options.
It looks like it packs a punch
The new Moto Guzzi 2022 V85 TT Enduro Bike is available in three new graphic variants, each designed to highlight the curves of its elegant frame. Choose from black Nero Etna, yellow Giallo Mojave, or the startling crimson Rosso Uluru.
A Smooth Ride All the Way
The new V85 TT is built to take on any obstacle and is an ode to adventure in the most acceptable meaning of the term. It is a bike that brings style, utility, toughness, and exceptional performance to the party. It is now Euro 5-compliant, combining the newest technologies, an incredible degree of comfort, and the glorious tradition of the Moto Guzzi brand.
Poised For Adventure
The V85 TT is laid-back, practical, and a delight to ride, transforming even the most mundane daily outing into an adventure. The Mandello eagle's pride and joy: the transverse 90-degree V twin air-cooled engine with OHV distribution and two valves per cylinder is shown by its sleek, sculpted lines. This 853cc gem produces 76 horsepower and 82Nm of torque at 5000 rpm. Add in the legendary gasoline tank, which has a record capacity of 23 liters, and you've got 400 kilometers of thrilling adventures ahead of you.
Easy Rider
Even for the tallest rider or while fully upright on an off-road trip, the seat posture and ergonomics have been carefully engineered to optimize visibility. Your feet may gently touch the ground because of the 830 mm standing height and small underbody, while the dry weight is just 211 kg. It translates to a comfortable riding posture and precise bike control, even when fully laden.
Ready For Any Type of Terrain
The Moto Guzzi 2022 V85 TT Enduro Bike is equipped with many off-road features, including handguards, a high front mudguard, and an exhaust with a silencer, to mention a few. It also has complete LED lighting, including a magnificent twin front headlight with DRL in the shape of the Moto Guzzi eagle and a rear LED bulb that evokes the picture of an enormous whoosh of air as a jet takes off.
A Dream with Open Eyes
The new Moto Guzzi 2022 V85 TT Enduro Bike and V85 TT Travel can't be defined any other way. Thanks to a solid and enjoyable euro 5 engine that produces higher torque at low and medium speeds. An adventure led by five riding modes intended to surprise even the most seasoned riders. Tubeless wheels and fresh graphics make every travel more enjoyable. One can't wait to get back in the saddle, can he?
Electronic Systems
Two additional Riding Modes join the three currently available, making it easier to regulate traction control, ABS, and the Ride-by-Wire throttle's responsiveness. Cruise control and an all-new color TFT instrument panel are standard features. Moto Guzzi MIA, a multimedia platform that links the smartphone to the car and extends the instruments' functionality, is also included in the extensive list of specific accessories.
Motor
The Mandello Eagle's construction scheme is based on the distinctive one used by all Moto Guzzi bikes: an air-cooled 90° transverse V-twin with rod and rocker arm distribution and two valves per cylinder, as is the Mandello Eagle's pride and history. With upgraded engine control electronics, the unit has more low and mid-range torque.
You look for
The spoked rims that now house tubeless tires are brand new: combined, they save roughly 1.5 kg in weight, lowering unsprung masses and improving the already exceptional driving dynamics.
You don't ride; you live. It's essential, practical and full of the flair that has made Moto Guzzi famous. Without sacrificing comfort or performance, the V85 TT is ready to accompany you from your daily commute to adventurous trips. An increasingly unique bargain in a more homogenized market, the V85 TT accomplishes an ambitious aim by blending a legendary look with current travel enduro capabilities. As a result, it is the first and only classic enduro on the market.
Distance is never a problem
V85 TT Travel gets all of the V85 TT's technological improvements. It is distinguished by its comprehensive set-up, which includes the Touring windscreen, the Urban series side cases with high capacity and decreased lateral dimensions, a pair of extra LED lighting, and a set of adjustable heated grips, as well as the Moto Guzzi MIA multimedia platform.
Moto Guzzi 2022 V85 TT Enduro Bike – Technical Specifications
Engine
| | |
| --- | --- |
| Type | Transversal 90° V-twin, two valves per cylinder (titanium intake). |
| Cooling | air |
| Displacement | 853 cc |
| Bore and stroke | 84 x 77 mm |
| Maximum power | 76 CV (56 kW) – 7.500 rpm (Also available at 35 kW, A2 driver license). |
| Maximum torque | 82 Nm – 5.000 rpm. |
Emission Standards
| | |
| --- | --- |
| Compliance | Meets European Directive Euro 5 |
| Emissions | 119 g/km (CO2) |
| Consumption | 4,9 l/100 km |
Transmission
Dimension and Weight
| | |
| --- | --- |
| Fuel tank | 23 l (5 reserves) |
| Seat height | 830 mm. |
| Dry weight | 209 kg. |
| Kerb weight | 230 kg |
Chassis
| | |
| --- | --- |
| Front Suspension | Upside-down hydraulic telescopic fork Ø 41 mm, with adjustable extension and spring preload. |
| Rear Suspension | Swingarm Twin-sided with lateral mono shock absorber, adjustable extension, and spring preload. |
| Front-wheel | Cross-spoked tubeless wheel, 19″ 110/80. |
| Rear wheel | Cross-spoked tubeless wheel, 17″ 150/70. |
| Front brake | Double stainless steel floating disk Ø 320 mm, radial Brembo calipers with four opposed pistons. |
| Rear brake | Stainless steel disk Ø 260 mm, floating two pistons caliper. |
Others
| | |
| --- | --- |
| Features | Display TFT, full LED lights, Ride by Wire, 5 Riding Mode (Street, Rain, Offroad, Sport, Custom), Cruise Control, Handguard, Aluminium sump guard, MGCT |