Take an SX bike, add a little more horsepower and a few more pounds of torque, a longer-range fuel tank, and an 18-inch rear tire, and you're well-equipped to rule the dirt. KTM's 300 XC TPI is, in my opinion, the best cross-country racer on the market. One of the most powerful cross-country machines on the market because of its minimal weight and rock-solid handling. Now that the KTM 300 XC TPI 2021 Dirt Bike has the TPI moniker, it reflects the company's unwavering dedication to 2-stroke technology. Additionally, the technology eliminates the need for fuel pre-mixing and re-jetting, allowing the engine to operate more consistently with less effort, resulting in a significant reduction in fuel consumption and emissions. The KTM 300 XC TPI is the rock-solid TO RACE two-stroke 300 ever made. It's a race-ready machine.
KTM 300 XC TPI 2021 Dirt Bike – Features and Specs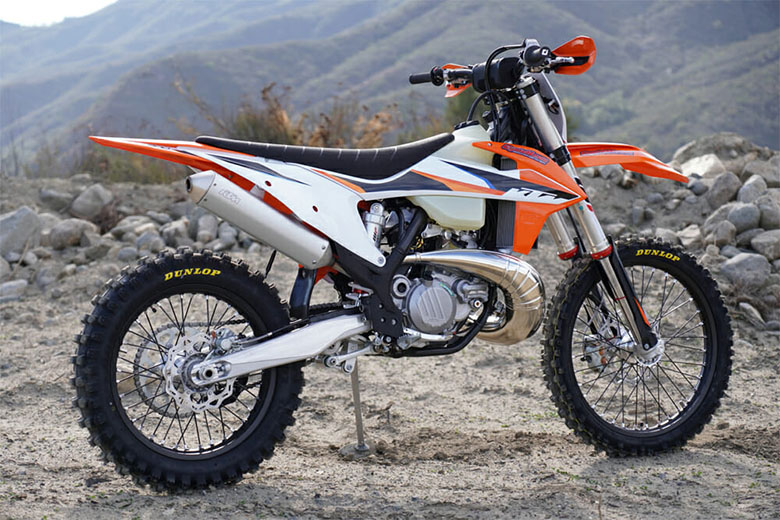 Exhaust
The exhaust plays a significant part in power delivery and performance, delivering a powerful punch. The HD (heavy-duty) exhaust pipes of the 250 cc and 300 cc versions are created utilizing a new 3D stamping method that results in a ribbed surface finish. It significantly improves the pipe's resistance to rocks, as well as its ability to suppress noise. Using an aluminum mounting bracket, the silencer is attached to the vehicle's exhaust system in a compact form factor. Additional features include a low-profile exhaust design and better ground clearance, while a perforated inner silencer tube combines with lighter dampening material to reduce noise more effectively.
Engine
Known and respected, the 300 cc 2-stroke engine is regarded as the most powerful 2-stroke in its class. The power train is more refined than ever before thanks to cutting-edge engineering, creative 2-stroke architecture, and groundbreaking TPI fuel injection technology. Enduro riders looking for an easy-to-ride Enduro machine with the power and torque to handle the delivering peaks might choose a 2-stroke.
Airbox
Together with the intake snorkel, this design ensures maximum protection of the air filter from soiling, as well as optimum airflow, resulting in excellent power and throttle response. Cage-mounted Twin Air air filter keeps the system in place simultaneously. Even if your face was covered with dirt, you could still insert this design. Without the aid of any kind of equipment. In a matter of moments.
Frame
Chrome-moly steel, a high-tech alloy, is a lightweight frame material renowned for its superior handling, incredible rideability, pinpoint accuracy in the corners and outstanding stability. The frame's rigidity has also been meticulously calibrated. Consequently, the energy generated by the front and rear suspensions are better absorbed, and each leap and bump is absorbed better. It's all about making the rider's life easier and reducing their level of weariness. For more accurate cornering and less vibration, lightweight aluminum engine head stays (the connection between the cylinder head and the frame) are used. The company's engineers achieved a 2.2-pound weight advantage over the market's lightest rival. The design provides more room for the tank and other components, as well as is simpler to maintain and work. In addition, the bike has an aluminum subframe that weighs less than 2 pounds.
Seat
High foam cushioning and a newly contoured surface in the XC range provide enhanced ergonomics and a far better seat experience. One long, lateral screw secures the seat to the bike, making it safe and straightforward to use.
Handlebar
The handlebars of a KTM motorcycle are in the hands of experts. NEKEN's high-strength aluminum tapered unit incorporates a throttle assembly with a twin-cable for TPI models exactly like their 4-stroke siblings with a double-cable aluminum body and simple free-play adjustment.
KTM 300 XC TPI 2021 Dirt Bike – Price
The new KTM 300 XC TPI 2021 Dirt Bike is available at $10,199 only.
KTM 300 XC TPI 2021 Dirt Bike – Technical Specifications
Engine
| | |
| --- | --- |
| Transmission | 6-speed |
| Starter | Electric starter |
| Stroke | 72 mm |
| Bore | 72 mm |
| Clutch | Wet, DDS multi-disc clutch, Brembo hydraulics |
| Displacement | 293.2 cm³ |
| EMS | Continental EMS |
| Design | 1-cylinder, 2-stroke engine |

Chassis
| | |
| --- | --- |
| Weight (Without Fuel) | 101.3 kg |
| Tank Capacity (Approx.) | 8.5 l |
| Front Brake Disc Diameter | 260 mm |
| Rear Brake Disc Diameter | 220 mm |
| Front Brake | Disc brake |
| Rear Brake | Disc brake |
| Chain | 5/8 x 1/4″ |
| Frame Design | Central double-cradle-type 25CrMo4 steel |
| Front Suspension | WP XACT-USD, Ø 48 mm |
| Ground Clearance | 370 mm |
| Rear Suspension | WP XACT Monoshock with linkage |
| Seat Height | 950 mm |
| Steering Head Angle | 63.9 ° |
| Suspension Travel (Front) | 310 mm |
| Suspension Travel (Rear) | 300 mm |