The KTM 2021 125 SX Off-Road Bike is the most compact and lightweight full-size motorcycle available and offers an unmatched ride in terms of confidence. A lightweight chassis combines with the class's most competitive 125cc 2-stroke engine to give excellent agility and power to meet the needs of any teenage adrenaline junkie. This two-stroke screamer is the ultimate gateway to the professional ranks and a sure-fire way to add to the trophy collection.
KTM 2021 125 SX Off-Road Bike – Features and Price
Exhaust
When it comes to uninterrupted power delivery and performance, the exhaust system built exclusively for this bike is critical and packs an unbeatable punch. Additionally, its unique design allows for smaller ergonomics while still functioning safely within racing noise limitations.
Engine
The KTM 125 SX engine is unquestionably the most competitive and robust in its class once again. With an exceptional power-to-weight ratio, low cost, and overall simplicity, it's evident that 2-strokes will continue to thrive at KTM. The lightweight and durable 37.9 lb. engine was created employing cutting-edge KTM engineering expertise, resulting in a broad powerband across the rpm range. Its effortless rideability and outstanding performance translate into faster lap times and improved results.
Airbox
The KTM 125 SX's airbox ensures excellent flow dynamics, which, when combined with the intake snorkels, results in maximum power and quick throttle response. Despite the obvious performance benefits, the design provides optimal protection against air filter contamination. The oversized Twin-Air air filter is installed on a sturdy cage that minimizes the possibility of erroneous installation. As with previous generations, filter maintenance is simple and requires no tools – a standard, unique characteristic from KTM.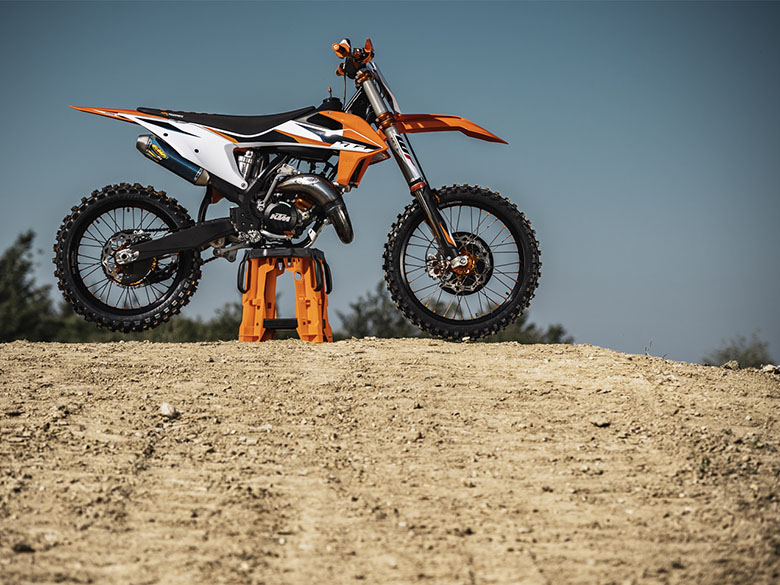 Frame
The KTM 125 SX's frame and subframe are designed to accommodate the extreme riding styles associated with 125 cc racing. The frame is expertly constructed using hydroformed chromium-molybdenum steel tubes that are robot welded to ensure the highest level of consistency in quality. The stiffness has been precisely tuned for the most dynamic handling and works in unison with the suspension to deliver agile agility without sacrificing high-speed stability. Additionally, the frame incorporates "no dirt" footpegs that feature a simple but effective self-cleaning technology that assures the footpegs return to their original position in all conditions. All SX frames are powder coated to the same high grade as the KTM Factory machines and include standard frame protectors. The aluminum subframe provides rear fender stability and robust support for the rider with a weight increase.
Footpegs
Sophisticated 'no-dirt' footpegs prevent the footpeg pivot from becoming clogged with dirt, even while digging in deep ruts. Are you looking for a more elevated riding position? Then just install the 2019 EXC models' footpegs, which are 6 mm higher than the SX models.
Seat
All KTM SX models come standard with a seat designed to complement the range's dynamic, performance-oriented ergonomics. Silicone stripes on the seat cover improve the rider's sensation and grip. The seat is secured to the bike with a single long, lateral screw, making it both secure and easy to handle.
KTM 2021 125 SX Off-Road Bike – Price
The new KTM 2021 125 SX Off-Road Motorcycle is available at $7,399 only.
KTM 2021 125 SX Off-Road Bike – Technical Specifications
Engine
| | |
| --- | --- |
| Transmission | 6-speed |
| Starter | Kickstarter |
| Stroke | 54.5 mm |
| Bore | 54 mm |
| Clutch | Multi-plate clutch, Brembo hydraulics |
| Displacement | 124.8 cm³ |
| EMS | Kokusan |
Chassis
| | |
| --- | --- |
| Weight (Without Fuel) | 87.5 kg |
| Tank Capacity (Approx.) | 7.5 l |
| Front Brake Disc Diameter | 260 mm |
| Rear Brake Disc Diameter | 220 mm |
| Front Brake | Disc brake |
| Rear Brake | Disc brake |
| Chain | 5/8 x 1/4″ |
| Frame Design | Central double-cradle-type 25CrMo4 steel |
| Front Suspension | WP XACT-USD, Ø 48 mm |
| Ground Clearance | 375 mm |
| Rear Suspension | WP XACT Monoshock with linkage |
| Seat Height | 850 mm |
| Steering Head Angle | 63.9 ° |
| Suspension Travel (Front) | 310 mm |
| Suspension Travel (Rear) | 300 mm |