Between Swing 125 and the Honda SW-T 400, Honda will be able to count on a new GT: Honda Forza 300 in the year 2013. The scooter premium with the dynamic spirit is of return and if it loses its lucid multimedia transmission, it, on the other hand gains power and refinement. Its cycle part also evolves.
Here we are reassured! After the disappearance of most prosperous and cogent of the Japanese scooters of rolled average, Honda Forza 250 is the one that returns to us not bad in 2013 transformed. Like the townsmen seeking to dissociate standards of the market, preserve it its line collected, but its careen-age adopt new forms whose angles are more marked. The new fancies and the new back part impose the respect. As a result with the first glance, this new Honda Forza 300 2013 appears more incisive and dynamics than before, the increase in cubic capacity also reinforces this impression.
But thirteen years after the appearance of the first model, the 4th shutter of the Forza saga does not forget either what made its reputation. New Honda Forza 300 2013 indeed would be a scooter enjoying an exemplary quality of manufacturing and top-of-the-range equipment, announces Honda. It would be also powerful, always pleasant to use (although it loses its famous system of multimedia transmission), nimble downtown and particularly too safe. Let us see that in details more!
Honda Forza 300 2013 adopts one-cylinder SH 300i
To reinforce the performances of Forza, Honda grafted to him the one-cylinder that is one of its large-wheels Honda SH 300i have been operated many modifications to adapt it to the GT kind. It is mono cubing 279 Cm3 (249 Cm3 on old Forza 250), 4 times, simple camshaft at the head, capped of a cylinder head with 4 valves and developing a power of 24.5 CH with 8,250 tr/min (against 21.8 CH. with 7,500 tr/min on fire 2.5). Compared to Honda SH 300, the mono one of new Honda Forza 300 2013 adopts a cylinder off-set of 5 mm backwards in order to lower frictions.
The shape of the combustion chamber was worked over again, like the conduits of admission and exhaust and the coolant circuit as well. With final, compared to thermal group of the large-wheels more powerful (27.2 CH. with 8,500 tr/min), Honda indicates to have increased his output with all the modes, but also with being parvenu to lower its requirements out of petrol (that Honda announces with 3.2 l/100 km, that is to say an autonomy of 350 km).
Of course, we will not fail to check that Honda Forza 300 2013 is available. Side reliability, thanks to the adoption of tumblers with rollers, of a crankshaft assembled on smooth bearings and the presence of tight casings by which the longevity of the block would be increased.
(Expensive) The transmission S-Matic multi mode of the old version disappears. One thus finds on new Forza a classical transmission, where the automatic clutch is associated with the V-Matic system. This one is parametric of such kind to support the response to accelerate and low the speed as well.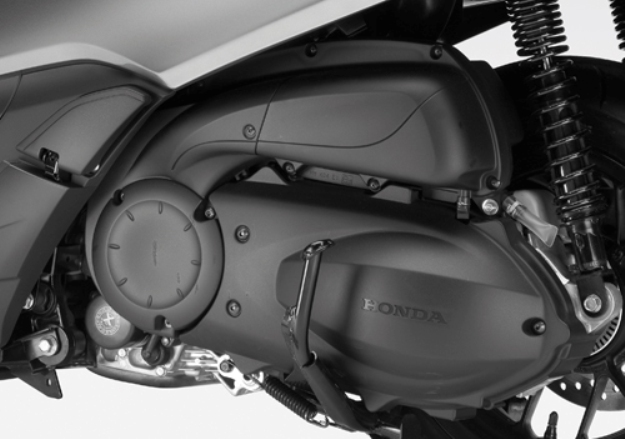 Frame: Technology "Rigid & Flex"
This new engine comes to be placed within a new open framework out of steel tubes, 10% lighter than that of Forza 250. This framework adopts technology called "Rigid & Flex", being articulated around two distinct parts. Steering column with builds back, a first part constitutes the rigid element, which is associated with a flexible part occurring on the level of the lower tube until the top of the back loop. This system would make it possible to offer an exemplary handling and to reduce the vibrations.
To reinforce stability, Honda equipped its Honda Forza 300 with a fork to the tubes of 35 mm before and with two shock absorbers back. Of series, the scooter has combined braking, being able to be equipped with the ABS combined (C-ABS) in option. Contrary to the old version which had wheels of 13 inches as before, on the model 2013 of Forza 300 a wheel of 14 inches makes its appearance with the front one. And although its saddle is 6 mm higher than before, with a height culminating to 716 mm, new Honda Forza 2013 should be accessible to all and always also easy to take over.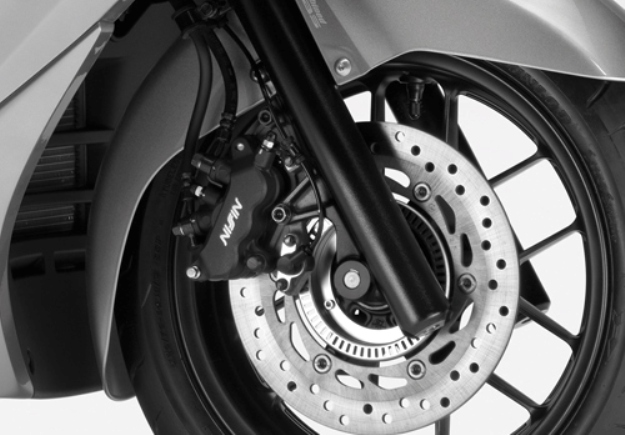 Honda Forza 300 2013: Impressive equipment
As always on Forza, the equipment is impressive. The broad trunk can shelter two crash helmets, the saddle has a contractor of opening, the trap door with petrol also, as for the passenger, and this one enjoys the comfort offered by folding footrests and a broad handle of maintenance out of aluminum.
The throw weight is reinforced by the presence of two glove boxes in the apron. One also finds two crutches, hazard lights and a system anti-starting with transponder (HISS).
The instrumentation is articulated around 4 analogical meters and a central paving stone LCD. In addition to the classical information, one finds a clock, two partial, a gauge with fuel and another for the temperature. New Honda Forza 300 2013 is declined in black, white and money.
We do not have information yet as for its availability or its tariff of sale. However, in the press kit which reached us, Mr. Kenichi Suede, person in charge of the project, also evoke "a powerful, qualitative model" but "accessible financially".
So far as this new Forza gives up the old system of transmission that Honda acknowledged particularly expensive being to us, we imagine that the scooter will not be posted any more with 6000 €, such fire the 250. In any event, Honda will have to place its product in competition of certain a Piaggio X10 350, sold 5,699 €, 6.699€ in version very equipped, model Executive ABS-ASR.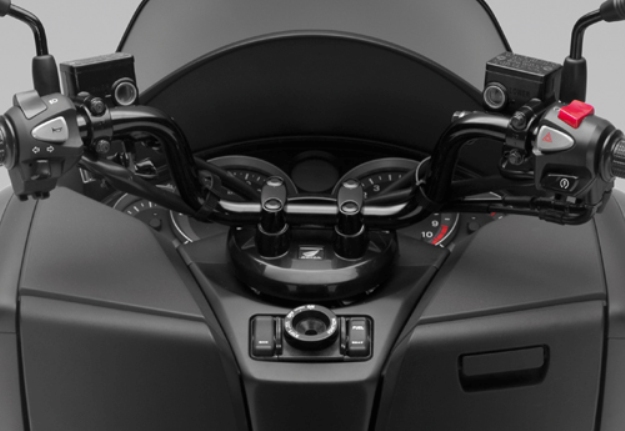 Honda Forza 300 2013: Technical
One-cylinder of 279 Cm3, 4 times, simple camshaft, 4 valves and
Liquid cooling
Boring X chases 72 mm X 68.5 mm
Maximum power 24.5 CH (17.9 kw) with 8,250 tr/min
Maximum couple 2.57 daN.m with 6,000 tr/min
Electronic injection PGM-FI
Reserve of 11.6 liters
Consumption manufacturer (WMTC) * 3.2 l/100 km
Digital lighting with electronic advance
Electric starting
Type of automatic clutch centrifugal
V-Matic transmission
Final transmission by standard belt V-Belt and box-relay
Open frame central beam and double cradle steel
Dimensions (L X L X H) 2,166 mm X 753 mm X 1,189 mm
Footing 1,546 mm
Castor angle 27°
Trail 89 mm
Turning radius 2.4 m
Height of saddle 716 mm
Keep on the ground 140 mm
Weight in functioning order 192 kg (version ABS-compound: 194 kg)
Telescopic front suspension fork diam. 35 mm
Suspension AR doubles combined shock absorber
Tire AV 120/70 X 14
Tire AR 140/70 X 13
Brake AV 1 disc diam. 256 mm/clamp combined 3 pistons (ABS in option)
Brake AR 1 disc diam. 240 mm/clamp combined 1 piston (ABS in option)