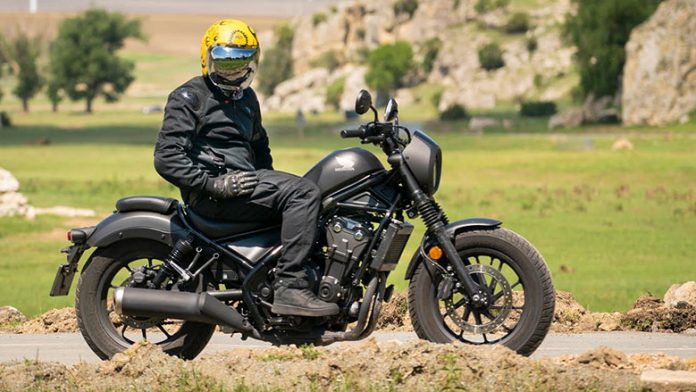 The Honda 2021 Rebel 500 Cruisers is a bike that doesn't look like a typical motorcycle and gets away from the monotonous drone of the street. It all starts with a 471cc twin-cylinder engine that is narrow and has a lot of power that is easy to use. Everyone likes the blacked-out look, low seat height, and lightweight. Features like Honda's slip/assist clutch make riding more fun. And while some cruiser-style bikes are only fun to ride slowly, the Rebel 500 doesn't mind if you speed up. You can even get brakes that don't lock up. Plus, for 2021, we've added some fresh new colors and our new Rebel 500 ABS SE, which comes with some of our most popular accessories already installed, like our Black Diamond-Stitch Seat, Black Fork Boots, and Covers, and a Black Headlight Cowl. So don't let anyone lock you up. Find a new Rebel 500 and break out of the ordinary.
Honda 2021 Rebel 500 Cruisers – Features and Specs
Style
Blacked-out style
The Rebel is a blank slate for you to show who you are. But this canvas isn't plain white like the ones you can buy at an art store. The blacked-out parts of its engine, frame and bodywork look great during the day and even better at night.
Blacked-Out Muffler
Don't bother polishing chrome because the Rebel's blacked-out exhaust system looks great with the rest of the bike. And perhaps the best part? The incredible sound is such an essential part of riding.
Classic Instrument Shape
The Rebel's instruments are another iconic part that combines old and new. They have a classic shape, but they are filled with entirely up-to-date digital LCD information. A display shows which gear you are in and how much gas you are using.
Four-Bulb Headlight
The headlight is another essential part of a motorcycle's design. The lamp is bright and accurate, and the Rebel's round nacelle, aluminum cast headlight mount, and glass lens give it a classy look.
All LED Lighting Package
LED lights are the way to go right now. LEDs can be smaller, lighter, and brighter than incandescent bulbs, and they need to be replaced less often. Because of this, the Rebel 500's headlight, taillight, turn signals, and license plate light are all made of LEDs.
Color Choices
Are you ready to choose some excellent colors for 2021? Check out these things you can ride: Matte Pearl White or Matte Grey Metallic.
Optional Honda Accessories
Want to put your stamp on your Rebel 500? We carry a large number of factory accessories. For example, you can get a custom seat, a backrest, saddlebags and a rear carrier, a passenger seat with footpegs, a backrest, and many other things.
Particular Rebel 500 ABS SE
The SE version of our Rebel 500 ABS will be available for a limited time in 2021. It comes with some of our most popular add-ons already put on at the factory. You get our Brown Diamond-Stitch Seat, Black Fork Boots, Black Upper Fork Covers, and a Black Headlight Cowl. Its killer combination takes your Rebel 500 to the next level.
Steel Rear Fender
Real steel is always in trend. The Rebel's rear fender is made of steel and is either the same color as the tank or matte black. An attractive paint looks great, and the steel fender helps give the optional, removable passenger seat a strong base.
Wide 41mm Fork
Regarding style, what's in front matters most, and the Rebel nails it. The front suspension makes the bike easy to steer and comfortable, but the fat 41mm fork tubes also give it an intense look.
Refined Rear Suspension
The rear shocks of the Rebel 500 are filled with nitrogen and have a different spring rate. Just like the front suspension, this is about making your ride more comfortable and better.
Wide Front Wheel
The Honda Rebel's wide 130/90-16 front tire not only looks good, but it also helps the car handle better and stops better.
Comfort
Low Seat Height
Seat heights are something that almost everyone likes to be lower. The Honda Rebel has one of the lowest seats on the market, at just 27.2 inches. It's comfortable to ride, and it's easier to walk when you're stopped at a light or in a parking lot.
Light Weight
With a full tank of gas, the Rebel 500 weighs only 408 pounds. It's a lot more fun and easy to ride than giant machines, so it's great if you're just starting or looking for a quick bike. The low center of gravity and lightweight also help with performance.
Narrow
The Rebel is very narrow, especially where the tank and seat meet. It makes it easier to get on and off the bike and put your feet down when you stop. The Rebel also works for a wide range of riders.
Roomy Rider Triangle
The seat, the handlebar, and the footpegs are the three places where a rider touches the bike. The Rebel's rider triangle is the perfect mix of a relaxed cruiser and a more active sports bike. You have a strong presence when you ride, and you'll know it as soon as you sit on a Rebel in your dealership.
Single Seat featuring Optional Passenger Seat and Footpeg Kit
Light on your feet and your own? Want to bring a friend with you? Like how clean a single seat looks? How can a passenger seat be used in many ways? You can have it both ways with the Rebel because the optional passenger seat, footpegs, and footpeg hangers are all simple bolt-on parts.
Engineering
Slipper/Assist Clutch
The slipper/assist clutch was developed and perfected in Honda's racing cars. It gives you a lighter clutch pull at the lever but a solid lockup when you let go of it and apply power. The technology makes the clutch about 30% easier to use at the bar.
Superior Handling
Many motorcycles on the market look great when sitting still, but they're not as good when the road gets twisty. At Honda, we have high standards for how our bikes handle and feel, and the Rebel is a great example. We paid as much attention to how this bike turns and runs as we did to how it looks.
2.9-Gallon Fuel Tank
One of the essential items in motorcycle design is the fuel tank. The iconic shape of the Rebel's fuel tank, which holds 2.9 gallons, will never go out of style. It also works well with the bike's excellent fuel efficiency to give you a lot of range.
Die-Cast Aluminum Rear Subframe
Here's an opportunity for Honda's designers to make a good part of the bike look even more remarkable. The aluminum subframe and fender mounts are strong, easy to hide, light, and give the optional, removable passenger seat a solid base.
Wide Rear Tire
The Rebel has a low, fat 16-inch rear tire that gives you a lot of grips and makes the bike's seat height and stance lower overall. And it looks complicated as well.
Performance
Sporty Engine
For a machine like the Rebel 500, a motor with two cylinders is a good choice. Honda twins are known for being flexible, and the engine in the 471cc Rebel 500 is one of our best. The narrow parallel-twin engine helps make the bike smaller overall. Plus, it has a lot of torque at low rpm and performance at high rpm.
Cast Aluminum Wheels
Front and rear cast wheels are light, practical, and easy to keep clean. They also give the Rebel a look that tells you this is not built like a machine from the past. The wide rims and tires also add to the face of the bike.
Honda 2021 Rebel 500 Cruisers – Price
The new Honda 2021 Rebel 500 Cruisers is available at $6,299 only.
Honda 2021 Rebel 500 Cruisers – Technical Specifications
Engine
| | |
| --- | --- |
| Type | 471cc liquid-cooled 20º parallel-twin four-stroke |
| Valve Train | DOHC; four valves per cylinder |
| Bore x Stroke | 67.0 mm x 66.8 mm |
| Compression Ratio | 10.7:1 |
| Induction | PGM-FI; 34 mm throttle bodies |
| Ignition | Computer-controlled digital transistorized w/ electronic advance |
| Starter | Electric |
| Transmission | Six-speed manual |
| Clutch | Multiplate wet |
| Final Drive | #520 chain; 15T/40T |

Suspension
| | |
| --- | --- |
| Front | 41 mm telescopic fork; 4.8 in. travel |
| Rear | Twin shock; 3.8 in. travel |
Brakes
| | |
| --- | --- |
| Front | Single 296 mm disc w/ hydraulic calipers |
| Rear | Single 240 mm disc w/ hydraulic calipers |
Tires
| | |
| --- | --- |
| Front | 130/90-16 |
| Rear | 150/80-16 |
Measurements
| | |
| --- | --- |
| Rake (Caster Angle) | 28º |
| Trail | 110 mm (4.3 in) |
| Length | 86.2 in. |
| Width | 5.3 in. |
| Height | 42.9 in. |
| Seat Height | 27.2 in. |
| Ground Clearance | 5.3 in. |
| Wheelbase | 58.7 in. |
| Fuel Capacity | 2.95 gal. (0.6 gals. reserve) |
| Color | Matte Gray Metallic; Matte Pearl White |
| Curb Weight | 408 lbs. |
Conclusion
The Honda 2021 Rebel 500's 471cc engine is our most refined, and its Narrow twin engine makes it smaller. The Rebel's 2.9-gallon gasoline tank is timeless. A rider touches the seat, handlebar, and footpegs. The Honda Rebel's rider triangle combines cruiser and sport bike elements. That's why everyone prefers lower seat heights, and it has a low seat height of 27.2 inches low.