For the 2020 Bennetts British Superbike Championship and the Pirelli National Superstock 1000 Championship, Honda Racing is happy to present the Honda 2020 CBR1000RR-R Fireblade SP BSB Sports Motorcycle. The Pearl Black color of the CBR1000RR-R Fireblade SP is used as a basis for the racing livery, which can be purchased via Honda's UK dealer network. The Honda team is pleased to announce that Castrol and Akrapovic, as well as Close Brothers and Nova gearboxes, will continue their long-standing partnership into the next season. Datatool, a partner of Honda UK, has joined the team as a new sponsor for 2020.
Honda 2020 CBR1000RR-R Fireblade SP BSB Sports Motorcycle – Features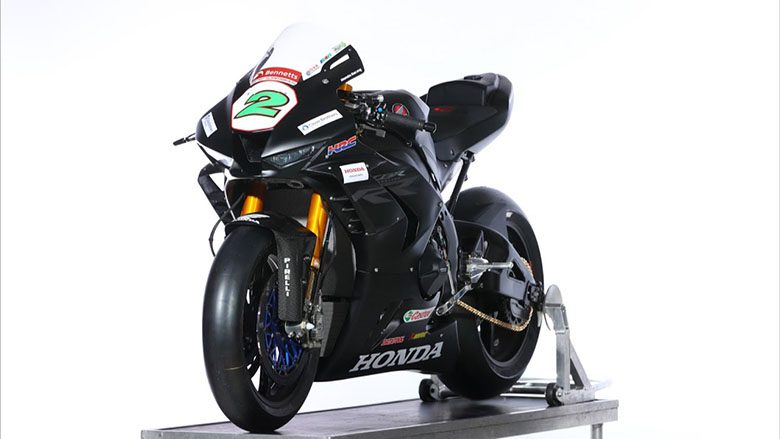 From the regular CBR1000RR-R Fireblade SP
Engineers built the CBR1000RR-R Fireblade SP using MotoGP engine and chassis technology, the all-new model leaning heavily on RCV combustion efficiency and low-friction solutions, with a focus on outright performance on the track. The engine is extremely compact than the inline four-cylinder power plant. It replaces and benefits from the usage of high-end technology like titanium connecting rods, forged aluminum pistons and finger-follower rocker arms.
For optimal grip and feel, the CBR1000RR-R Fireblade SP has an all-new aluminum diamond frame with greater vertical and torsional stiffness but reduced horizontal rigidity. From Honda's Grand Prix experience, a giant swing arm—stamped from 18 distinct thicknesses of aluminum—is produced to underline the relationship between the all-new model and Honda's winning racing motorcycles.
In addition to Power, Engine Brake, and Wheelie Control (WCC), a rapid shifter is included on the new Honda Selectable Torque Control (HSTC). Honda Electronic Steering Damper (HESD) with three levels of adjustment, a six-axis Inertial Measurement Unit (IMU), and a second-generation Ohlins Smart Electronic Control (SEC) suspension and user interface are all standard equipment on the Fireblade SP. Style calipers from Brembo bite 330mm rotors through two-level ABS. The fairing has MotoGP-style winglets to increase downforce, while the bodywork and riding posture is designed with aerodynamics in mind. Honda Smart Key and a full-color TFT display are the final touches.
Everything but The Factory Contract
There are a few open-class sportbikes in Honda's CBR lineup that are as unique and feature-laden as this one—introducing the CBR1000RR-R Fireblade SP, a one-of-a-kind motorcycle. Track-ready and street legal. Refinement and performance you've probably never experienced before—unless you've had a factory ride. Only a few motorcyclists will get the opportunity to use it. In addition, it maintains the legendary refinement, builds quality, and rideability of the Honda CBR model line. Prepare to learn why world champions like Marc Márquez choose to ride a red bike. Also, why it's a good idea to do so yourself.
History
The CBR1000RR-R SP is descended from a legendary racing lineage that has contributed significantly to the growth of the sportbike market. When it was introduced in 1959, the Honda CB92 Benly Super Sport was a race-ready performance bike model that was equally at home on the track and the road, setting the standard for Honda sport motorcycles ever since. After decades of racing in the World Championships, Honda has produced many iconic motorcycles including the pioneering 1969 CB750 that debuted an inline four-cylinder sportbike engine that its competitors immediately copied.
A new paradigm shift in the CBR family's growth continues to set the pace. CBR400RR and CBR900RR motorcycles introduced the notion of "Total Control," a perfect combination of harmonic engine performance, low weight, and agile handling that substantially strengthens the relationship between rider and machine. Incorporating insights learned from Honda's MotoGP championship-winning RC models, the CBR1000RR was introduced in 2004 and has continued to improve on this well-proven premise ever since. The CBR1000RR has consistently lifted the standard in the 1000cc sportbike market with the CBR1000RR model. The 2021 Honda CBR1000RR-R Fireblade SP, based mainly on Honda's dominant RCV MotoGP chassis, will undoubtedly rewrite the record books.