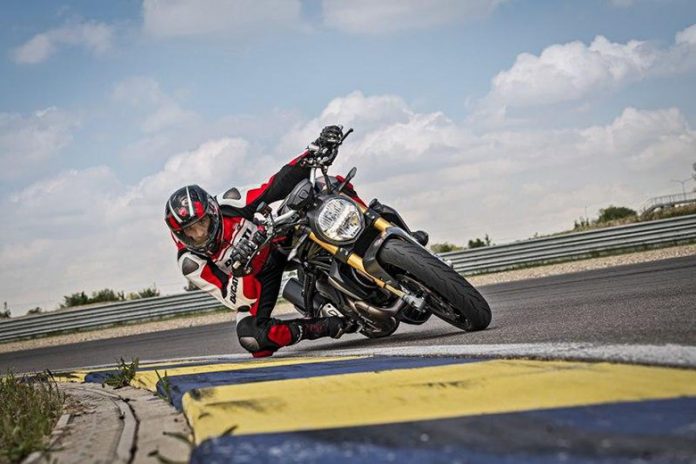 While designing the Ducati 2020 Monster 1200 Street Motorcycle, Ducati designers were inspired by the basic tenets of this modern 1993 model: the concept of the "Sport Naked Bike." The Monster 1200 includes a smooth tank, sports-style tail, a technically enhanced headlamp, and a 1299 Panigale-inspired first-rate electronics package, also available in the high-performance S variant.
Monster 1200 is a monster. Shipping, sleeves, fuel tanks, and headlamps are based on 1993 motorcycle lines. Like the real Monster, the classic, obscure steel tank is equipped with an attaching clip.
The Monster 1200 Testastretta is equipped with the latest version of the 11 ° DS engine, which not only delivers exceptional power and torque but also provides a complete, smooth power delivery from the start. When paired with a consistently smooth, easy-to-handle throttle response, the result is the joy of the perfect ride. The Monster 1200's twin-cylinder Ducati engine produces 150 horsepower at 9,250 rpm (15 horsepower from the previous Monster 1200 and 5 horsepower more than the last Monster 1200 S) and 126.2 Nm of torque at 7,750 rpm. The performance of the Monster 1200 is extremely fast, thanks to which it provides an accurate ride, thrilling, precise ride through wire calibration. In addition, the Monster 1200 complies with strict EURO 4 standards.
Ducati 2020 Monster 1200 Street Motorcycle – Features and Specs
Design
When the Ducati Design Center began work on the Monster 1200, its goal was to create a sleek, compact bike with an authentic sports character, returning to the "sport naked bike" idea while retaining the aesthetics of the original motorcycle. The tank has received a lot of attention, and it is now "tauter" and more modern: it has been completely redesigned, although it still follows Gallozi's 1993 method. The anodized aluminum attachment clip has also reappeared from the past to emphasize this relationship further.
The steel trails subframe supports small, compact, elegant tails, allowing riders to choose a seat height of 795 or 820 mm. Passenger footpegs, which are now isolated from the rider's peg, are also supported by subframes. This design gives the Monster 1200 a more athletic look and enhances ergonomics.
The headlamp is another feature that has always been a Monster trademark. It has been completely replaced for this motorbike and now the Monster 1200S has two parabolas and a DRL (Day Time Running Light). As a result of the adoption of this headlamp, a new instrument panel support has been developed, which is now mounted on the handlebar riser.
Engine
The Monster 1200 is powered by a liquid-cooled 1198 cm3 twin-cylinder Testastretta 11 ° DS engine with four cylinders. The engine is Euro 4 compliant and acts as a structural component of the chassis with connection points on the trailer frame. At 9,250 rpm, this engine produces a mass of 150 horsepower. The Ducati has developed a fantastic torque curve that provides more riding enjoyment, achieving a maximum torque of 126.2Nm at 7,750rpm, thanks to the newly designed throttle bodies and particular exhaust.
1198 Testastretta 11 ° DS Mikuni Ride-by-Wire takes air through oval throttle bodies (equivalent diameter 56 mm) and has a twin spark setup: A double flame front ensures complete combustion within extremely short intervals which gives smooth strength. Delivery and even more fun, exciting ride – with a secondary air system that improves performance by reducing combustion cycle depression without affecting emissions. A curved radiator with two high-performance electric fans keeps the engine cool.
Frame
The engine acts as a load-bearing element on the Monster 1200, with the trail frame attached to the cylinder heads, a racing-derived design initially used on production bikes with the Panigale project. This design produces a small, lightweight frame, yet the wide cross-section tubing provides tremendous tarsal rigidity, which is ideal for enhancing the motorcycle's dynamic performance. The Monster 1200 also has a muscular swing arm and a small 1,485 mm wheelbase.
The rear seat carrying subframe has been redesigned to create a compact structure that supports passenger footpath struts and is attached directly to the engine. In sports-style riding, these pegs are removed from the rider's hand to maximize mobility. Footage attachments for riders and passengers are made of diecast aluminum and installed aluminum pegs. The rider's pegs also have aluminum heel protectors to emphasize Monster's sporting heritage.
Suspension
The front forks of the Monster 1200 are fully adjustable 43mm Cayaba forks, and the Sex Shock Observer includes spring preload and rebound damping controls. Instead, the Monster 1200 S has a 48mm Hulls TiN coated fork and a fully adjustable Hulls shock absorber. The shock absorber works closely with the progressive link in the rear. It is mounted directly on the head of the vertical cylinder at one end and on the single-sided diecast aluminum swing arm at the other. The Monster 1200 uses a Sex Shock Observer, while the Monster 1200S has a fully adjustable Hulls type.
Tires and wheels
The Monster 1200 comes with a lightweight 10-spoke Panigale style alloy wheel measuring 3.5 "x 17" front and 6.0 "x 17" rear, while the Monster 1200 S comes with three thin Y-spokes machined. Has been In addition, the wheels of the S version include unique "S" designs to emphasize the nature of the race. The Pirelli DIABLO ROSSOTM III dual-compound tires, 120/70 at the front and 190/55 at the rear, are equipped in both versions and combine mileage-enhancing durability with continuous grip even in aggressive cornering. These high-performance tires include Pirelli Enhanced Patch Technology (EPT), which maximizes the area of contact patches regardless of the angle of inclination, and Functional Groove Design (FGD), which improves wet performance.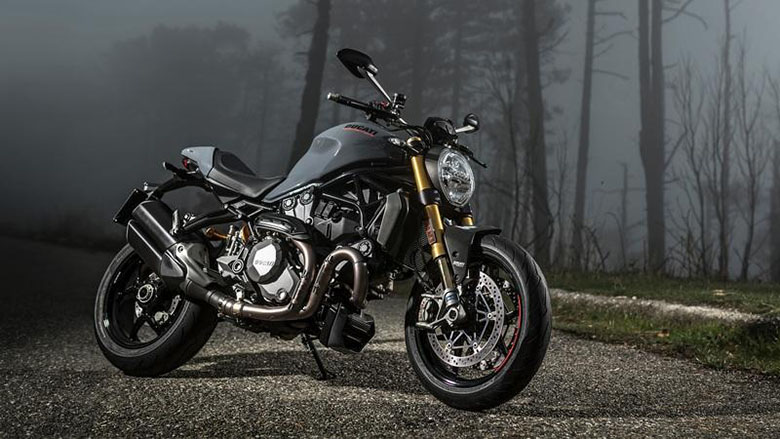 Braking system
Twin Brembo M4.32 Monoblock 4-Piston Radial Calipers Monster 1200 to 320 mm Disc Grip; Components such as the Monster 1200 S, on the other hand, Brembo M50 monoblock calipers and 330 mm disc-Panigale. Both variants have separate storage for front brake radial pumps, while the rear has a single 245 mm disc Brembo caliper with better performance-centered brake pads. These parts provide excellent braking performance, which has long been a trademark of Ducati.
ABS Cornering from Bosch
The Bosch 9.1MP Corning ABS device, which uses the Bosch IMU (Inertial Measurement Unit) platform to improve front and rear braking power even in critical conditions, and with the motorcycle at acute lean angles, Comes standard. Provides system solutions by interacting with Riding Modes for any riding style, scenario or situation.
Ducati Traction Control (DTC)
DTC (Ducati Traction Control) detects and manages rear wheel spin, improving motorcycle performance and functional safety. Monster is equipped with the latest DTC software, designed to provide a smooth response by simply intervening on Spark Advance. Riders can choose from eight different profiles, each calibrated to give rear wheel spin tolerance depending on the various degrees of riding ability and road conditions (ratings from one to eight). Compatible with Level 1 has the lowest amount of system interference, while Level 8 has the highest traction on wet roads.
Ducati Riding Modes
Ducati Riding Modes allow users to choose from various pre-set modes to adapt their motorcycle behavior to their riding style and road conditions. The Monster 1200 includes three riding modes (Sports, Touring and Urban), each with an Electronic Ride by Wire (RbW) engine control system and its control set for ABS, DTC and DWC settings. A combination of state-of-the-art technology is the result of the methods available. Riding modes can easily be changed on the go, but customizing the ABS, DTC, and DWC settings requires stopping the bike and turning off the throttle.
Ducati 2020 Monster 1200 Street Motorcycle – Technical Specifications
Engine
| | |
| --- | --- |
| Type | Ducati Testastretta 11°, L-Twin, four valves per cylinder, Desmodromic timing, Water-cooled |
| Displacement | 821 cc (50.1 cu in) |
| Bore x stroke | 88 x 67.5 mm |
| Compression ratio | 12.8 : 1 |
| Power | 80 kW (109 hp) at 9,250 rpm |
| Torque | 86 Nm (63 lb-ft, 8.8 kgm) at 7,750 rpm |
| Fuel injection | Electronic fuel injection system, 53mm throttle bodies, Full Ride-by-Wire system |
| Exhaust | 2-1 system, Two lambda probes, Stainless steel muffler with aluminum end cap |

Transmission
| | |
| --- | --- |
| Gearbox | Six speed including Ducati Quick Shift up/down (DQS) |
| Primary drive | Straight cut gears, Ratios: 1.85:1 |
| Final drive | Chain drive, Front sprocket Z15, and Rear sprocket Z46 |
| Clutch | Slipper and self-servo wet multi-plate clutch including mechanical control |
Chassis
Frame
Tubular steel trellis frame
Front suspension
43mm USD fully adjustable fork
Front-wheel
10-spoke light alloy, 3.5 inches x 17 inches
Front tire
Pirelli Diablo Rosso III 120/70 ZR17
Rear suspension
Progressive linkage with adjustable mono-shock, Aluminium double-
sided swingarm
Rear-wheel
10-spoke light alloy, 5.5″ x 17″
Rear tire
Pirelli Diablo Rosso III 180/55 ZR17
Wheel travel (front/rear)
130 mm /140 mm (5.12 in / 5.51 in)
Front brake
2 x Ø 320 mm semi-floating discs, radially mounted monobloc Brembo M4.32 calipers, 4-piston, Bosch ABS
Rear brake
Ø 245 mm disc, 2-piston calliper, Bosch ABS
Instrumentation
TFT colour display
Dimensions and weight
| | |
| --- | --- |
| Dry weight | 180.5 kg (398 lb) |
| Wet weight (kerb) | 206 kg (454 lb) |
| Wet weight (no fuel) | 195 kg (430 lb) |
| Seat height | Adjustable 785 mm – 810 mm (30.9 in – 31.9 in) |
| Wheelbase | 1,480 mm (58.3 in) |
| Rake | 24° |
| Trail | 93 mm (3.7 in) |
| Fuel tank capacity | 16.5 l (4.4 US Gal) |
| Number of seats | 2 |
Equipment
| | |
| --- | --- |
| Safety equipment | Riding Modes, Ducati Safety Pack (Bosch ABS + Ducati Traction Control DTC), Power Modes, Ducati Quick Shift up/down (DQS) |
| Standard equipment | LED position light & tail light, TFT color display, Flyscreen, Passenger seat cover, USB power socket |
| Provided equipment | – |
| Ready for | Anti-theft system |
Warranty
| | |
| --- | --- |
| Warranty | 24-month, Unlimited mileage |
| Mainteinance service intervals | 15,000km (9,000mi) / 12-month |
| Valve clearance check | 30,000 km (18,000 mi) |
Emissions & consumption
| | |
| --- | --- |
| Standard | Euro 4 |
| CO2 emissions | 125 g/km |
| Consumption | 5.4 l/100 km |