The new BMW 2020 S1000R Powerful Roadster is among those motorcycles known for their ultimate performance and agility. The bike can deliver pure riding pleasure and its aggressive engine producing 165 hp will put a smile on the rider's face every time it revs up. In addition, the rich sound of the new 2020 standard HP titanium rear exhaust leaves no doubt denoting the sound of life in the fast lane.
Moreover, the supreme riding dynamics, athletic character combined with excellent safety and everyday practicality define the BMW Motorrad four-cylinder models. Furthermore, the new BMW 2020 S1000R Powerful Roadster is a dynamic roadster that is significantly enhanced compared to the 2019 BMW S 1000 R.
In 2013, BMW Motorrad launched a dynamic roadster, which is based on supersport motorcycle S 1000 RR and S 1000 R. with its well-conceived concept of high performance, low weight Race ABS, and ASC and riding modes as standard, it set a new benchmark in the dynamic roadster segment. Since then, the BMW S 1000 R has attracted several fans and riders with its perfect blend of emotional roaster appearance and supersport riding dynamics. The BMW has not enhanced the innovative naked motorcycle in a variety of ways and the review of the BMW 2020 S1000R Powerful Roadster with its price and specifications is written below.
BMW 2020 S1000R Powerful Roadster – Features and Price
Engine Features
The new BMW 2020 S1000R Powerful Roadster features the well-proven 999cc in-line 4-cylinder engine that has been adapted to complete the requirement of EU4 requirements. It is capable of delivering the output of 121 kW (165 hp) at 11,000 rpm about 3kW (5hp) more fabulous than the 2019 BMW S 1000 R 118kW (160 hp). But, it weighs 4lbs (2kg) less than the previous model, i.e., 451 lbs (205kg). The permissible gross weight is still 897 lbs (407), which means an increase in payload of 4lbs (2 kgs).
Further development of the engine contains an optimized intake and exhaust sound in conjunction with the standard HP titanium rear silencer. It produces a more powerful sound while adhering to the ECE registration direction R41-04.
Electronics
The new BMW 2020 S1000R Powerful Roadster comes with an all-new ASC, partially integral Race ABS and two ride modes as standard. There is an optional Ride Mode Pro that is available with DTC and two additional Dynamic and User ride modes and ABS Pro, Launch Control and Pit Lane Limiter, as other Features.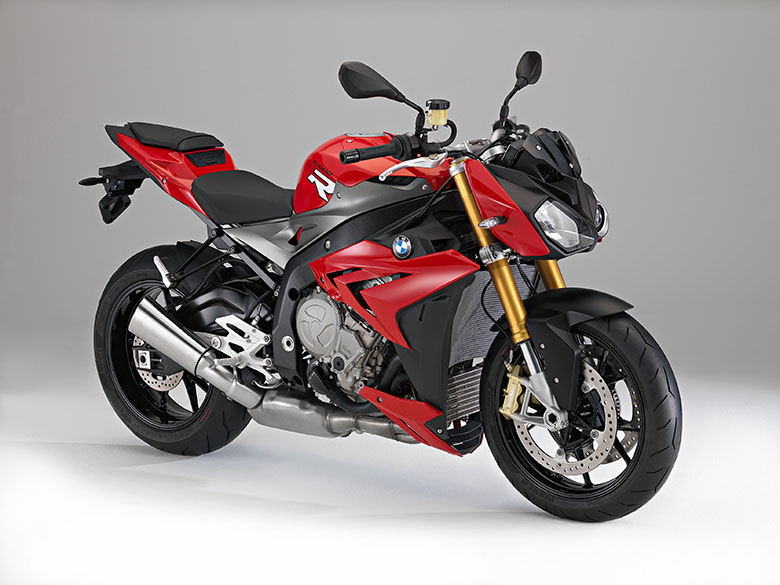 The new BMW 2020 S1000R Powerful Roadster Price offers two riding modes to ensure optimum adaptation to the rider's personal preference. These riding modes are "Rain" and "Road," which provide adaptable power and torque distribution relative to Race ABS and ASC on various road surface conditions. It is a significant safety bonus when riding on different road surfaces. The Dynamic Traction Control (DTC) continues to be available as a factory option. It features the banking sensor familiar from the RR, offering the highest series-production level of technology currently available for better riding safety and dynamic performance.
A new feature is added in BMW 2020 S1000R Powerful Roadster, i.e., Ride Modes Pro, with two additional riding modes, "Dynamic" and "User." The ABS already offer a very high degree of safety when braking in a straight line, while ABS Pro gives increased protection when braking on bends. In this way, the wheels can easily be prevented from locking. It helps in reducing abrupt changes in steering force on shock-braking maneuvers and prevents the bike from rearing up unintentionally.
The new BMW 2020 S1000R Powerful Motorcycle comes with an optional HP Shift Assist Pro for rapid shifting up and down without clutch activation. It is also available as an option for the RR and XP. It helps the rider shift up through the gears without using the clutch, allowing perfect acceleration virtually without torque interruption. The HP Shift Assist Pro quickly downshifts without using the grip resulting in fast shifting with reducing clutch activation and unwanted load change impact on the rear wheel.
Chassis
The new BMW 2020 S1000R Powerful Roadster features a unique rear frame structure with an optimized rigidity and flex and a lighter main frame rear suspension for better traction. The main suspension element of the BMW 2020 S1000R Powerful Roadster is still an aluminum bridge-type frame comprising four individual components welded together with the new in-line 4-cylinder engine integrated with a load-bearing element.
The mainframe has been redesigned and features a new lighter rear section. The entire composite structure of the mainframe, rear compartment and swingarm has been optimized to ensure rigidity and flex for enhanced traction. The rider footrest system, including gear and brake lever, has been redesigned.
The new BMW 2020 S1000R Powerful Roadster comes with light HP forged wheels and Design option wheels as optional equipment. The BMW Motorrad offers HP forged wheels as optional equipment that enables a weight reduction of 5 pounds compared to the standard wheels. The resulting decrease in the inertial moment and gyroscopic movement benefits the motorcycle in deceleration, acceleration and maneuverability. An all-new optional equipment item Design Option Wheels further underscores the sporty character of the new BMW 2020 S1000R Powerful Roadster with a red decorative line, which runs around the rim edge of the aluminum cast wheels.
Instrumentation
The new BMW 2020 S1000R Powerful Roadster has an optimized multifunctional instrument cluster with better readability. Like the 2019 BMW S1000R, the motorcycle still draws on motor racing elements for its cockpit design. An LCD screen in conjunction with an all-new analog engine speed display gives plenty of information to the rider, from gears to the relevant riding mode and lap time recording.
BMW 2020 S1000R Powerful Roadster – Price
The new BMW 2020 S1000R Powerful Bike is available at $14,800 only.
BMW 2020 S1000R Powerful Roadster – Technical Specifications
Engine
| | |
| --- | --- |
| Type | Liquid-cooled, 4-cylinder engine, 4-stroke, in-line, 4 valves per cylinder, double overhead camshafts DOHC, wet-sump lubrication |
| Bore x stroke | 80mm x 49.7mm |
| Capacity | 999 cc |
| Rated output | 165 hp (121 kW) @ 11,000 rpm |
| Maximum torque | 84 lb-ft (114 Nm) @ 9,250 rpm |
| Compression ratio | 12.1: 1 |
| Mixture control / engine management | Electronic fuel injection having ride-by-wire throttle system and knock sensor |
| Emission control | The closed-loop 3-way catalytic converter, emission standard EU-4, including titanium silencer |
Performance / fuel consumption
| | |
| --- | --- |
| Maximum speed | Over 125 mph |
| Fuel consumption | 35 mpg (WMTC) |
| Fuel type | Premium Unleaded |
Electrical System
| | |
| --- | --- |
| Alternator | Three-phase 406 W generator |
| Battery | 12 V / 9 Ah, maintenance-free |
Power Transmission
| | |
| --- | --- |
| Clutch | Multi-disc clutch in oil bath, anti-hopping clutch, mechanically operated |
| Gearbox | Constant-mesh 6-speed gearbox with straight cut gears |
| Drive | Chain 2.647:1 |
Chassis/brakes
| | |
| --- | --- |
| Frame | Aluminum composite bridge frame, partially self-supporting engine |
| Front-wheel location/suspension | Upside-down telescopic fork Ø 46 mm, compression and rebound stage adjustable |
| Rear-wheel location / suspension | Aluminum 2-sided swing arm, rebound damping adjustable |
| Suspension travel front/rear | 4.7" / 4.7" (120 mm / 120 mm) |
| Wheelbase | 56.7" (1,439 mm) |
| Castor | 3.9" (98.5 mm) |
| Steering head angle | 65.2° |
| Wheels | Cast aluminum wheels |
| Rim, front | 3.50 x 17″ |
| Rim, rear | 6.00 x 17″ |
| Tires, front | 120/70 ZR 17 |
| Tires, rear | 190/55 ZR 17 |
| Brake, front | Dual floating disc brakes, 4-piston fixed calipers, diameter 320 mm |
| Brake, rear | Single disc brake, diameter 220mm, single-piston floating caliper |
| ABS | BMW Motorrad Race ABS (part-integral, can be switched off) |
Dimensions / weights
| | |
| --- | --- |
| Length | 81" (2,057 mm) |
| Width (incl. mirrors) | 33.3" (845 mm) |
| Height (excl. mirrors) | 48.3" (1,228 mm) |
| Seat height, unladen weight | Standard Seat: 32″, Comfort Seat: 33.1″ |
| Inner leg curve, unladen weight | Standard Seat: 71.1″, Comfort Seat: 73.4″ |
| Unladen weight, road ready, fully fueled | 452 lbs (205 kg) |
| Permitted total weight | 897 lbs (407 kg) |
| Payload | 445 lbs |
| Usable tank volume | 4.6 gallons |
| Reserve | 1 gal (4 l) |